Toshiba's new smart glasses put a small display in the corner of your vision combined with a camera for remote assistance and other enterprise applications.
The roughly $1,900 headset is packaged with a PC to power it —  so if you're walking around with the Vuzix-powered "dynaEdge AR Smart Glasses" you'll have to either hold a Windows computer in your hand (where there are navigation buttons you can use) or clip it to your clothing. The glasses also have navigation buttons.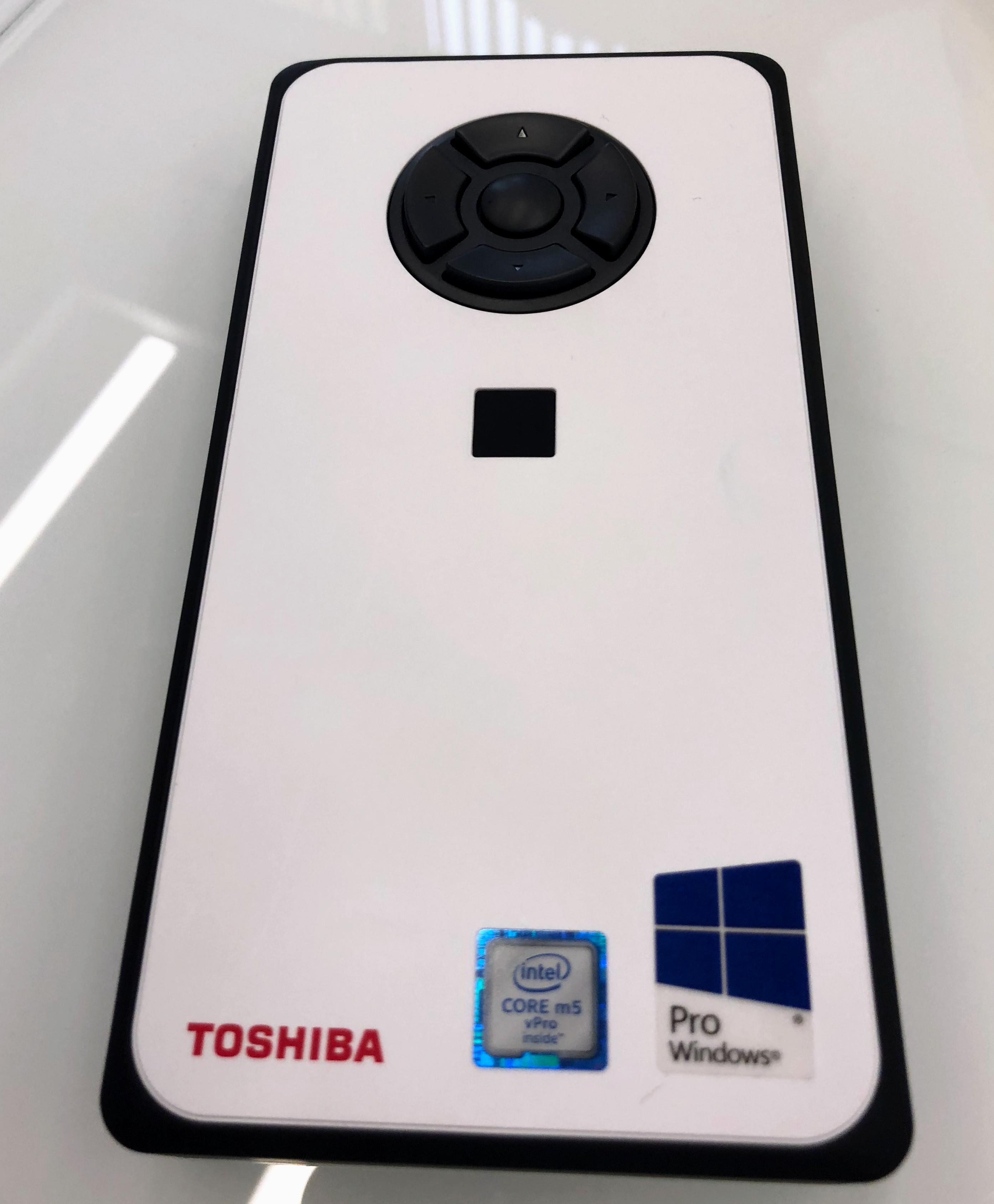 The system is intended for video conferencing, point of view video capture with the embedded camera, or situations where time can be saved by showing the wearer a set of instructions hands-free on the small opaque display in the corner of their vision. The system is Windows-based and includes an optional fingerprint sensor, so it may meet the security requirements in place at some businesses.
I tried the glasses briefly at Toshiba's offices and it is easy to position the display at different angles. In the office setting where I tried it, though, it was hard to see how much value businesses will get out of such a product when it is more expensive than Google Glass, with a less immersive display and, as a package with a separate PC, is way bulkier. Perhaps wearing it out in a warehouse or industrial facility with software built for a specific job would make its usefulness clear. And there of course many businesses that are heavily invested in Windows software and systems, so it might also fit better into some workflows than something like Google Glass. In fact, that handheld PC can double as a desktop PC — so it can be docked at a desk and used with an external display, keyboard and mouse just like any other computer.
Here are the official specifications:
OPTICS
0.26" Diagonal
Display Resolution: 640×360
Content Resolution: 1280×720
CAMERA
5 megapixel
F2.8
Focus Range: 10cm to infinity
Auto Focus
Video Capture:-Up to 1080p @30fps
Flash LED
AUDIO
Built-in speaker
Dual Microphones
WEIGHT
NAVIGATION CONTROLS
3 Control Buttons
Touchpad
SENSORS
Proximity Sensor
Ambient Light Sensor (ALS)
Gyroscope
Accelerometer
Compass
GPS
CONNECTORS