The news has broken this morning that I'll be leaving Rackspace as its futurist to join UploadVR as an entrepreneur in residence.
Why join a virtual reality publication that most people haven't heard of? Yes, I know you have, but most haven't yet.
Earlier this week I visited Cape Town, South Africa where Tyrone Rubin, founder of SenseVirtual, threw a party for me there. He brought three HTC Vive VR setups. He too is building a business on VR. His helps brands activate new users with VR. Mine is to get a front-row seat at the smiles that VR is causing. Thing is, most of the other people who were invited haven't gotten to try VR yet. Photos of that are here.
I watched carefully as they all got a few minutes in the headset and saw their smiles grow.
That's not the first time I've seen that reaction. I've now seen hundreds of people get their first demo in places all over the world. Same smiles every time. In my experience, at least, the smiles don't wear off.
Everytime I get into one, even if you put me into something I've already experienced, the smile comes back.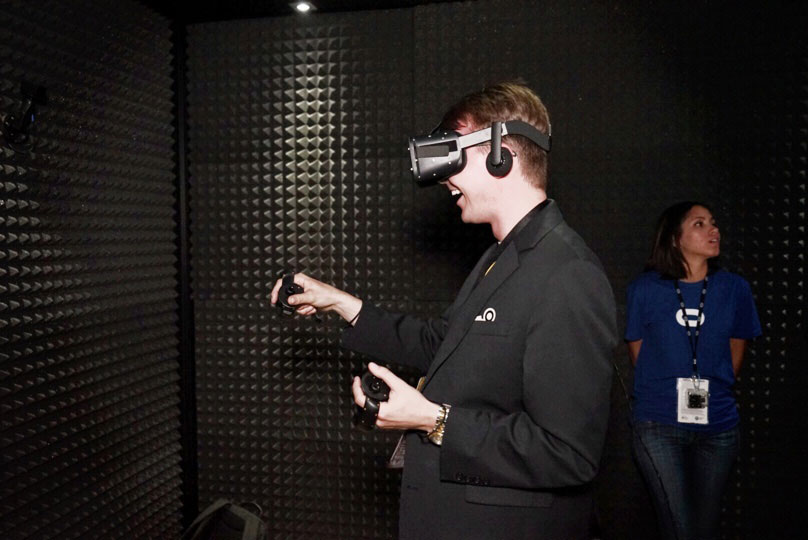 As a futurist at Rackspace I learned to watch for people's emotion when discovering something new. The more emotion, the more interesting it is (and, yes, even cloud computing nerds get emotional when they discover something like Node JS or containers for the first time).
I've never seen a product bring so much emotion out of its users as VR does. Grant Weston, 17-year-old son of our chairman, told me he won't use his Xbox if he had a VR headset after he had a chance at one at CES. Exactly Grant and you won't be the last kid saying that.
So, the big question is "when?" Mark Zuckerberg, Facebook's founder who purchased Oculus, says VR won't be ubiquitous like smartphones are for a decade or maybe longer. I don't disagree if it's framed that way, but most of the nerds who live around me in Silicon Valley have already ordered either an HTC Vive or an Oculus Rift. That tells me the world is shifting already, even if it's the rich nerds who are shifting first. Plus, watch what is happening at the big music event, Coachella, where Google will make a full-on VR push, handing out Google Cardboards to hundreds of thousands of attendees.
The answer of "when" is an interesting one. Most people I talk with think VR is sort of dorky until they get in it themselves. Just look at how the Internet treated Mark Zuckerberg after he was photographed at Mobile World Congress in front of an audience who was wearing Samsung's GearVR. Put them in one and then they become a believer. This happens nearly every single time. The problem is how many people can get a demo in the first year? After all, it takes 15 minutes, either in a retail store, or over someone's house that has one setup.
I figure that number will be in the low millions the first year and of those how many will buy? 25% would be aggressive because VR headsets, at least the high end, have some pretty real problems. First of which is cost. I've spent already about $3,000 on my headsets and PCs to run the high end versions and I haven't yet gotten mine. In fact, even if you buy Oculus Rift, or did earlier this year when they went on sale, you still will need to wait until summer time when the controllers ship to get the full experience.
Also if you can afford the headset there are other problems: my wife gets sick in some and there's a tether to a big, ugly, PC. Needed for the Nvidia card inside which is why the experience of wearing one is so mind blowing, but still. These are factors that will all slow down growth so the insiders who have had their try inside a headset are getting ahead of the rest of you. Translation: the market is a bit overhyped short term.
That all doesn't take away from the smiles. The smiles will continue, even after articles decrying lack of sales, or lack of original content (which, let's be honest, will only come after lots of headsets sell).
The smiles are why I made this move. I want to be part of something that is so, darned, fun! Thanks UploadVR for giving me a chance to be a part of this community (and doing the hard early lifting of making one of the strongest media brands in the VR space).
Oh, and notice that we haven't even talked about AR, which will follow VR into consumer markets in two to four years, and is even more fun and will bring a deeper change to our culture.
I've never seen two waves of consumer products like those that are starting to hit the market this month. Just full of opportunity and I don't think I'll have another chance at 51 to get involved in such a big shift in how we compute if I wait this one out.
The smiles tell me its time.