It's been a long time since I've played Star Trek: Bridge Crew. That isn't to say that I don't like the game — I stand by my mostly glowing review I wrote last year — but in this line of work it's tough to play a game much after you're done reviewing it. There are just so many new things always coming out right around the corner. So even though we at UploadVR have had a ton of fun in Bridge Crew, we had to set it aside for games like Skyrim VR, most recently Beat Saber, and others.
But now with brand new official DLC in the form of The Next Generation's Starship Enterprise D on the way soon including that ship's iconic bridge, a brand new player race, and a brand new role to play, it's time to squad up and set our coordinates for the stars once again.
When I met with Brian Tate, Creative Director on Star Trek: Bridge Crew at an Ubisoft preview event, he told me that The Next Generation's bridge was by far the most-requested bridge in the entirety of Star Trek's long legacy. The teams at Ubisoft and Red Storm worked closely with CBS to reconstruct the setting in VR, going to painstaking lengths to reconcile differences with the ship's exterior over the course of various seasons and even accessing ship blueprints, digital models, sound archives, and more from the CBS vault.
According to Tate, "it's a "fanboy's dream come true."
This new bridge will be fully playable in the randomly generated "Ongoing Voyages" game mode, along with the Original Enterprise and the newly crafted Aegis, but not in the main campaign — that remains as an Aegis only experience.
In addition to this new ship, the Engineering role is being evolved into the Operations (or Ops) role for TNG's bridge and there will even be a brand new race for players' to pick at avatar creation: the Androids.
In the new Ops role you'll do a lot of what the Engineer did already by adjusting power levels, but then you'll also have to assign crew members to different areas of the ship to perform repairs and provide boosted features. It's all about foresight and planning and can actually be one of the harder roles in the whole game to play.
On top of all of that, if that wasn't enough, the Ongoing Voyages mode is getting improvements as well. Some improvements, such as improved mission shuffling and generation, will release as a free update for everyone, but then the more advanced improvements are included only as part of TNG's DLC.
Specifically, Ongoing Voyages will receive two new mission types: Patrol and Borg Resistance. I got to try a bit of both during my TNG demo and Patrol feels like an extremely welcomed mission structure. Instead of the game telling you where to go and what to do at all times, you can just freely explore different systems and plot your own course. Once you reach a point of interest of some kind, NPCs will reach out and attempt to provide you with objectives, but the pacing and flow of gameplay is up to you this time around.
In the DLC they've also added the Romulans as one of the enemy races that you must contend with. Many of their ships are much faster than the Klingons from the base game, they can cloak themselves to enter and exit combat, and can even target specific areas of your ship to disable them — which was previously only something the players could do to the enemies.
When we tried this game mode we had to deal with a particularly incessant scientist that wouldn't stop hailing us and bugging us to get him some data delivered. We were tempted to just bail and leave him hanging, but decided to follow through anyway. Near the end a random Borg invasion occurred and nearly wiped us out, forcing us to change course and flee.
The new Patrol missions really do a good job of making Bridge Crew, as a whole, feel much more dynamic.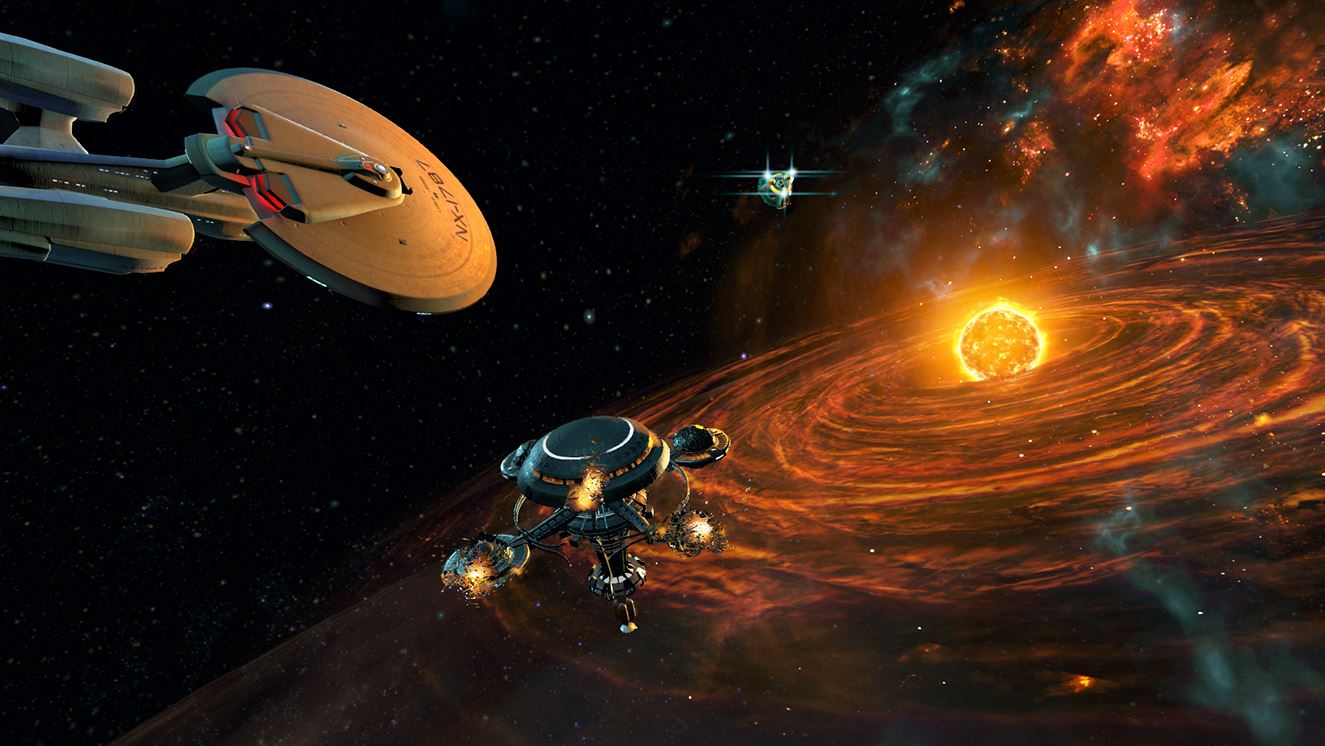 In the new Borg Resistance mission structure you'll be tasked with facing a steep uphill battle. Similar in difficulty to the original game's Kobayashi Maru mission, the Borg Resistance missions present a major challenge for players. If you try to fight one of the imposing Borg cubes head-on from the start then you really don't stand much of a chance.
Instead, you've got to flee. That's right: turn around, jump star systems, and live to fight another die while the cube continues to hunt you. In doing so, you need to recover new, experimental weapons technology from the federation that can be used in your battle and improve your odds.
The catch though is that each time you face the cube and flee, it's constantly learning and improving as well, so it's a bit of a race. As you collect prototypes and become more powerful it's studying your tactics and becoming stronger at the same time. Mustering up the power to take it on is a big moment and it's something that should lead to a lot of climactic battles on VR bridges across the metaverse.
A brand new bridge, a new player race, a new role to play, and brand new missions is a lot for a single DLC package. TNG's popularity did not go unnoticed and the teams at both Ubisoft and Red Storm seem to have put in a lot of love and care when crafting this DLC. It's truly content made for fans by fans and that absolutely shows.
---
Star Trek: Bridge Crew's TNG DLC will release first on PS4 and PSVR on May 22nd for a limited time before coming to PC, Rift, Vive, and Windows VR on July 21st. Once it releases on all platforms it will be entirely cross-platform just like the base game is already.
Check out our gameplay video showing off TNG's bridge in the video up above at the top of this article and let us know what you think of the news down in the comments below!