In the race to be among the first to craft an essential pinball experience for the emerging virtual reality market, Zen Studios has positioned themselves as trailblazers. By their reputation as expert makers of digital pinball tables, we can count on their VR-focused entry to not be of slapdash make, hastily designed to claim leadership in a booming space. Rather, Pinball FX2 VR — a popular launch title for the Oculus Rift — furthers their pedigree with a home pinball experience built around realism, amplifying already-classy pinball tables through the lens of virtual reality.
Playing the Silver Ball
Unlike prior titles by Zen Studios, Pinball FX2 VR is structured as a hub, rather than having individual tables take place in their own bubble. They've effectively done away with strict menu navigation so that players now make selections in a virtual location and can feel a sense of cohesion with the connected pinball experiences. Interestingly, tables are not housed in an arcade where players could relive the experience of a highly active setting with background noise and intense gazes challenging your concentration. Pinball FX2 VR pushes for comfort with a roomy beach-side bachelor pad as its choice of venue. Viktor Györei, Head of Studio, told me in an interview that while an arcade would have made sense (it's synonymous with pinball culture after all), it also would have conflicted with their direction for this title.
"We had to have space around the tables to bring toys and effects to life," Györei said, when asked why the opportunity for an authentic experience wasn't pursued. "We wanted to freshen it up and create the illusion of a modern home for our beloved virtual pinball machines, capable of hosting what we need to provide a totally immersive experience." It wasn't simply to ensure that players didn't feel boxed-in while controlling tables; the bachelor pad's large windows offer flexibility for future tables that may have more demanding backdrops. "These would have been hard to achieve in a traditional arcade setting."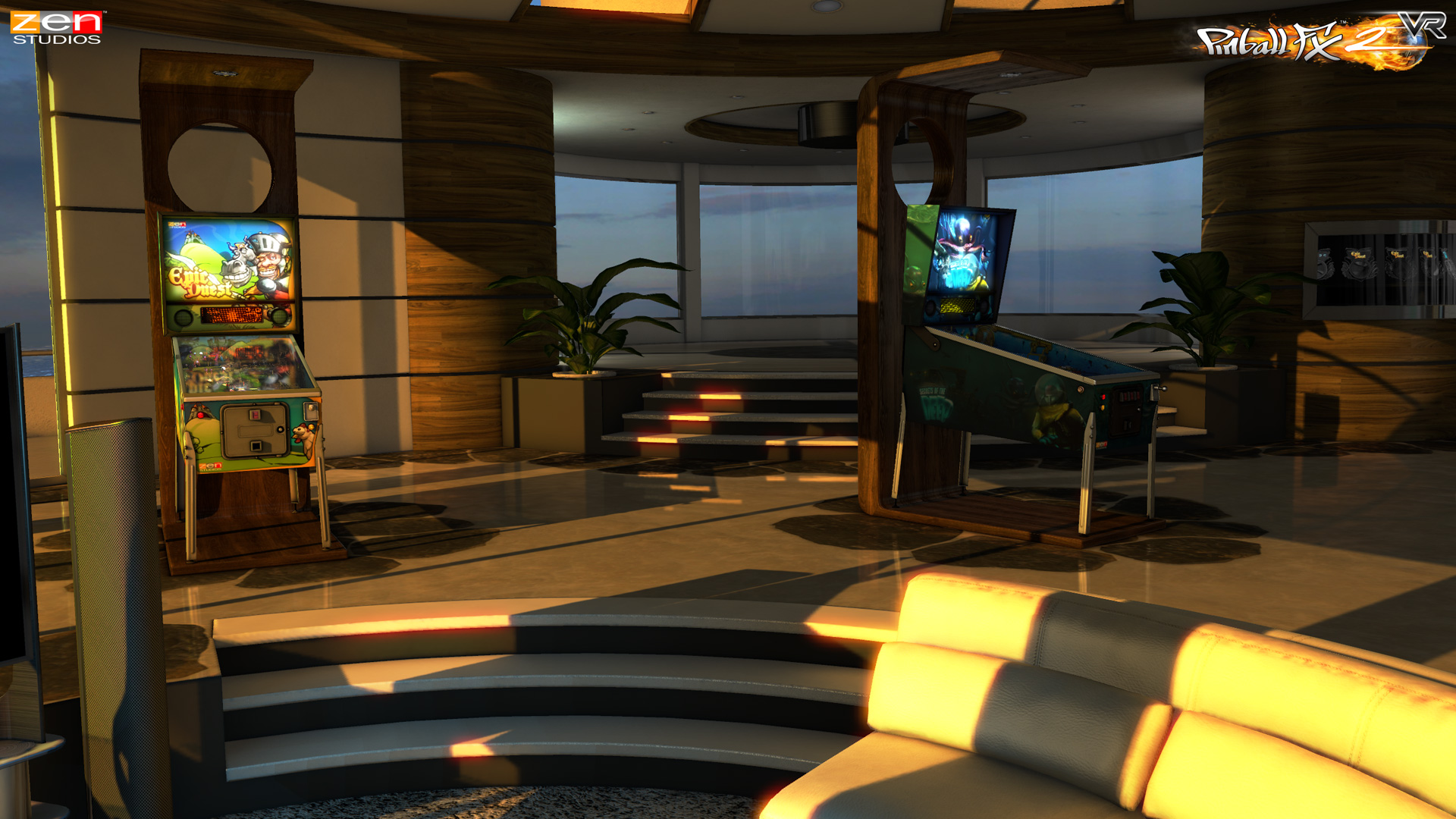 When it comes to table selection, Pinball FX2 VR currently features three: Mars, Secrets of the Deep, and Epic Quest. All are non-licensed creations that showcase different themes — space, deep-sea diving, and medieval times. Although newcomers may be surprised by the small selection, the truth is Zen Studios has a substantial catalog of tables to choose from, including El Dorado's temple expedition, the military-vs-aliens premise of Earth Defense, as well as the posh Rome table. And this is before accounting for their licensed material, like the superb Plants vs. Zombies table, and their Marvel representations of X-Men, Spider-Man, and The Infinity Gauntlet. "This was not an easy process," said Mel Kirk, Zen Studios' VP of Publishing. "Selecting tables from our table library for a new adventure is like picking from a group of amazing friends who get to go on some crazy trip, but there are only enough seats for a few."
Narrowing down the selection, according to Kirk, came down to what would offer the most range thematically. "We wanted to provide a good variety of themes that offered us a chance to test the waters with VR, but also confidently produce something that was exciting. Being underwater, on the planet Mars, and in a funny, epic RPG gave us an excellent mix of themes with the ability to do totally different things with each." Having personally played two of the three tables through Zen Pinball 2, though, it's evident that theming is only half of the equation.
Mars is an especially approachable, uncomplicated table that new pinball players can get accustomed to without feeling dizzy by excess compartments and technique-demanding missions. Compare this with the charming Epic Quest table, which rewards experts who can master its unique RPG structure. And then Secrets of the Deep is the visual showstopper of the group, turning your virtual home into a diving simulation with jellyfish, roaming sharks and other neat effects. By this grouping, Pinball FX2 VR is decidedly well-rounded in catering to multiple pinball audiences: the intrigued new starter, the skilled pinball wizard, and the player who's in it for the mesmerizing effects that virtual reality will bring.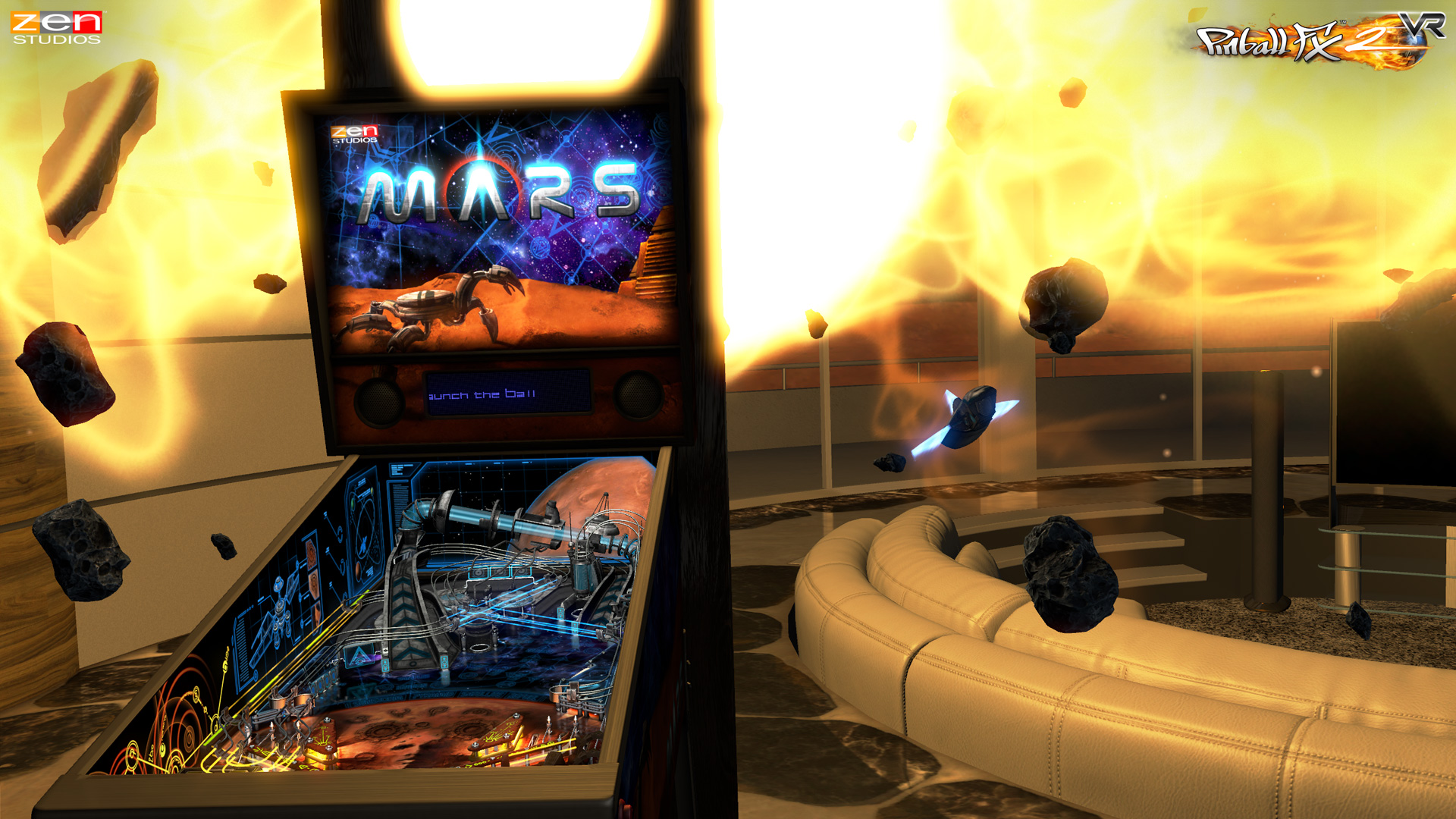 A Digital World of Wonder
In implementing such tricks, there's a fine line between table effects that add to the immersion and those that distract from the play experience. When I asked Györei about the safeguards they put in place, he shared that the same rules Zen Studios normally has when creating table environments also applied when preparing pinball experiences with virtual reality in mind.
"Programmed events that are in sync with table happenings occur when the ball is not in play," Györei said, "so players may have some time to see and admire what's going on." Due to environments being more "lifelike and active" in this space, however, they had to be extra careful that nothing could be misconstrued as disruptive. "The surroundings are filled with ambient movement, effects, and some action, but those that may be really distracting (a shark rushing towards you, for example) actually happen out of the normal pinball gameplay view." This separation, Györei added, creates a layer of discovery, where these serve as supplementary extras rather than polarizing play functions.
Although they're not going for shock value, the element of fright with the Secrets of the Deep table does present an intriguing proposition for how Zen Studios may choose to translate other existing tables with a darker feel, such as Nightmare Mansion. "Everything feels more real in VR," Györei admitted. "It is considerably harder to stop looking around in this virtual environment than it is in front of any 2D display."
Owing to this, any direction that would involve channeling creepy vibes could be unsettling or even threatening to some players. Györei gave a few examples: "You may be okay with the dimmed light of a few candles, the slowly whirling fog around your knees; even the strange storm and the occasional blinding white lights from the outside wouldn't bother you." But they'd need to draw the line at "crazy ghosts" and "strange chanting voices," elements Györei said they'd refrain from. "We can easily end up with more distractions than supportive environmental elements."
But the scope of virtual reality doesn't rest squarely with visual performance and special effects. Central to Zen Studios' design choices is the physicality of this new technology, where the player's body movements constitute an important variable. Will they choose to play sitting, or will they opt to play standing up, thus enabling them to hunch over tables in a realistic fashion? Other non-VR pinball games developed by Zen Studios feature multiple table viewpoints (faraway views vs. close ball tracking), which players can toggle between until they find a camera angle that feels snug for their play style. But here, it's self-determined; close-ups are accomplished not by changing settings, but by shifting their body forward. And that lends to a different play experience all on its own.
Offered in this layer of control is a more hands-on approach to tables, where you can investigate their inner workings almost like using a microscope. "Players are able to examine any part of the playfield, see what mechanics work at the backwall, confirm how steep a certain ramp is, discover a partly hidden sinkhole, or carefully note what angle to take for certain shots," Györei shared. The presence of an all-angles perspective has a twofold benefit: players feel immersed with a fuller awareness of table features, and the development team feels gratified for their work. "The tables are custom-tailored to the very needs of their actual setting, up to the last on-screen pixel," Györei stated, "and these details become even more apparent in VR."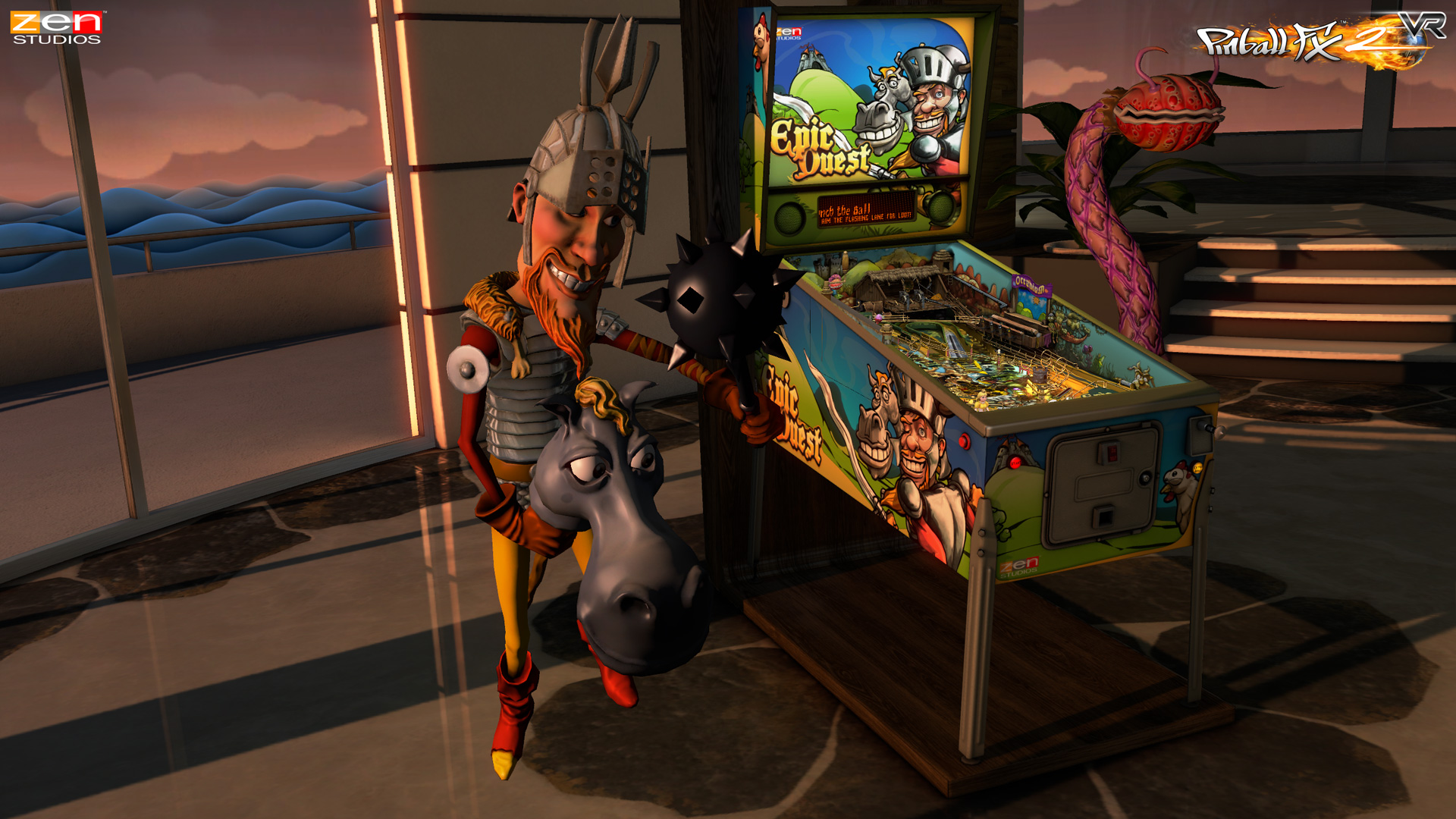 Nostalgia Meets Innovation
This methodology marks a fresh change on how digital pinball is explored in the current age, and as a new frontier for the genre, it's fertile ground for Zen Studios to experiment. It will be interesting to see how future tables from their back catalog are explored in this new environment as Pinball FX2 VR expands. Could the previously-mentioned Earth Defense table be given visual enhancements to make the alien invasion aspect less docile? And what of the Steampunk-themed Tesla table? Could it be readapted to appear as a more active workshop?
Zen Studios is completely open when it comes to the potential of future tables. "We can make playfield toys come to life and interact with environments in new ways, providing a lot of 'wow' moments," Kirk said. "The environments themselves allow us to easily transport players to different locations and universes in an instant, where they can be totally immersed in the table's setting." And while Pinball FX2 VR starts out with no license affiliations, Kirk also emphasized the "huge" implications for those tables as well.
For the "life-changing" possibilities virtual reality is poised to unlock, Zen Studios wants to remain at the pulse of these intriguing developments — particularly as they relate to digital pinball. "The DIY community is already hard at work building really cool VR pinball boxes that make the game feel totally real," Kirk said when discussing what VR has spawned during its early phase of technical newness. "This solves the space issue for most people who want a physical machine but do not have space, or the huge financial commitment that people need to make to get a machine."
As virtual reality drops its enigma status and both developers and players acclimate to this new environment, it could spell great change — with modern arcades, for example, and museums that feature videogame-centric exhibits for digital archiving. Some projects, like NewRetroArcade: Neon, are doing their part to bring the entire arcade experience into VR, for example.
As it is, there are preservation projects underway within the pinball space to ensure that old cabinets are remembered as artifacts of gaming history, a mission that virtual reality could assist with. But further than matters of technical achievement, its implementation can be a practical boon to enhance current gameplay presentation styles and devices for cementing immersion, while thinning the lines between real and unreal in virtual spaces. And for wizards who seek high-quality pinball experiences that are mechanically fluid and atmospherically authentic, virtual reality has much to offer.
—
Article contributed by Jose Cardoso. Jose is a freelance game journalist with work appearing in publications such as Newstalk and Kill Screen.