Meta looks to be considering a new 'Quest Pass' subscription service for VR games.
Twitter user @ShinyQuagsire says he discovered a hidden page on the Quest app that suggests the service is under consideration and/or development at Meta. The screenshot suggests the service could include two games or apps per month that users can redeem for free and keep while subscribed.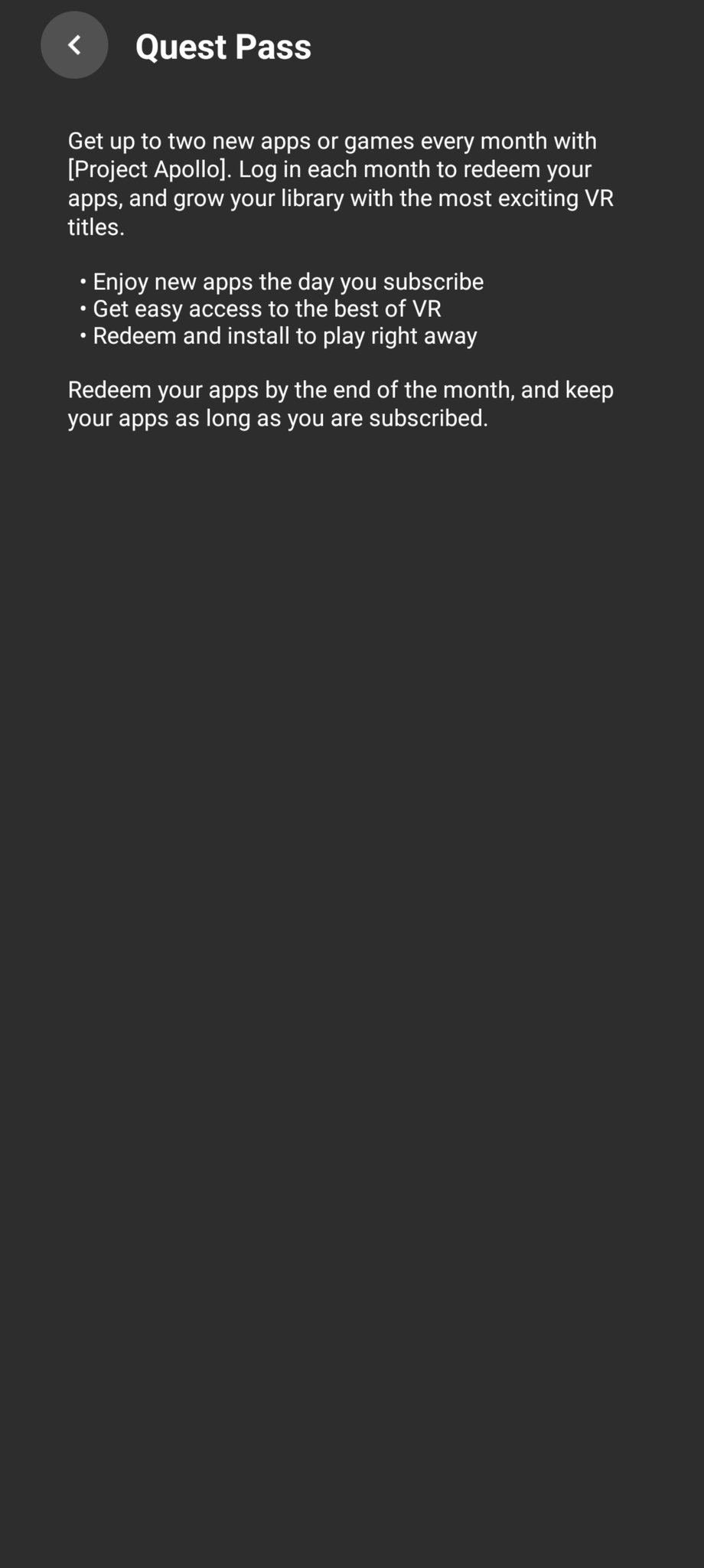 On Twitter, @ShinyQuagsire wrote that a deep link redirected to the Quest Pass page on the Android Quest mobile app. We weren't able to successfully load the same page using the link he posted, but there's a fair chance Meta disabled the page after it was discovered.
The description in the screenshot reads as follows:
Get up to two new apps or games every month with [Project Apollo]. Log in each month to redeem your apps, and grow your library with the most exciting VR titles.
Enjoy new apps the day you subscribe
Get easy access to the best of VR
Redeem and install to play right away
Redeem your apps by the end of the month, and keep your apps as long as you are subscribed.
By the sound of that description, Quest Pass (or 'Project Apollo', as it's described above) would operate similarly to something like PlayStation Plus, which includes a few games that can be redeemed per calendar month and played as long as you stay subscribed.
It's unclear what else – if anything – a Quest Pass service would offer beyond the monthly games. PlayStation Plus is predominantly centered around providing access to online services required for multiplayer games. Excluding some free-to-play games, most multiplayer experiences on PlayStation require a PlayStation Plus subscription to be played online.
Currently, Quest owners do not require a subscription to access online multiplayer services for their games. From the description in the screenshot though, it looks like a hypothetical Quest Pass could focus on providing monthly games as the main offering of its service.
UploadVR sought comment from Meta regarding a potential Quest Pass service. We will update the article if we receive a response.