Beginning in early April, the $800 HTC Vive will initially ship in 24 countries to people who pre-order the device on Feb. 29. With two tracked controllers that bring your natural hand and arm movements into VR and bundled with two titles that showcase the power of room-scale games, Job Simulator and Fantastic Contraption, the Vive is set up to compete with Rift from day one as "the complete experience."
That's how Dan O'Brien, the VP of Virtual Reality at HTC, framed the Vive in an interview with UploadVR. The story is a bit different for the Oculus Rift, which is $200 cheaper initially because it ships with an Xbox controller instead of the hand controllers. It's bundled with sit-down VR experiences like space shooter EVE: Valkyrie and third-person platformer Lucky's Tale. Sometime in late 2016 Oculus expects to ship an additional tracking camera and its Oculus Touch controllers that will bring hands into VR.
"You have your hand interaction. Everything that's there for you to actually move around in VR. And that's what's so critical is that you can move around. You can feel safe and you can actually experience all that content around you," he said. "[Buyers] don't have to get other pieces later to do more, to get up and move around."
HTC is also doubling down on features to keep people comfortable for a long time in walk-around VR worlds. An outward-facing camera on the headset, combined with the "Chaperone" and "Lighthouse" systems for tracking movement and warning about collisions, are designed to work together to make people feel both safe and connected with the people around them. At CES, UploadVR tested a Vive feature which allowed, at the press of a button on a controller, the ability to see people in the room through a camera and talk to them naturally. Now HTC is announcing bluetooth compatibility with smartphones. Your phone could be sitting on a table in the real world but in your virtual world you could answer it. The Vive will ship with a built-in microphone as well.
Your PC Should Have These Specs To Run Vive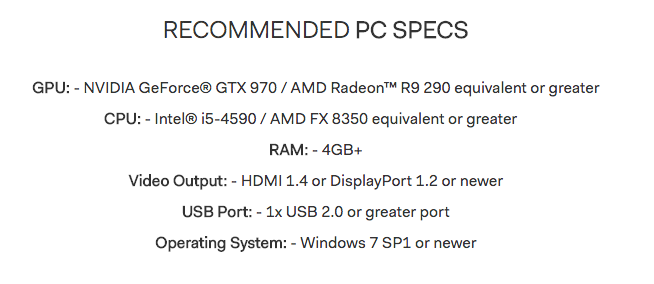 HTC is a global technology company and the Vive will have an international release. The headset's first wave of distribution will be to the following countries: U.S., Canada, U.K., Germany, France, Austria, Belgium, Czech Republic, Denmark, Finland, Iceland, Italy, Netherland, Norway, Poland, Spain, Switzerland, Ireland, Sweden, Taiwan, China, Japan, Australia, and New Zealand.
Now that most of the important pieces of information are known about the hardware platforms of the two competing PC-powered VR headsets, the war for your hard-earned cash is going to come down to content. There's an old adage that "software moves hardware" and available titles will be the final battleground between the major headset manufacturers in these last few months before release. Oculus had a head start in developing partnerships early on for its first development kit and the fruits of those longer development times will be shown at an upcoming event in San Francisco this March.
Despite the importance of Oculus-exclusive software to Facebook, O'Brien sees the Vive as a platform for more open development:
"We've told developers we're not doing exclusives. Be healthy. Put your stuff on other platforms," he said. "That's gonna make you a healthier developer and we don't want to put those restrictions on them."
There might still be announcements in store for both the Rift and Vive that could sweeten the deal for each of the headsets. The Game Developers Conference takes place alongside a Virtual Reality Developers Conference from March 14 to 18 in San Francisco and much more is likely to be revealed then.