Virtual Reality hype is a worldwide phenomenon. However, at the moment there is no coherent ecosystem. On the one hand we have platform wars, where Vive, Play Station, Oculus and Microsoft compete for the users. On the other hand, we have cultural differences on the continental level: USA with its fast and agile Start-up culture, China with its extreme interest in out-of-home entertainment, and Europe with its focus on practical and functional use of VR.
Big European companies recognize the importance of VR and its potential to solve business challenges they encounter. To address this interest, one of the world biggest professional expo organizing companies, Deutsche Messe AG, used their resources to connect VR experts, enthusiasts and German companies.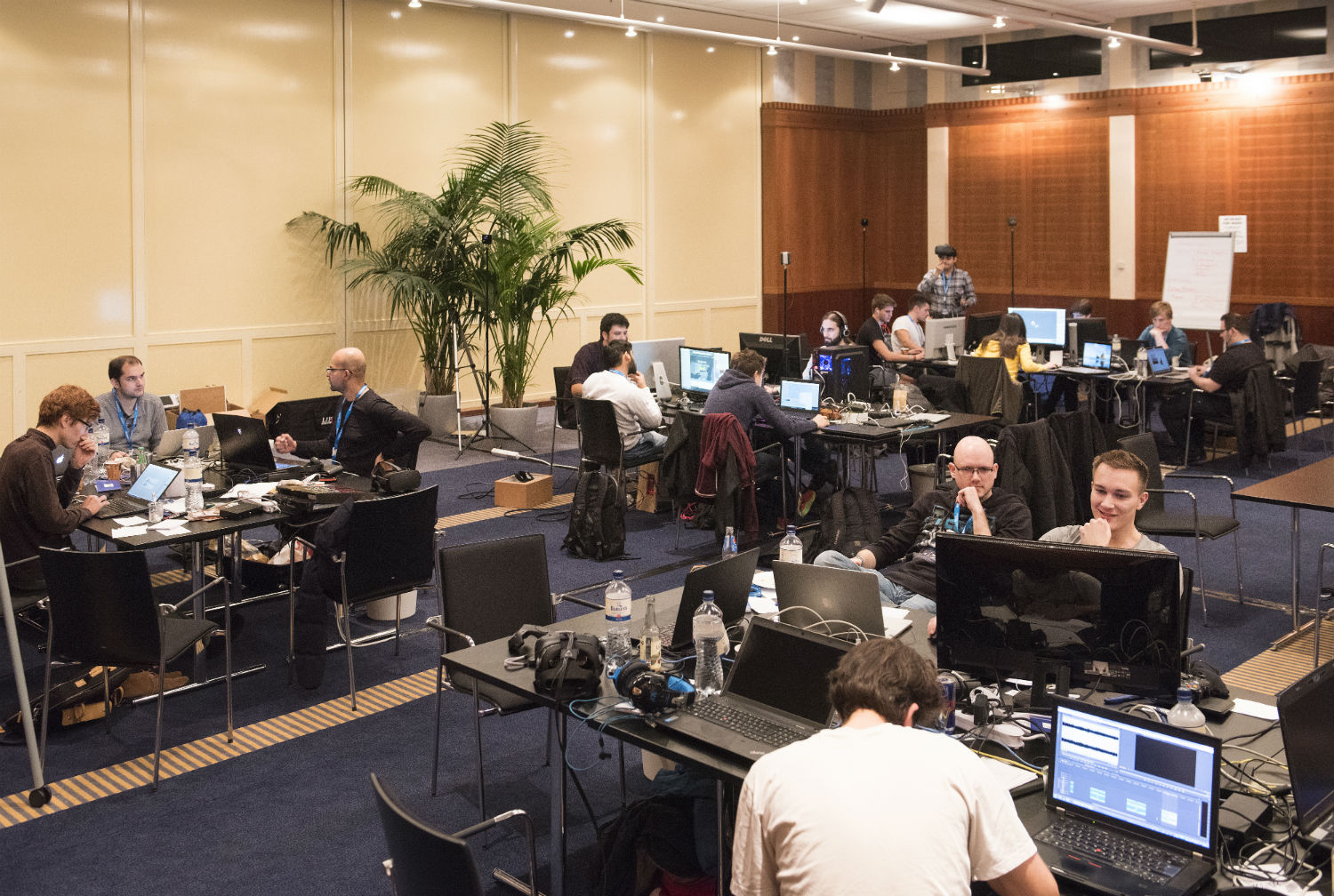 HACKVENTION, a hackathon combined with a convention, took place earlier this month on the Fairground in Hanover, Germany. Deutsche Messe AG, known best for CeBIT – the largest and most internationally represented computer expo – joined forces with Startup Göttingen e.V., hannoverimpuls and TVN Group to provide space. The event included a hackathon where both hackers and industrial partners could pitch their ideas and a convention, with world class speakers such as Nolan Bushnell, founder of ATARI, and Astrid Kahmke, a multiple awards winning expert in storytelling. There was also the expo, where visitors, hackers, and executives had an opportunity to experience how VR can improve their business.
"We came up with the idea that we approach companies to get them to come to [the] hackathon to propose their ideas, because they are also feeling the hype these days. And they are also starting to think about how their problems can be solved with virtual reality. And I think getting the hackers and the business together is a great thing and could generate a lot of value," said Bryan Hempen, Community Manager.
Winners
On Sunday afternoon the best prototypes were presented and rewarded by an independent jury. 
Best Pitch: Welding App
The award for the Best Pitch of the Virtual Reality Hackvention 2016, sponsored by ZEISS Group went to the team of Virtual Spice with Petr Legkov, Sergio Torcanin, Henri Hesse, Franziska Rücker, David Hörst & T M Hasan Özdemir for their welding app, Digital Dice.
Most Innovative: App for Phantom Pain Reduction
The award for the Most Innovative Idea of the Virtual Reality Hackvention 2016 sponsored by CeBIT Global Conferences went to Christoph Rauterberg, Hanna Holderied, Stefan Siemer, Dominick Leppich, Marc Zöller und Hauke Kaulbersch for their VR app Phantom Pain Reduction.
For amputees, there are several approaches to help them cope with their disability, 2 of them are relevant for us: They can train and use prothesises, and there are special methods to prevent phantom pain (mirror trick). Both are complex and time consuming procedures and therefore we built a VR application that uses a Vive, Kinect and Myo Wristband to facilitate those procedures for affected people.
Marc Zöller, Software Developer
Best Prototype: Saving Planet A
The award for the Best Prototype of the Virtual Reality Hackvention 2016 powered by RICOH DEUTSCHLAND GmbH went to Carina Mentrup and her Team Daniel Pots, Christian Steiner, Martin Fischer, Joke Frerichs Lukas Schrader & Phillip Schmidt for their education app Saving Planet A.
https://youtu.be/eqZxulkMec4
VR Saving Planet A  is a project driven by the belief that the powerful combination of immersive technologies and education for sustainable development can save our planet. The idea is to draw attention to environmental issues inside virtual reality to raise awareness for climate protection.
Carina Mentrup, Project Leader
Uniting Europe In VR
The VR community in Germany and Europe recognizes the potential of Virtual and Augmented Reality to solve many business challenges through functional and serious content. The next milestone in building a better European VR ecosystem, one that connects many great hotspots spread around the continent with the businesses in need of VR and AR, is VR@Cebit 2017. This year, at one of the worlds biggest innovation expos, VR and AR is going to play a major role by having a major dedicated space for VR/AR startups.