Ghostbusters: Rise of the Ghost Lord will launch simultaneously on Quest and PSVR 2 this fall, Sony Pictures Entertainment confirmed to UploadVR.
The news come alongside a new story-focused trailer for Rise of the Ghost Lord, which premiered today during the Meta Quest Gaming Showcase.
"Ghostbusters: Rise of the Ghost Lord will ship simultaneously on Meta Quest 2, Quest Pro and PlayStation VR2 in Fall 2023," Jake Zim, Senior Vice President of Virtual Reality at Sony Pictures Entertainment, told UploadVR over email interview.
After nDreams and Sony Pictures Virtual Reality announced the game at last year's Quest Gaming Showcase, nDreams told UploadVR that it would be "focusing on Meta Quest 2 at launch." The confirmation of a PSVR 2 release came a few months later, but today's comments from Zim confirm that the game isn't a Quest-exclusive at launch, as originally thought.  
Zim also confirmed that the game will be mission-based, all of which can be undertaken solo or in co-op with friends. "Multiplayer will require strategic communication and coordination to make it through missions," said Zim. "Single player mode offers an equally immersive and challenging experience where players will tap into their creative abilities now that they're playing solo. Both single and multiplayer are fully featured but will demand different play styles and skill sets."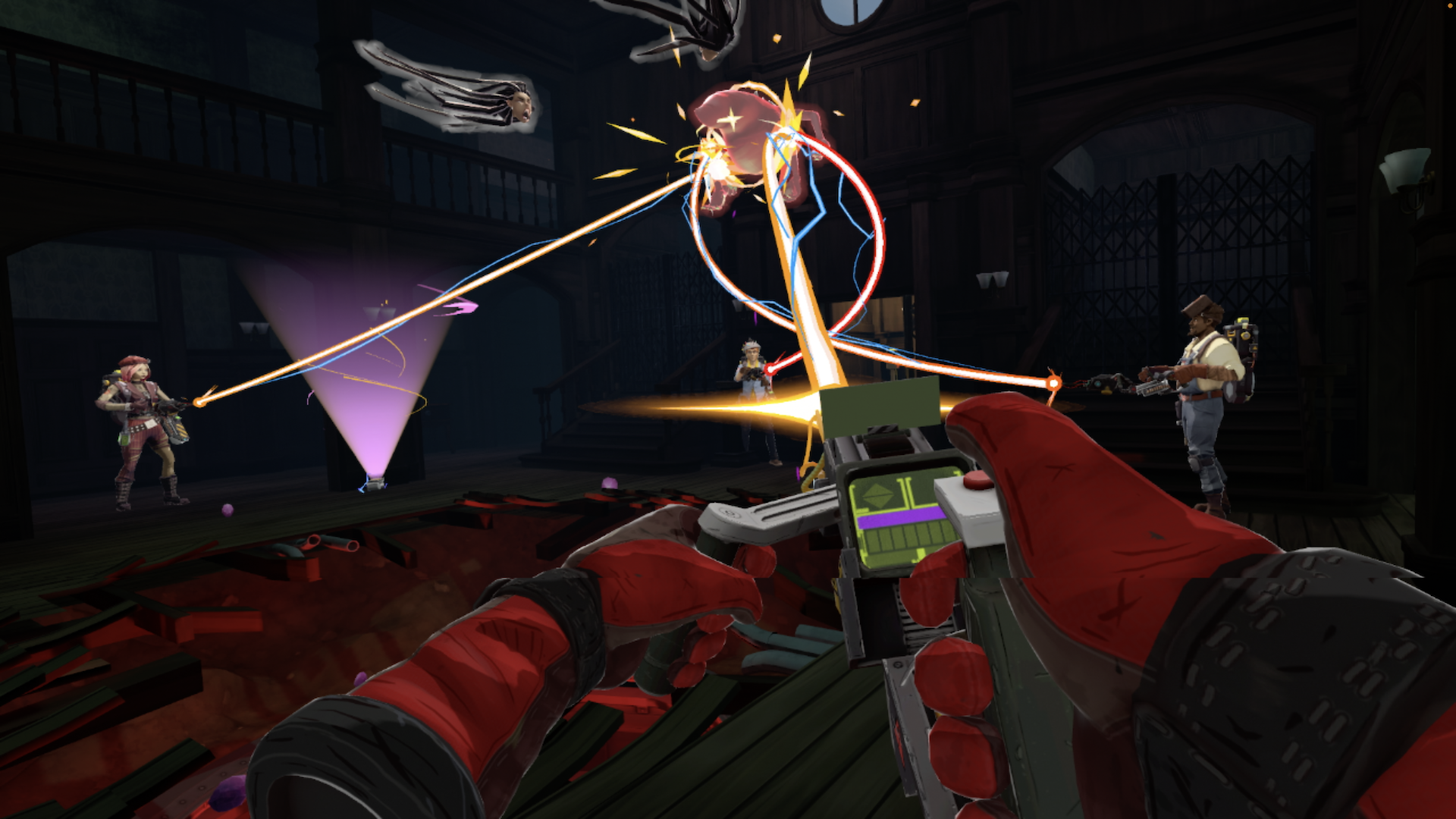 While previous trailers gave us a first look at gameplay, today's footage was more story-focused in nature. "We've heard a lot of questions about the Ghost Lord. Who is he? Why is he in San Francisco? That's exactly why we wanted the latest trailer to focus on his origins from humble student to mad scientist."
The titular Ghost Lord is an original character, developer specifically for the game. "We worked closely with nDreams and Ghost Corps to stay true to Ghostbusters canon and give Rise of the Ghost Lord an authentic feel that is true to what fans love about Ghostbusters while introducing new ways to interact with the franchise," said Zim. "There are quite a few easter eggs sprinkled throughout this trailer connecting Rise of the Ghost Lord with the rest of the Ghostbusters Universe."
We also got a first look at the new San Francisco-based HQ for players in today's trailer. "Rise of the Ghost Lord highlights spectral chaos on the West Coast in San Francisco," said Zim. "The new HQ is located inside an old cable car depot with a retrofitted cable car acting as a ghost containment unit. Here players can upgrade and customize their equipment before heading to iconic locations like Chinatown, Alcatraz and the Golden Gate Bridge.
"Each mission will introduce players to new ghosts they have to track and trap, and we give you a first look at a few of them and their unique personalities in the trailer. It's been a fun process putting together the story for this campaign and each mission that unravels the mystery as you go."
Zim closed off our interview by assuring players that more gameplay is on the way soon. "Obviously, we're focused on building excitement for the story and setting with this trailer but rest assured, players can expect to see a closer look at gameplay on both headsets before the official launch."
Ghostbusters: Rise of the Ghost Lord launches later this year for Quest 2, Quest Pro and PSVR 2. Meta also announced today that Quest 3 ships sometime this fall, supporting all existing Quest experiences at launch.