One of the very first things I did in Oculus Go was lean.
I was playing Settlers of Catan at the Game Developers Conference in San Francisco and they were demonstrating cross-play from Rift to Oculus Go. There was a person sitting to my right in VR and I instinctively leaned to get a better look at the far side of their viking-like avatar. Obviously, that didn't work in the $200 system.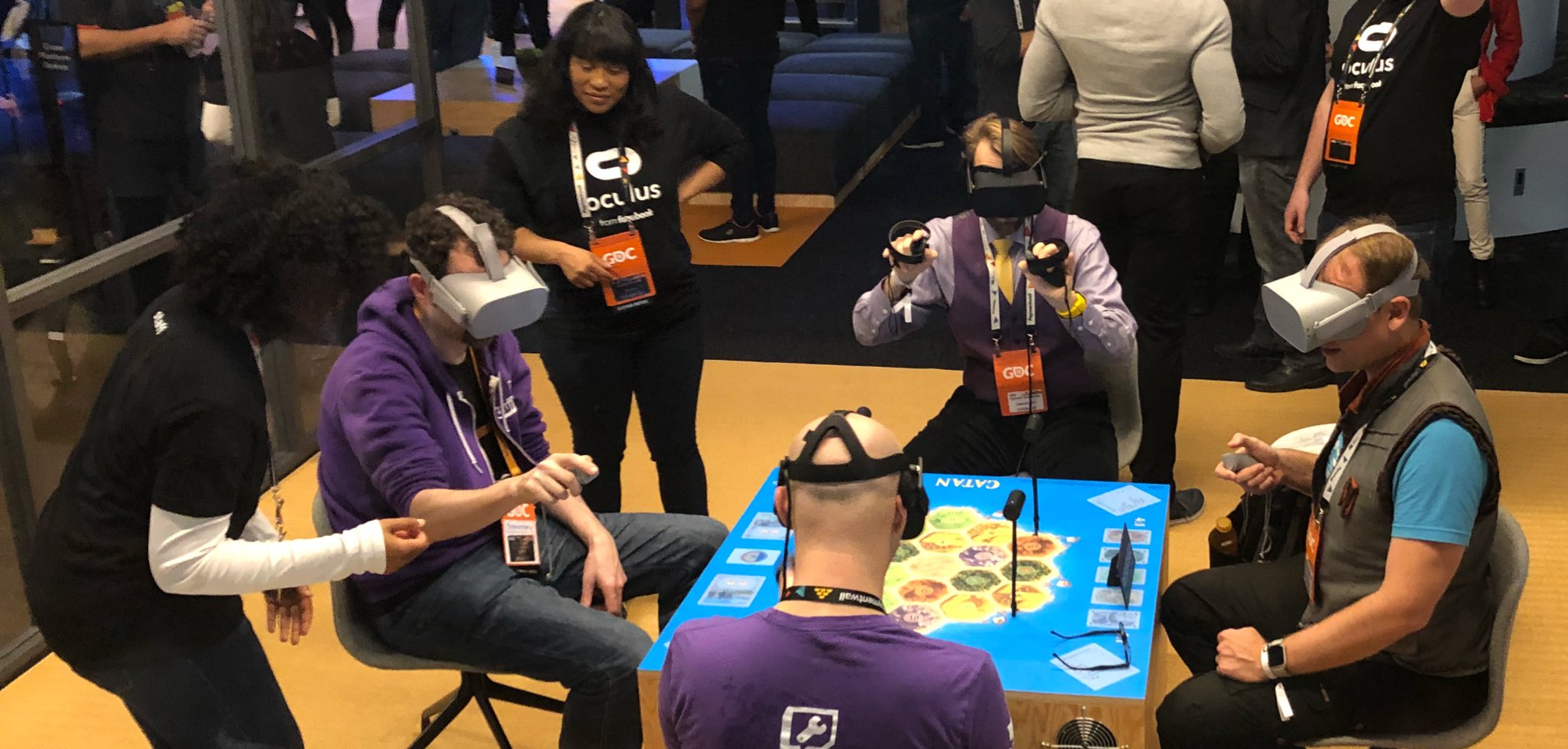 What I've just described is the key difference between Oculus Go and its more expensive competition, the $400 Lenovo Mirage Solo and $600 HTC Vive Focus. In those other headsets you have the freedom to move around a room and have that movement recognized by the headset. With all three of these systems, though, your single hand controller only recognizes simple pointing movements. So even though you could walk around a large space in Vive Focus, for instance, it is likely best used in seated positions where you don't need to move around much. People bob their head around a ton even in a seated position and that's not something Oculus Go can see. So essentially you have the first generation of standalone VR headsets all likely to be best used in a seated position. Those backed by Google and HTC, however, give you that added bit of freedom to get a better look at the things around you.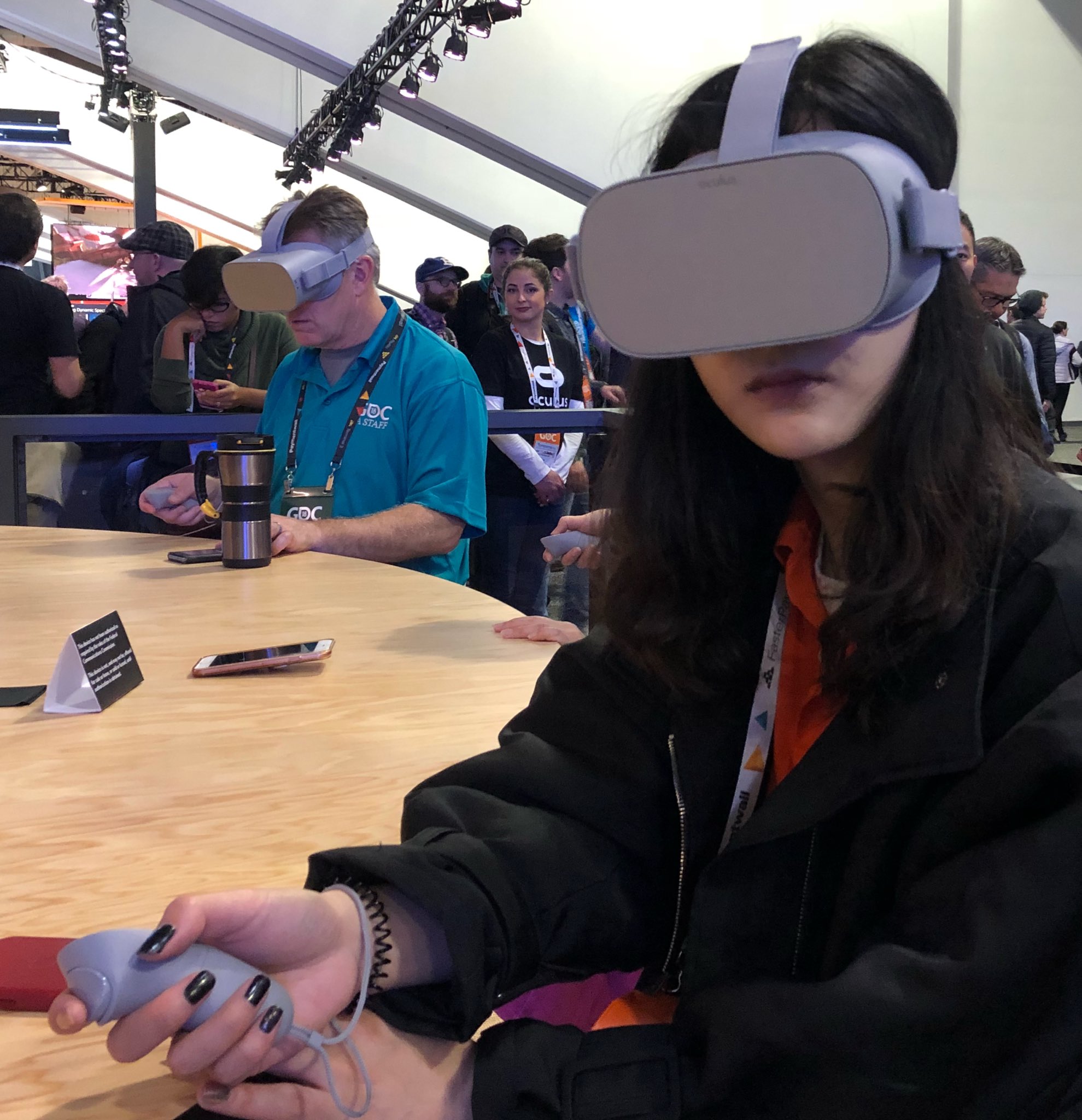 I didn't get enough time with Go to arrive at a conclusion about whether or not that extra freedom to move your head around is worth doubling or tripling the cost of the system. At GDC, though, Oculus is looking to demonstrate the value of cross-platform support in titles backed by Facebook — showing cross-play from Rift to Go in Settlers of Catan as well as space battling game Anshar Online from Ozwe Games. In theory, this solves two problems at once — giving players picking up Oculus Go people to play with while simultaneously expanding the player base for people getting these games for their Rifts.
Oculus revealed today the headset can run at either 60 frames per second or 72 frames per second, opening up some greater smoothness to developers that want to take advantage of the feature. I'm unsure the frame rate at which Catan was running, but there was some notable flickering visible particularly in the bright areas of the scene. It is possible the game is just not optimized yet because subsequent hands-on time with Anshar as well as They Suspect Nothing from Coatsink didn't have the same limitation. Each appeared pretty crisp, with Anshar's dark space scene standing out as particularly lovely. I don't feel like I noticed enough differences in the optics compared with other mobile systems to really comment on how it stands up to them in terms of resolution, field of view or screen door effect, but I didn't notice any god rays like I do in the Rift. The most memorable thing about the optics was that it was a joy to use a mobile VR headset and not see a hair or piece of dust in between my eyes and the screen.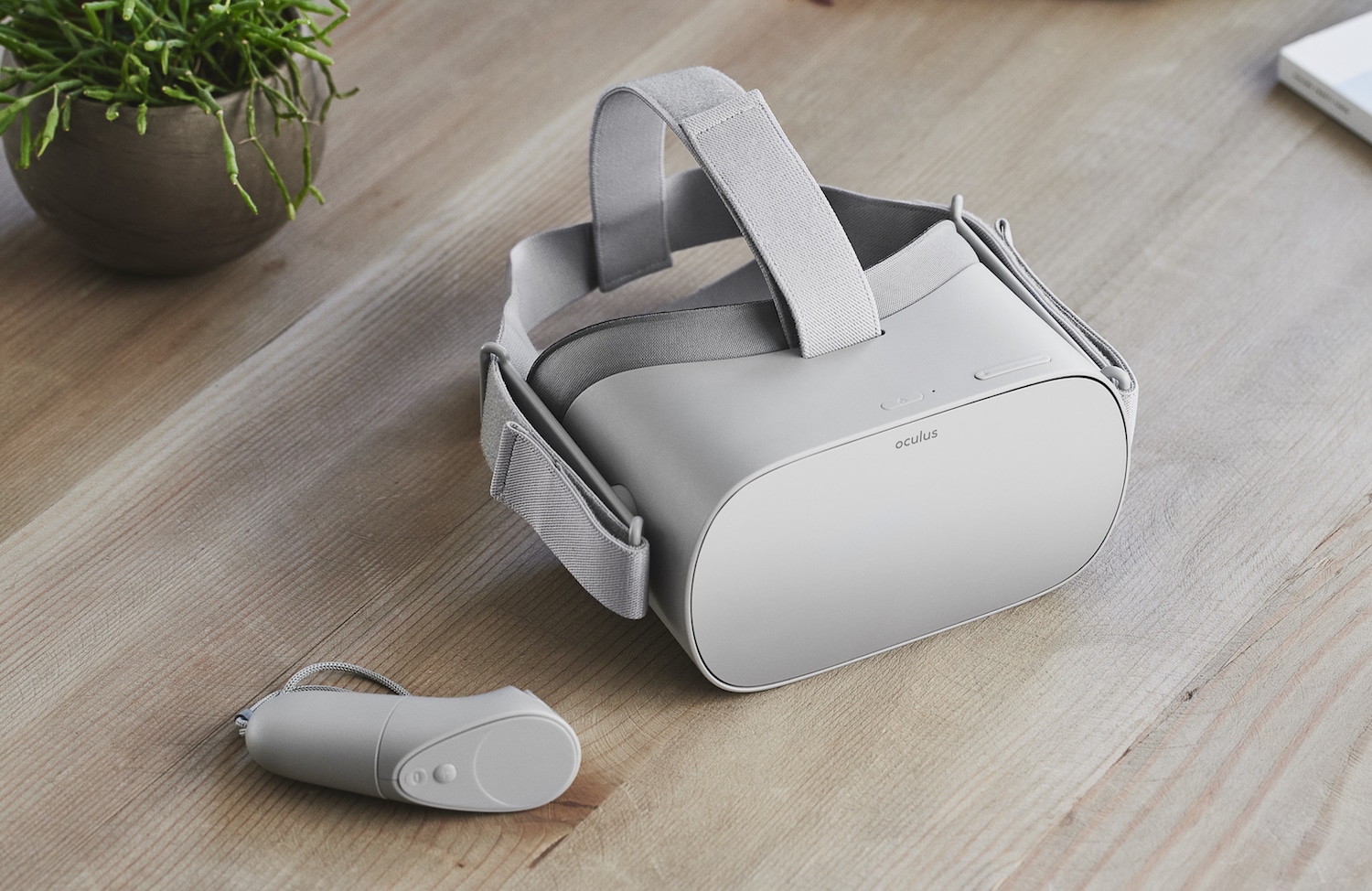 The controller felt pretty standard in comparison to Gear VR and Daydream, though with a nice ergonomic fit in my hand. The headset also fit well, with the same hole as Rift where I can look down and see a sliver of the outside world next to my nose. Sound came out of the headset at the sides of my head, though even at max volume it didn't seem as loud as a Pixel 2 with Daydream. Oculus Go is said to be binary compatible with Gear VR, so developers should be able to bring their titles to the new standalone system pretty easily from Gear VR.
Facebook appears to be targeting a launch at its developer conference F8 for the headset.