VR is one of the hottest topics at Mobile World Congress this year with HTC and Valve revealing the pricing of the Vive, Samsung shipping potentially over a million Gear VRs into the wild and announcing a consumer 360 camera, and LG announcing a very disappointing headset and less disappointing camera. Yet even as the present settles in the world of VR our eyes are tracking toward the future.
Eye tracking is going to play an integral role in the future of VR with a number of important applications ranging from user interaction to foveated rendering that will prove crucial to its advancement. As big of an impact as it is going to make on the entire landscape mobile VR may be the place where its impact is felt most initially.
Despite a nice performance upgrade with the S7,  the Gear VR is limited by the fact that it is run off of a mobile device – there simply is only so much power you can pack into a phone that will fit into your pocket. With eye tracking, and more specifically foveated rendering, developers will have the chance to squeeze even more out of the platform opening the doors to some pretty amazing experiences.
https://www.youtube.com/watch?v=mDvgP2tnMHQ
SMI, one of the world leaders in eye tracking technology, is the first company to showcase eye tracking working properly on a mobile VR device. We previously had a chance to try their latest 250Hz eye tracking setup on an Oculus Rift DK2 and were impressed by both its function and cost. SMI's mobile VR integration was no different, appearing to operate just as well on the Gear VR as it did running off of a laptop.
When we previously tested SMI's foveated rendering, we noted that it was difficult to tell if it was working while in the headset because when it is you can't even see it (foveated rendering mimics how the eyes actually see and uses it to the developers advantage). In the latest demo, however, SMI included a helpful benchmark graph and toggle that allowed us to see how the scene was performing with and without the foveated rendering turned on. Using this graph and viewing a complex scene allowed us to see that SMI's foveated rendering implementation nearly doubled the performance, significantly reducing the load on the phone's GPU. The best part is SMI isn't a foveated rendering company – those optimizations will be handled by companies like NVIDIA and AMD – which means the performance increase we saw may only be the tip of the iceberg.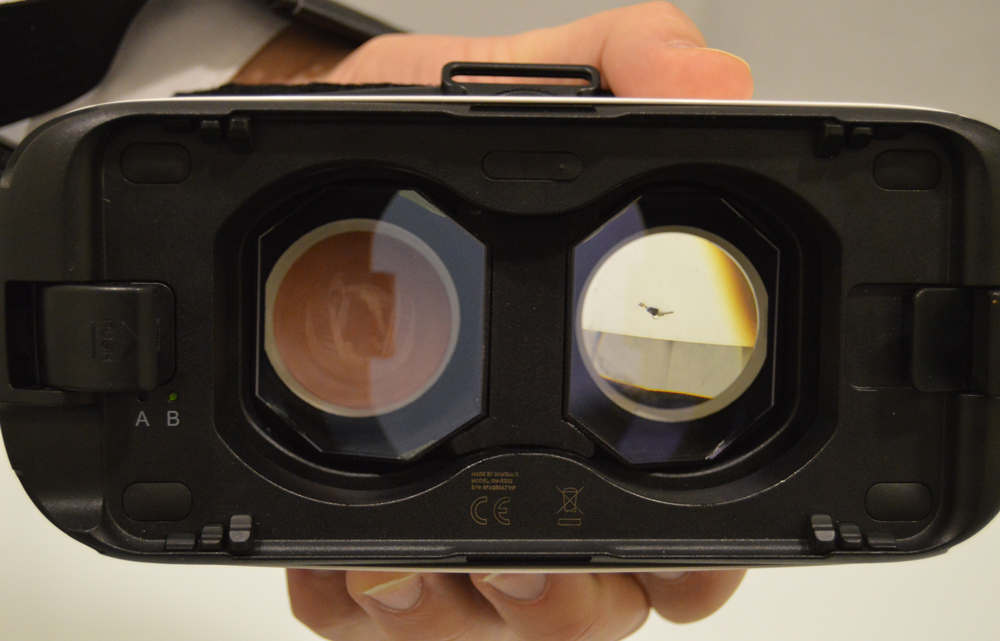 SMI isn't targeting consumers with this demonstration, but rather is showing it as a view of what is to come. Like they are doing with the Rift, SMI plans to sell its Gear VR integration to developers and researchers who are looking to explore eye tracking's applications in future generations of consumer hardware.  SMI's OEM Director Christian Villiwock says the company is in talks with "all of the headset manufacturers" to integrate their technology into the second generation of VR hardware.