Drop Dead: Dual Strike is a total overhaul of the co-op zombie shooter Rift game Drop Dead. It will be a launch title for Quest and support cross play with Rift and Rift S.
Drop Dead features a full campaign as well as a cooperative horde mode and competitive mode. Dual Strike adds support for dual wielding weapons as well as a range of melee weapons such as scythes, axes, and pitchforks.
In the campaign you're an agent trying to stop the evil Dr. Money who caused the zombie apocalypse. You team up with an ex-CIA agent to take on the evil mastermind.
We gave the current Drop Dead 7.5/10 on Rift in our review:
The solid, smooth performance and accurate targeting make it plenty of fun and the new missions and brand new multiplayer mode add plenty of replay value. More than that though, it's an excellent homage to the classic light gun games of old.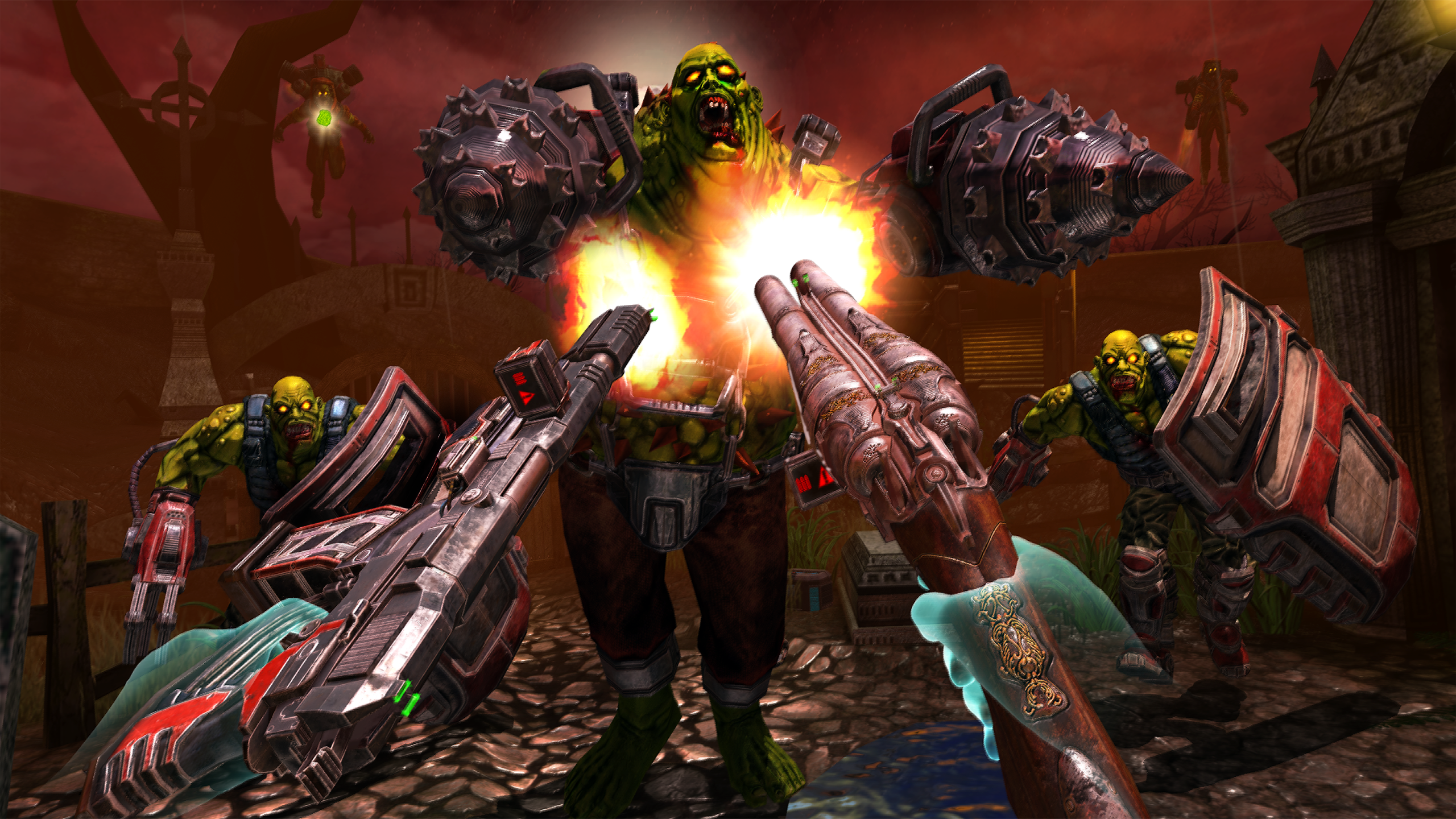 Dead and Buried 2, another Quest and Rift crossplay game, has a co-op zombie horde mode (coming soon), but you're in a static position, there's no melee weapons, and that's not the main focus of the game. That game is more meant as a competitive multiplayer shooter first, with zombies being a secondary aspect.
The major zombie games on Rift were Arizona Sunshine and Killing Floor: Incursion. Neither has been announced as coming to Quest, so Drop Dead will be the headset's go-to for zombie survival action.
Dual Strike is a free update for existing Rift owners of the game. If you don't already own it, it's priced at $20 on both Rift and Quest. As well as cross play, the game supports cross-buy too. Purchasing the game for Rift means you own it for Quest too, and vice versa. However, there isn't cross-buy with the Oculus Go version.
Correction: Dead and Buried 2's Horde Mode is coming after launch.