Ubisoft was right to withhold the Assassin's Creed branding from its first ever location-based VR escape room, Escape The Lost Pyramid. Though this exists in the popular gaming series' universe (and loosely ties into the just-released Assassin's Creed: Odyssey), the closest you'll get to the hood-wearing, neck-stabbing escapades of the Creed games is clambering up some walls and firing a bow and arrow at some decidedly un-killable mirrors. But that doesn't mean you should pass up an opportunity to visit this Egyptian tomb, especially if you've got three friends with you.
Escape The Lost Pyramid, not to be confused with the Temple of Anubis VR maze we saw at E3, is a smartly-designed escape room that plays to VR's strengths. It doesn't have you scratching your head solving riddles or going in circle searching for keys to locked doors but instead focuses on things that are fun to do inside VR, especially with friends. That means plenty of physical activities as well as delivering on the powerful immersion that can come with feeling true presence. Played on either the Rift or Vive, four players team up to navigate the treacherous traps of an enormous pyramid. You'll have your own tile to walk around on that's roughly the side of your physical walking space, although you can also teleport with the game's simple one-button control scheme.
This being an escape room, I'm hesitant to share much info about the game and its solutions, suffice to say that it smartly designs around the potential headaches of VR problem-solving. This is an experience that gives you the opportunity to do things you wouldn't do in real life; climb over chasms with the abyss lingering below or practice your archery skills in self-declared competitions. A lot of the time the game pairs you off with one other player so as to avoid too much complication and pace the experience so that everyone gets a turn to do something fun.
To seasoned VR players, this is all fairly regular stuff, but the collaborative nature of the game gives it a welcome twist. Communicating with each other as we twisted platforms to open up paths for teammates and worked out puzzles in the rare moments we all stood together almost felt like being on a game show.   One especially nice touch is the echo added to voice chat over the microphone, creating the feeling that you're really calling out to someone from far away. I think I screamed in the ear of another player that was maybe a tenth of the distance I thought they were in VR.
Crucially, for two of the people in my group, it was their first time in VR. We spent about 30 minutes inside the experience (you're given an hour to complete it, though I'm betting experienced VR players will be at an advantage) and neither of them ever claimed to feel sick. Not only that but our adventure was filled with gasps as we ascended through enormous environments and laughter as we messed around trying on different costumes in the starting lobby. They came out beaming with all the enthusiasm many of us felt the first time we slipped on a headset. That tells you all you need to know, really.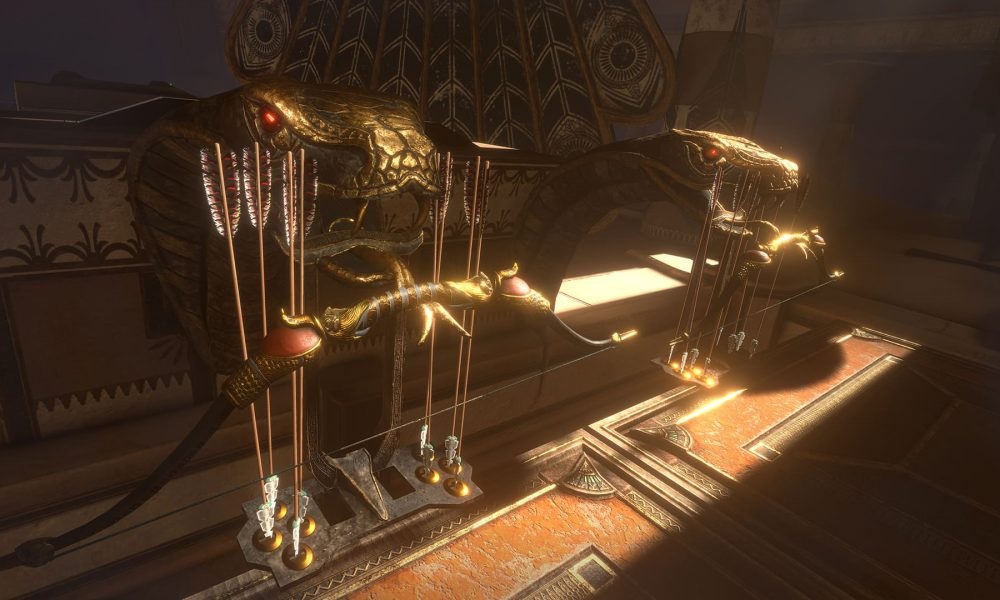 Perhaps more importantly, this sets a great precedent for Ubisoft's Escape Games division going forward. The team told me they were looking to have a new experience ready every eight months or so, though they didn't know if the next one would again be set inside the world of Assassin's Creed. Personally, I'd like to see the studio explore some of the company's other franchises, like Far Cry or Watch Dogs.
It might not be as ground-breaking as The Void or as accessible as Jurassic World's VR Expedition, but I left Escape The Lost Pyramid with a giant grin on my face, swapping stories with other players about our best bits. It's fitting proof that this can be a great way to introduce newcomers to the wonderful world of VR.
Escape The Lost Pyramid is currently installed at eight locations across the globe: four in the US and four in Europe. You can head here to find out where your closest one is.