We've played some of Asgard's Wrath 2 from Sanzaru Games and have our first impressions of how Meta's unprecedented investment in first-party content is shaping up for standalone VR gaming. Read on for details.
Depending how distracted you get by its sidequests or uncharted rifts, Asgard's Wrath 2 promises gameplay of 60 hours or more. I tried wall-running, climbing ladders and ropes, flying carried under one creature, mounted traversal on the back of another, solved environmental puzzles in the world at both god-scale and human-scale, slashed my way through countless enemies, petted the cat, and I played it all with stick-based smooth locomotion, snap turning and no tunneling or vignetting.
An hour and 30 minutes is not nearly enough time to judge the execution of content of this scope, and I wonder whether the game's vast open desert will seem sparse and underpopulated as you traverse it again and again across the full length of a campaign. Still, this was enough play time to grasp the scale of Meta's effort as well as the overall aim of Sanzaru's developers.
Even though they've made a sequel to one of PC VR's prettiest games for Quest 3 and Quest 2, I finished my demo feeling like there's a good chance Sanzaru could succeed in a quest to do more than ever before with standalone VR.
Storytelling & Environmental Richness
The detail is impressive in Asgard's Wrath 2. There's fluid character animations – at least way more fluid than most VR games – as well as nice lighting, a flexible combat system, and loads of original voice work. Plus, the development team says it runs at a solid 90 frames per second on Quest 3. Overall, admiring these environments and their details is a joy at both human and god scales.
Early in the action role-playing game you get introduced to one of the heroes you'll embody, Abraxas, and work to assume control of the character so that you infuse him with your godly powers. For his introduction, you follow him on a non-interactive path down into a chamber as he tears his way toward a relic he wants his hands on. The whole scene is reminiscent of the opening of both Diablo IV and Raiders Of The Lost Ark.
The path happens on a rail moving at a constant speed just like an introduction for I Expect You To Die or a Pistol Whip map. Where the other VR games place you in more abstract environments, Sanzaru does this with the same detailed assets you anticipate interacting with. It's a powerful way to draw you into the world itself, giving depth and breadth to it at the same time introducing and focusing you on the character you want to embody. The developers draw you in before you even think about how to get around and what you actually want to do in the game.
Dual wielding here feels great and you can knock one monster's head clean off and then slice another right down the middle into two floppy pieces. Once the slicing is over, you just hop on your giant cat and ride off across the open desert to hack up some more mythological monsters.
The desert stretches out in all directions bordered by cliffs and, as we galloped along, I could see something gigantic moving in the distance beyond them like Vah Naboris in Breath of The Wild. Whether it is the feel of the desert in the rumbling haptics of the controllers in my hand, the sights of something interesting in the distance, or the ever-present audio, the world of Asgard's Wrath 2 feels alive in a way very few VR games can match.
While field of view tunneling is planned for comfort, there's no teleport in Asgard's Wrath 2 for combat reasons and I'm extremely sensitive to simulator sickness. Still, I felt good across my entire Asgard's Wrath 2 play session. Sanzaru's developers spent much of the last decade building out a host of VR-first interactions and best practices, building from VR Sports Challenge and Ripcoil in 2016 to Marvel: Powers United VR in 2018 and then to Asgard's Wrath in 2019.
In Asgard's Wrath 2, we see the results of what very experienced VR developers can do building on a project with a very large scope. And, as expected, it's a lot to take in.
Backstory
Narratively, Sanzaru sums up Asgard's Wrath for players with a skippable recap at the start of the game. Spoiler alert – Loki is bad. For those that want to play the first game, though, on Meta's website for Asgard's Wrath 2 Sanzaru's award-winning PC VR gaming achievement of 2019 is listed as available as a "Free download" with the asterisk:
*Asgard's Wrath 1 requires a VR-ready PC, Quest software, and any Link compatible cable connected to your Meta Quest device. More details on the recommended PC specs for Asgard's Wrath 1 can be found here.
Asgard's Wrath 2 leaves a lot of things behind from an era of VR gaming that Quest owners never need to think about. Still, in going hands-on with this monumental effort for the first time I also want to convey that Asgard's Wrath 1 is still an achievement and it is still there, for now at least, if you want to go play it on PC VR. So if you want to compare what state of the art high budget PC VR was in 2019 to what standalone VR is capable of in 2023, Asgard's Wrath 1 makes for a very obvious comparison.
Even with that context, it is important to recognize that Sanzaru is presenting Asgard's Wrath 2 as a standalone thing completely independent of what came before it.
Asgard's Wrath 2 Bundled With Quest 3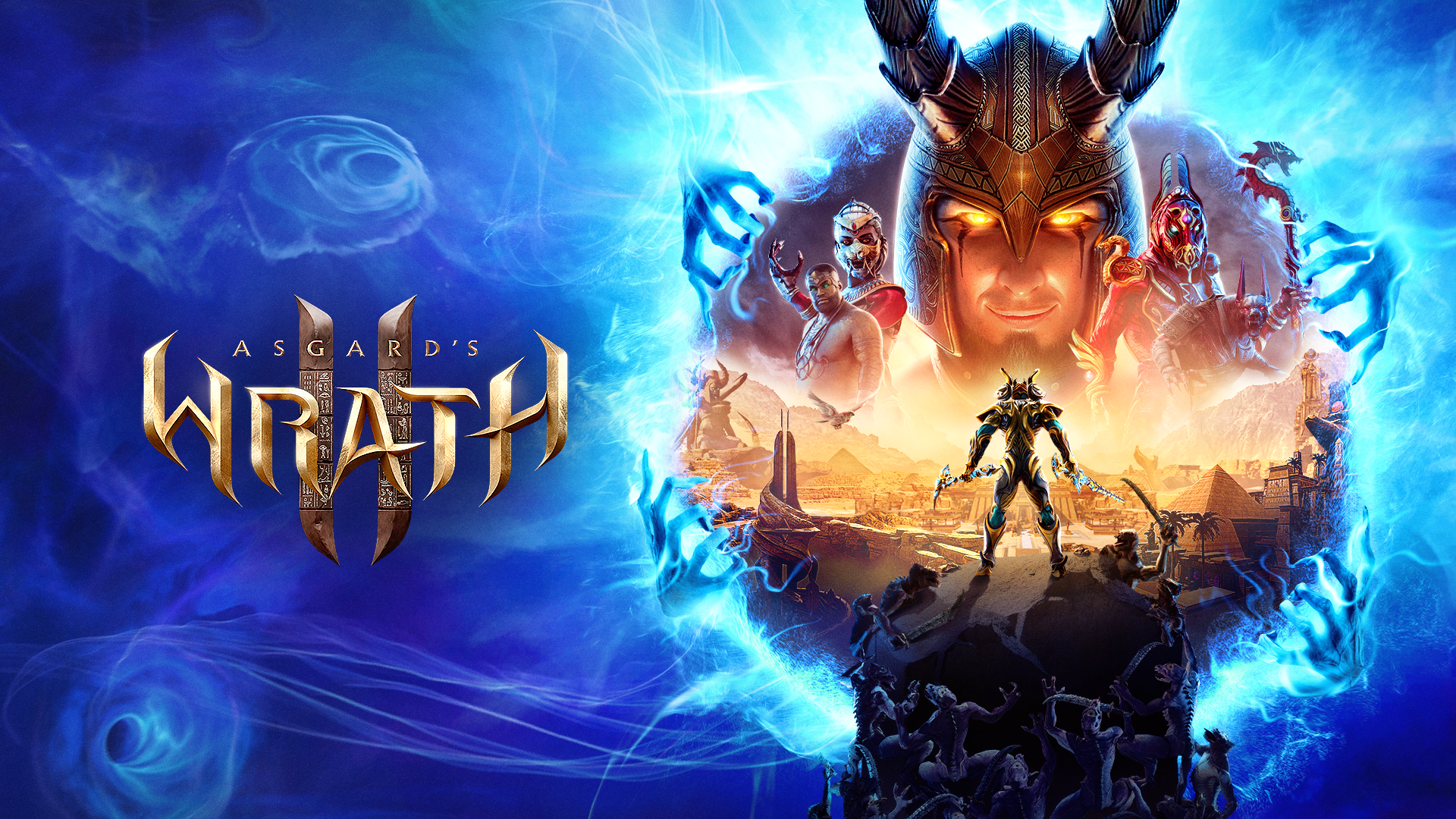 For a brief time in 2019, Asgard's Wrath was the talk of the VR market. It was VR's most ambitious game at the time offering dozens of hours of bespoke content landing on PC VR systems before Half-Life: Alyx from Valve and Boneworks from Stress Level Zero. Our review of the expansive role-playing game called Sanzaru's effort "a fundamental advancement for VR games in general." Then, Facebook acquired Sanzaru before launching Quest 2 in 2020.
Now as Meta ships its newest headset, Asgard's Wrath 2 from Oculus Studios' Sanzaru joins Assassin's Creed Nexus from Ubisoft as the Quest platform's 1-2 punch of major new content exclusives of 2023. Together, they herald the arrival of the XR2 Gen 2 processor powering Meta's next generation of standalone.
Assassin's Creed Nexus is due Nov. 16 before the Black Friday sales push and Asgard's Wrath 2 is scheduled for release December 15th, right before Christmas. AW2 is bundled with all Quest 3 purchases through January 2024.
Meta is known for conducting A/B tests and Zuckerberg just conducted massive layoffs. The company has its Quest+ subscription plan and with Black Friday coming up there's opportunities package Assassin's Creed Nexus in some ways as well. No matter what specific packaging deals Meta debuts this holiday, though, it's hard not to see it as likely Meta will make some decisions about its funding strategies going forward based on how these games perform in one very specific metric.
How often will Asgard's Wrath 2 keep players coming back to their Quests?
We don't have the answer to that question, but each moment you are present inside Asgard's Wrath 2 you can see, hear, and feel the effort to keep you interested in its world longer than anything else on the Quest platform. I barely scratched the surface in that play time, and can't wait to go back.
We'll have more in-depth impressions in the weeks ahead and, of course, check back with us at release for a full review.