Sometimes you get a press release in your inbox as a journalist and you think to yourself, "Well yeah, of course. This makes perfect sense." In the case of ARK Park, the new VR experience spin-off that's coming to the world of ARK: Survival Evolved, this was precisely my reaction.
Studio Wildcard, creators of the prehistoric survival-based multiplayer game, ARK: Survival Evolved, announced a partnership with Snail Games last week to create a new adaptation based on the popular brand. This VR journey takes a decidedly different approach to the area with a focus on education and interaction, rather than killing and hunting. It will retain the multiplayer angle of the existing brand, with large areas to explore, and dynamic weather effects. It's shaping up to be much more than an abbreviated 360-degree educational experience.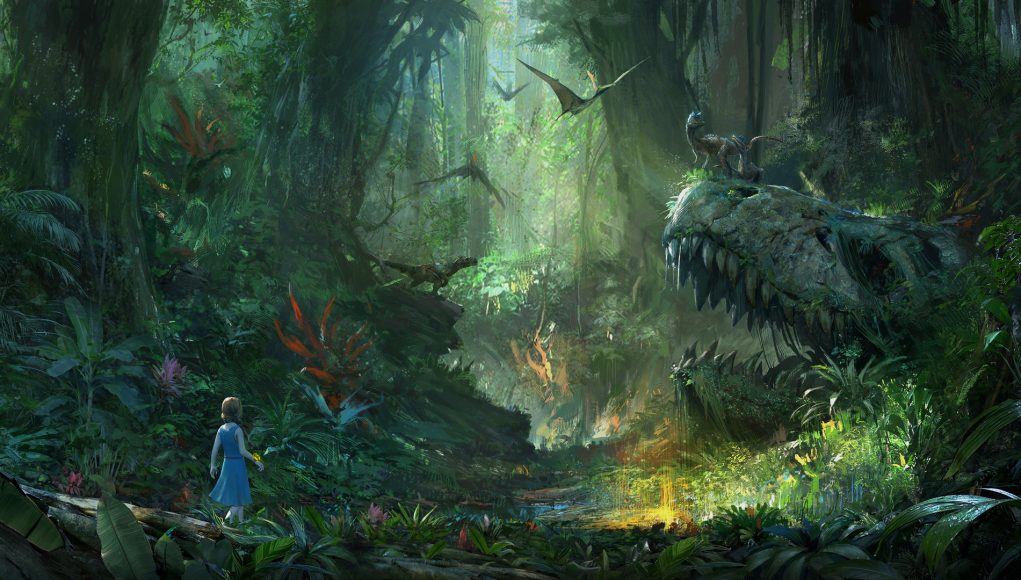 We took the time to ask the CEO of Snail Games, Shi Hai, a few questions about the upcoming experience and where the idea came from.
UploadVR: This sounds like a great natural evolution of the ARK brand. What spurred this idea? 
Shi Hai: Our team really enjoyed ARK: Survival Evolved and was fascinated by all the gigantic creatures in the game. Our love for dinosaurs made us want to invent a new experience where players get to interact with them. Instead of killing and hunting them, we want to build a world where you get to appreciate and learn about them. That's how the idea of a theme park came to life. Taking out the brutal fights from the original game but keeping the exploration element, we imagined a place where players can get up close and personal with these creatures and observe them in their natural habitat. And VR is the perfect way to experience it. At the same time Jeremy Stieglitz, founder of Studio Wildcard, saw a great opportunity, in that ARK Park can broaden the ARK franchise and bring this robust world to younger audiences.
UploadVR: Did the idea come about first, then the VR integration, or was the team specifically trying to create something for VR?
Shi Hai: Snail Games is devoted to being a "Virtual World Architect" and VR is a high priority for us. After all, what better way than VR to make the digital world as real as possible? Studio Wildcard also loved the idea of re-creating their title as a new experience in this emerging new medium.
UploadVR: What are the team's thoughts about the future of VR, especially as we move into 2017?
Shi Hai: Even though everyone is jumping on the VR trend and its certainly progressing rapidly, there's still a long way to go. And to hit real momentum, the industry needs effort from both VR hardware and VR content. Snail Games wants to be part of the leading force in this progression by being an innovator in VR content creation. VR is not perfect yet, but we have a lot of faith in it. When facial recognition, sense of touch and all the minute details are perfected in the future, VR will be one of the strongest mediums to transfer virtual worlds into reality.
UploadVR: Finally, how heavily did Jurassic Park inspire the standard game itself, and this new ARK Park mode?
Shi Hai: Jurassic Park is such an iconic movie franchise and is probably most people's first memory of dinosaurs. It might even be the thing that ignited my love for dinosaurs in the first place. When we were creating ARK Park, we focused on presenting the beloved primitive creatures from ARK: Survival Evolved in an environment that is safe but stays true to the fictional world that the original title created. And the idea of a theme park came naturally to us.
You can sign up for updates about ARK Park's development and eventual release on the official website.