Virtual reality is blazing an exciting new trail through the art world. It was announced recently that New  York City's world renowned Museum of Modern Art (known colloquially as MOMA) will be featuring the innovative technology in a new exhibit for its film and cinema wing. This showing will mark both VR's first appearance inside the walls of MOMA, and a major moment of recognition for this emerging industry as a whole.
VR's inclusion is part of a larger program at the 55th street institution that aims to gather the best of the Sundance Film Festival's New Frontier program under one marble roof. New Frontier notably played host to a litany of virtual reality projects during the most recent run of the celebrated cinema event.
One of those projects – artist Lynette Wallworth's Collisions – will become the first VR experience ever shown inside MOMA when the exhibit opens on Monday April, 25.
According to the artist's official description of the film:
"Collisions is a virtual reality journey to the land of indigenous elder Nyarri Morgan and the Martu tribe in the remote Western Australian desert. Nyarri's first contact with Western culture came in the 1950's via a dramatic collision between his traditional world view and the cutting edge of Western science and technology. 65 years later Wallworth carried cutting edge video technology into the desert so Mr. Morgan could share his story."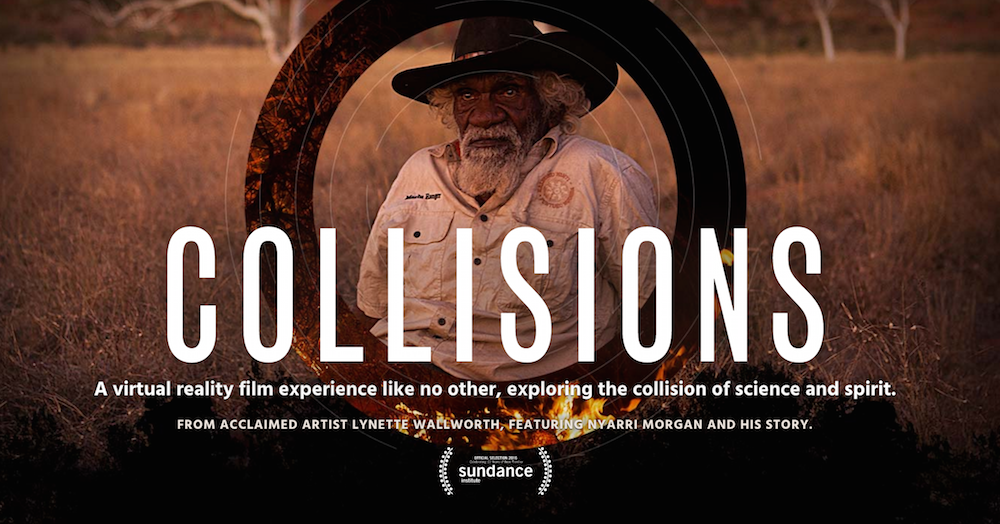 Raj Roy is the curator of MOMA's film exhibits. He was therefore instrumental in bringing about this moment of artistic and technological significance. He revealed – during a phone interview with UploadVR – that what intrigues him most about introducing VR to New York's art scene is the audience's potential reactions.
"The question i wanna have answered is what do people think of the experience and experiencing [VR] collectively. What does it feel like to do this as a group? The thing that I haven't heard yet is direct feedback from audiences."
In order to obtain the answer to his question, Roy needed to first answer the question of large-group logistics in a collective VR experience.
"We decided we needed to house the exhibit and its 100 guests in a theater that could hold 200," Roy explains. "The idea being that we'll need the extra space and can use the extra aisles to distribute the necessary hardware."
The hardware in this case will be box loads of Samsung and Oculus' mobile phone powered GearVR headset which is quickly becoming one of the de facto methods for displaying VR in big audience settings.
Roy is looking forward to seeing VR grow as an artistic medium and he also believes that the technology could have wide reaching implications for his museum in general:
"…In gallery viewing experiences like this, or as a viewing aid for other exhibits, or remotely for other audiences, it could be very impactful. Two or three times as many people visit our museum remotely each year and we get about 3 million visitors through the doors annually."
As a final note, Roy stressed that he does view VR content as a legitimate form of artistic expression that thoroughly deserves this spot in MOMA's history:
The content is absolutely art. And the technology, that is the platform for that creative expression, is also essential.It could even be that one day our Department of design could decide that the Samsung headset itself is worthy of inclusion in its collection."Technology is critical in propelling artistic innovation.