We previously reported on a partnership between Upload and the technological education organization Make School. Make School provides higher education level courses in computer science to aspiring developers or continuing professionals. The partnership with Upload was designed to arm a battalion of devs with the skills they would need to succeed at VR companies and studios.
Last Friday, the inaugural class officially graduated from the program and revealed the projects they have been working on for the entirety of the program. These projects were all built using Unity and made more powerful thanks to Simplygon's new polygon reduction software. Simplygon is also one of the main sponsors of this program.
You can get the lowdown on all of these experiences by checking out the list below with descriptions written by the content creators.
Two Wolves

Two Wolves transforms the beloved Cherokee Legend into an immersive exploration experience. Take a journey in the caverns of an active mine that used to be the home of a Native American tribe. You must explore multiple caverns using a mine cart, collect and use tools and make decisions that affect the inner battle between good and evil that lives within us all.
Creator: Michael Carney is an experienced designer and virtual reality developer with over 10 years' experience in applied academic research and enterprise solutions. He is proficient in not only the technology of New Media but the culture in which it's immersed, how it is used, and the direction in which trends are heading.
Bender

Discover how to use your elemental rock powers during the day to defeat spawning ghouls at night in Bender.
Creators: Kenny Hwang is a VR enthusiast, recently graduated from UC Berkeley with a B.S. in mechanical engineering and plans to enter the VR industry. During his time at Berkeley, he created a Unity demo that uses a smartphone as a prototype touch controller in order to expand the capabilities of Google Cardboard for Berkeley's VR club. To further his Unity development skills, he enrolled in Make School's VR track, where he recreated multiple games in VR like Breakout, Tilt-a-ball, basketball, bowling, and Drift, before creating his own VR game, Bender.
Banun Idris (or 'B') is an actor, creative director, game designer, and software engineer with a background steeped in theatre and law. Before moving to the Bay Area, she trained and worked in immersive, interactive theatre in NYC, and was an award-winning director and actor at the Kuala Lumpur Performing Arts Centre in Malaysia. B is now creating experiences with technology, and her love of stories.
The Journey Home 

The Journey Home is a VR interactive story about a journey of an astronaut who failed his mission, gets stuck in space and past memories.
Creator: Michael Chou majored in math, EE and chip design at Chiao Tung University in Taiwan. Prior to VR Academy, Michael founded a semiconductor agent company. His specialities are product, project, and sales management.
Death Dojo

Enter Death Dojo… A one-on-one death match to become the ultimate samurai.
Real battle is scary. Other games may lead you to believe you can slash through hordes of foes with ease. This is not true. To beat your enemy you must face your fears. In Death Dojo you must face your nightmare and defeat him. You have nothing but a Katana to defend yourself, the enemy comes quietly and quickly, and you must defeat him with a swift blow to the neck.  Do you have what it takes to beat him? Only time will tell.
Creator: Ken Watanabe specializes in backend/front end development. Prior to VR Academy, Ken developed 3 mobile game titles which are released in the US: OH MY GOD, which received an award by Make School, Ninja Skebe and Doriland. Ken has a Masters in Information Science at Nagoya University, with a Media Science minor.
Martian Monster 

You have been selected as the first astronaut to explore the planet Mars.
Take a psychedelic odyssey to the red planet with music by Phish in Martian Monster. Explore alien flora and fauna with audio visualizations set to Phish's debut performance of the song, "Martian Monster", from Halloween 2014.
Creator: Jeremy Kashnow is an experienced product manager and information architect with more than 20 years of experience serving the live music community. With a strong eCommerce background, Jeremy has worked for leading global retailers such as Walmart, J.Crew, Nike, and Estée Lauder. Jeremy's work with The Grateful Dead was honored by the International Academy of Digital Arts & Sciences with a Webby Award nomination in recognition of the "outstanding skill, ingenuity, and vision of its creators."
LeadingOnes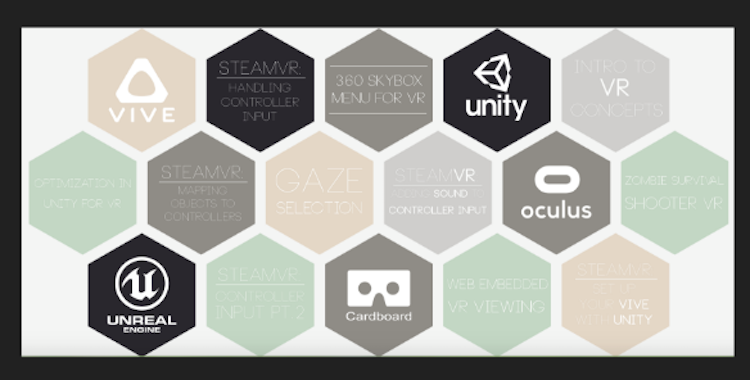 LeadingOnes provides a holistic experience for learning VR. We don't just specialize in teaching a couple aspects of VR or a certain type of experience or game. Instead, we aim to not only provide an education in virtual reality coding practices, but essential building blocks that can be reused in any type of project and a collective of information on what's currently happening in the industry. This combination is meant to go past just learning the superficial details of making your code work and help you learn what will make your venture successful.
Creator: Rushil Reddy is a senior at UC San Diego. He has spent the last 6 years honing his development experience with iOS applications, releasing over 70 different apps which have garnered over half a million paid downloads including a Top 100 App this past year. During the class he released a VR game with 2 classmates and it surpassed five thousand downloads in the first week after release. He has also started a VR Developer resource website in order to create a centralized repository for tutorials, documentation, and coding practices as it is sorely needed.
Escape From Zellman Orbital 

It started as a simple courier job, couldn't be easier. Pick up a data pack at Altair, and deliver it to Zellman Orbital Station at Alpha Vulpecula, just 50 short light years outside the bubble. But after you docked, you knew something was just… wrong here. Maybe it was the sick red glow of the giant red star hanging in the distance. Or maybe it was the bizarre readings emanating from the stellar fragment swirling below. Even stranger, the station looks like it has been almost entirely abandoned. The few remaining lab techs here – sullen, strange, wild-eyed creatures – stunned you, took your data, and then took you prisoner. When you woke up, you found yourself trapped, alone, in a holding cell. Outside, you gaze into a laboratory of horrors. You don't know what they're doing here, and you don't care to find out. Escape the Lab. Find your Ship. Escape the Station. Don't look back. Because this place has an awful feeling to it…
Creator: Ken Richlin is an Engineer and Entrepreneur from Long Branch, NJ.  He holds a BS in Computer Engineering from Lehigh University, and an MBA from Rutgers Business School. Ken has fourteen years of experience developing technology solutions for automated controls, telecommunications, and enterprise systems, with a focus on system-level Software Quality Assurance.  His clients include Siemens, BASF, AT&T and Cisco. In 2010 he founded his first company, Sunshine Energy, and has since engineered, sourced and installed over 150 solar energy systems throughout his home state of New Jersey. As a lifelong gamer, Ken took one look at VR and knew that his future was in developing and deploying world class VR experiences.
LightBike VR/VR Telemedicine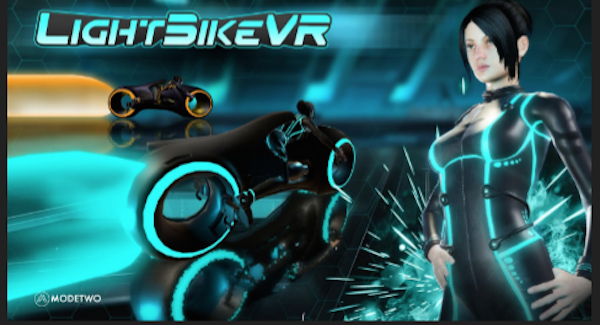 On the verge of finally escaping her digital world, a software program named Cyan is discovered and scheduled for immediate deletion.  As she faces her last moments, you, a virtual-reality user from the real world, appear and help her to escape. But when you become cornered, you and Cyan are forced to take light bikes onto the fatal gaming grid where programs battle for the right to survive. Suddenly, you realize if you don't help Cyan escape the heart-pounding digital carnage, she will be lost forever. Experience the intense rush of riding a digital beam of light while taking on players from all over the world.  Only by working together to defeat ruthless opponents will you and Cyan make it out alive.  Can you help Cyan escape the onslaught and find freedom in your world in LightBike VR?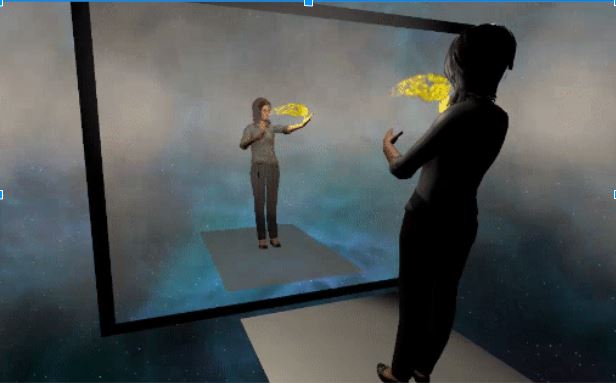 VR Telemedicine: Conducting multiple rounds of interviews with patients, healthcare providers, and therapists we identified a key barrier to achieving better mental health outcomes:  A surprisingly large portion of patients are "very interested" in help, but do not receive it due to fear of social stigma, repercussions with family/friends/co-workers, and anxiety around in-person sessions.
We use VR to provide a unique solution to this problem by creating a safe virtual environment where practitioners can connect with patients and facilitate well-studied interventions virtually.
Creator: Chad Lonberger has 14 years of experience at the intersection of innovation management, product design, and full-stack development. Currently the head of product at Modetwo, he has had the benefit of working with hundreds of Fortune-level clients in 17 different industries globally.  Pursuing VR full-time, he is helping clients harness virtual and augmented tech to create compelling immersive experiences. His prior and current VR projects include entertainment/gaming, marketing installations, creative/collaboration tools, training simulations, and transformational VR to help ameliorate mental health issues such as depression, anxiety, trauma and addiction. Chad is also a product lead on ImpactVR, a charitable foundation driving positive social change through the use of VR.
Bubble Labs 

Experience bubbles in a zero-gravity sandbox environment with Bubble Labs! Interact with liquid physics as if you were in outer space with simple mechanics– perfect for any beginner to jump into VR. Sculpt and mold your creations with a full spectrum of colors, and watch the organic nature of liquids unfold before your eyes.
Creator: Kishan Emens is a VR Developer and enthusiast interested in a coding and rapid prototyping internship at a studio. In his free time, Kishan enjoys consuming VR media in the form of podcasts, novels, and following YouTubers in the community while he storyboards VR experience concepts. He knows C# in Unity3d most recently but has also worked with python and some web-based languages as well. Within the virtual world, Kishan hopes to create experiences that transcend the screens, and affect people's' lives directly. Those experiences include applications in education and in creative environments designed to aid mental trauma.
Found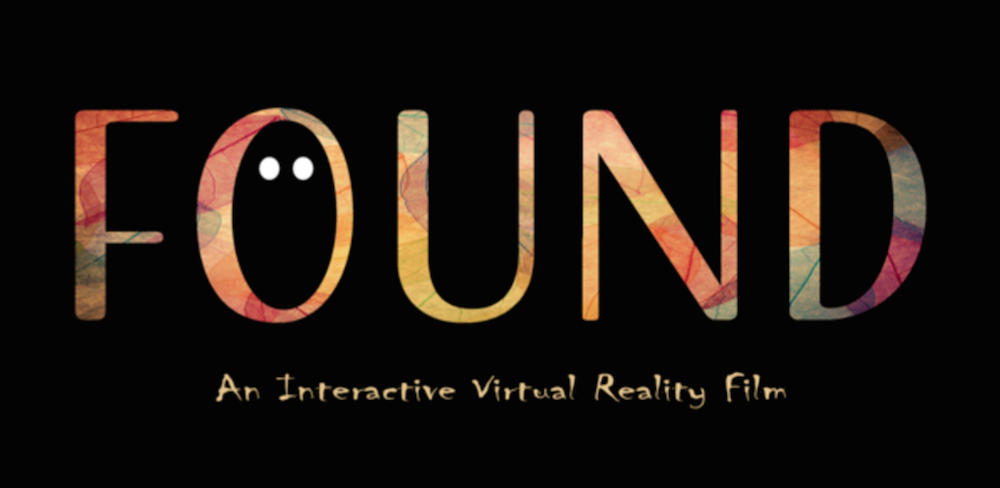 Found is an interactive short film in which a mysterious light guides you away from the familiar in order to wistfully find a world often lost.
Creators: Priyam Parikh is a filmmaker/developer, and the Creative Director of Found. His past work in film production and software development recently led him to DreamWorks Animation and the BBC, where he honed his expertise in VR development, animation, story art, and production. As a senior studying Cinematic Arts and Computer Science at USC, he has developed a storyteller's instinct and a love for experimental technologies. Priyam continues to explore the arcane world of AR/VR technology by fluidly navigating between both creative and technical roles.
Jewel Lim is a hybrid artist-developer and is the Producer of Found. With degrees both in visual arts and computer science, her passion is to bridge visual arts and technology to create meaningful and impactful experiences, particularly in areas of education, data visualization, and cinematic experiences using VR technologies. Selected to participate in a highly selective mentorship-incubator program called Oculus Launch Pad by Oculus, she works with the Found team to realize a cohesive and moving interactive cinematic experience. Through her product management expertise, she ensures that all parts of the process, from creative to technical, are in line with the team's collective vision, while also participating as a developer and designer.
Andrew Moran is a Software UI/UX Developer and serves as Technical Director of Found.  His concentration at MIT in computer graphics and human-computer interfaces promotes the development and integration of emerging technologies.  He continues to pursue his passion in gamification and visualization by exploring the interactive and immersive experiences provided by AR/VR technologies.
Aaron Bales is the VR Digital Strategist behind Found and has 5 years experience spanning technical marketing, intermediate programming and brand management.  In 2016, he served as the Startup Manager at Internet of Things World. Currently, Aaron is pursuing a career in VR. His passion for technologies that enrich relationships and explore new methods of expression make the technical, creative, social and business  are an asset to the technical, creative and business aspects of past employers and the Found team.
Jake Stull is the Lead Animator and CG Artist for Found.  Focusing on storytelling, unique characters and naturalistic animation, he helps create memorable and immersive experiences.  Prior to his involvement in VR development, he was with Pixar Animation Studios.  His background in illustration and animation has helped him to collaborate on the profound artistic vision shared by everyone on the Found team.
Niko Korolog is a Bay Area native with a background in Classical and Electronic music composition, and composer for Found. He has been composing music since 2005, and has been writing commissioned works for film and video games since 2007. He is credited on numerous short films, and several published video games. He is currently studying Technology and Applied Composition at San Francisco Conservatory of music.
MiCRO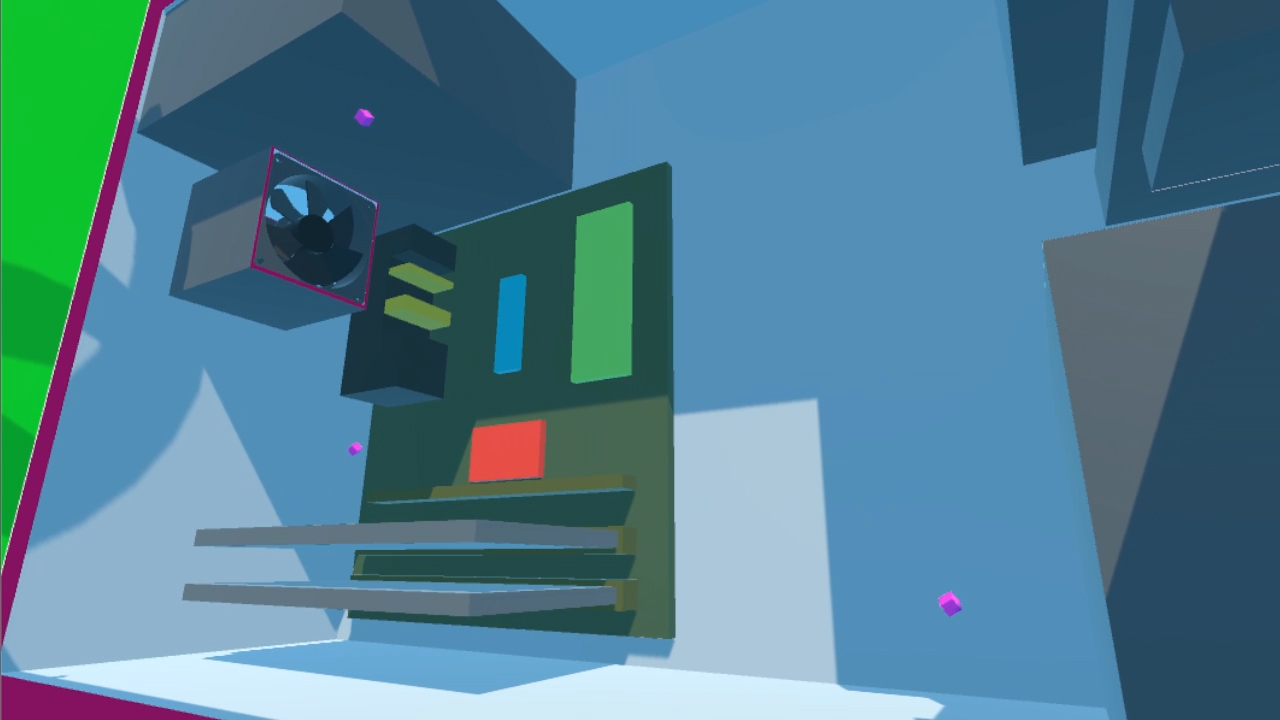 What happens inside of a computer? How does it work? Introducing MiCRO, a one-of-a-kind learning experience for computer newbies ages 13+.
MiCRO brings computer education to the spotlight in a new, unprecedented way by shrinking the user into a computer. That's right — 3 inches tall and surrounded by nerdy goodness. The game encourages the tiny explorer to discover hardware design by teleporting around to fun mini-games, including a drag-racing game called "HARD DRIVE".
Creator: Nick Rau is a creative soul from Nashville, Tennessee. New to the San Francisco and computer programming scene, his pursuit of VR opens the door to new artistic exploration. Some of his previous work as a photographer includes artists such as: Taylor Swift, The Avett Brothers, Ed Sheeran, and Jake Owen. On the horizon in Fall of 2016 is Nashville-based VR company Creative Feels, where Nick will serve as Creative Director. Nick's passions include imagery, design, and music.
Live in Color

Description: Play like a kid again, imagination has no limits! Fill in the world around you to make it come alive before your very eyes. Imagine walking into a living, animated coloring book that builds around and in response to you.
Creator: Atakote Studios is a full-stack development studio that takes products from ideas to full production and launch.   Our passion is the creation of powerful and compelling experiences.
—
If you're interested in learning how to build experiences for VR you can sign up for our weekend developer workshop kicking off on Friday, August 19.