San Francisco is one of the most beautiful cities in the country to walk around. There is so much culture and so many wonderful sights packed within its seven by seven boarders. But if you wanted to tour the city in a day you better have spent some time on the stair climber, because the hills are killer.
Well now you can take a tour of San Francisco without ever leaving your house (or sweating your way up the impossibly steep hills).
The team at Ascape VR, a new virtual reality startup focused producing premium travel content, have released their first guided tour titled You Are Here: San Francisco. The experience is available now on Android in the Google Play Store (iOS and Gear VR versions are coming in the "near future").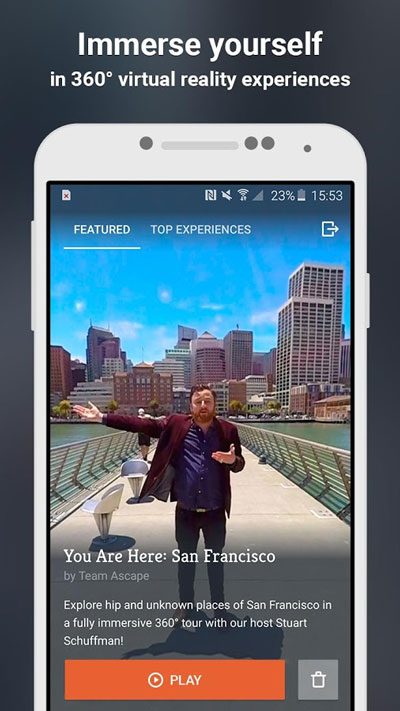 You Are Here: San Francisco, which will be screened nationwide at the Kaleidoscope 2015 VR Film Festival, takes you on a tour guided by San Francisco mayoral candidate and host of IFC's Young, Broke and Beautiful, Stuart Schuffman covering the major sights and some of the cities many hidden gems. The first experience in what will become a series, You Are Here will utilize a "proprietarily developed positional sound" system, along with 4K 360-degree video to immerse viewers in an awesome tour of the city.
We've tried a few VR tours before, but Ascape might be the best yet. With really solid visuals and most importantly an engaging and informative tour, it is one that shouldn't be missed.