A new app distribution project called SideQuest gained steam this week on Oculus Quest.
Some developers, like Virtual Desktop's Guy Godin, turned to SideQuest to distribute software updates which won't be approved by Facebook's leadership. Included on the distribution system is a version of Godin's Virtual Desktop utility that essentially patches the software so it passes through PC-based SteamVR apps to the completely standalone wireless headset.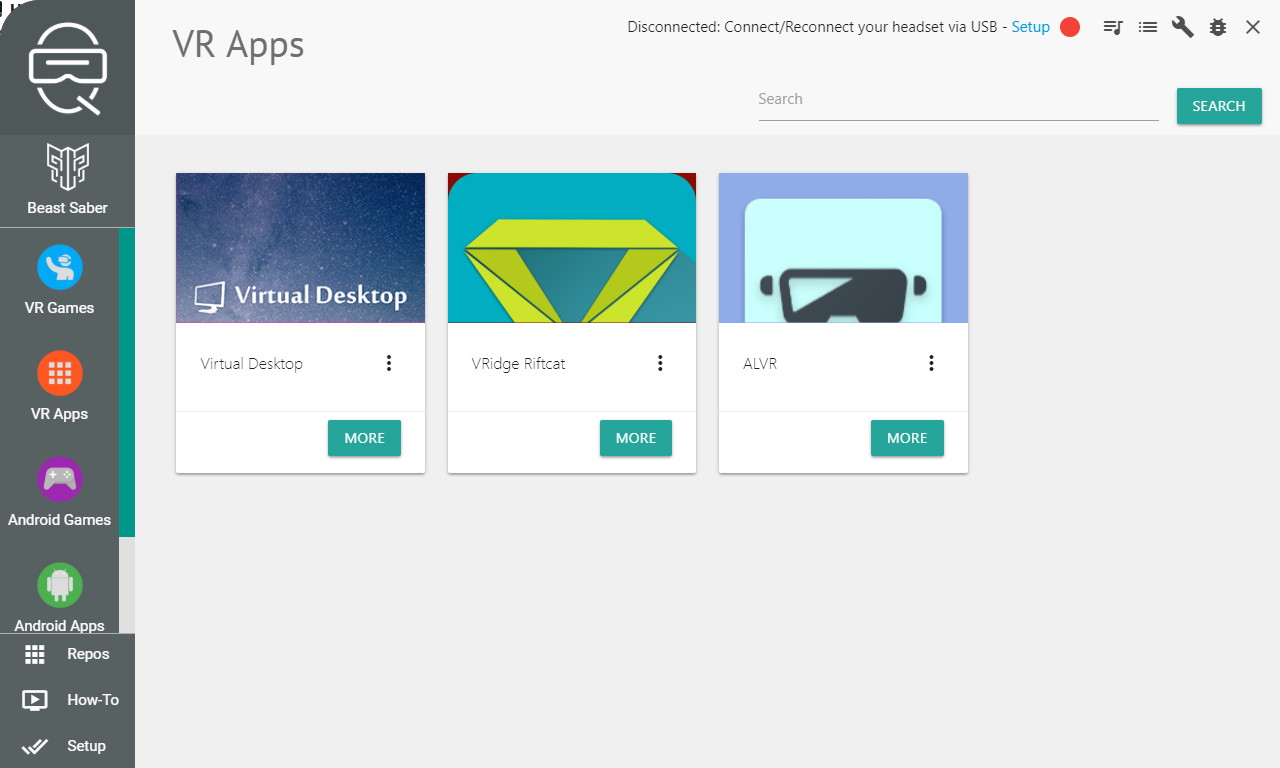 Quest Platform Launch
Facebook is less than one month into the launch of Oculus Quest and the standalone headset is sold out pretty much everywhere.
New orders for the $400 system from Oculus' own website won't ship until July. For software on the VR console, prices range from $10 up to $40 with most top games $20 to $30. Facebook invited more than 50 apps into its launch lineup plus free social services Rec Room and VRChat. A few more arrived since launch, too, and our E3 VR showcase earlier this week confirmed optimized versions of both Arizona Sunshine and Echo Area are coming to Quest. It is a strong lineup except that it lacks many new titles which push the limits of simulation with complex physics or detailed graphics that depend on power hungry desktop-class GPUs and CPUs.
Facebook's Oculus signaled to developers months ago its Quest storefront would be highly curated. It still stings, though, for some developers who don't have a clear path to launch on the system after years of work. I spoke to both Facebook's Jason Rubin and Chris Pruett this week about their decisions. I published a transcription of my exchange with Rubin. In summary, though, Facebook is encouraging developers they don't want in their lineup on Quest to target the PC-powered Rift for their projects instead. Rift offers an early access program and "we turn no developer away unless the thing is really really like not shippable on PC because we want to give them an opportunity to prove their idea has value," according to Rubin. Pruett said it was too early to commit to offering something similar on Quest. The Oculus Start program offers a forum and sometimes free hardware to support developers just starting out in VR.
VR Platform Wars Part II
Oculus "asked" Godin to "roll back an update" to Virtual Desktop on Quest after "receiving user complaints," Rubin tweeted.
Godin obliged, but he also placed what is essentially a patch for the app on SideQuest. This update reinstates the PC VR streaming feature for people who purchased Virtual Desktop from Oculus. I reached out to SideQuest's creator, Shane Harris, to find out more about the software, which he says got its start around Quest's launch.
"Originally it was intended to provide a way for us to get our game The Expanse to users of the Oculus Quest headset as our submission pitch was declined by Oculus – something we understood as many more well established apps were also being declined. It then struck me that maybe some of those other developers could also benefit from a super easy sideloading process with things like drag and drop and several apps inbuilt," Harris wrote to me in a message on his Discord group. "SideQuest is a sideloading tool at heart and actually works with any android device but it has evolved into an unofficial source for apps that you wouldn't otherwise get on Quest. I would love to see it fill the niche of a testbed for pre-release/alpha/beta testing or for deploying demos for users to try out. I have no plans to monetise SideQuest like a traditional app store as I don't want to affect the Oculus bottom line and I would love to work with Oculus to become an alternative route for apps and games that have been declined or otherwise or just want to test cutting edge features. I think there has been a lot of discussion around games being declined and I would love if SideQuest could provide a more positive spin for Oculus and Facebook in those scenarios. I guess i see it as a stepping stone to a application for the full oculus store down the line."
Virtual Desktop is available alongside other wireless streaming solutions ALVR and Riftcat but I haven't tried those yet so I can't compare them. To get SideQuest to work you have to follow typical sideloading instructions which require you to tell Oculus you're a developer and install some additional Android and Oculus-related development software. You need to own the version of Virtual Desktop from the Oculus store for the patch from SideQuest to work.
"This was the most requested feature and users loved it," Godin wrote in a message to me. "I didn't want to remove a feature they enjoyed so this was the best way to keep it available for them. I would have preferred if it didn't require them to side-load as this is a bit complicated but unfortunately Oculus left me no choice."
This afternoon I spent some time in Virtual Desktop on Oculus Quest with the SideQuest patch and was able to run Google Earth VR, Blocks and the Museum of Other Realities — three apps which are showcases for the power of VR but aren't present on the low-powered Oculus Quest.
While all three apps technically "worked" with slow movements there is significant lag that can make active gameplay uncomfortable and potentially unplayable for some. These three apps, for example, seem to make a pretty good case for why the feature is a useful addition to Quest even if there are performance constraints. I tried the SteamVR version of Beat Saber streaming this way, though, and I couldn't get through songs I normally would on the native Quest version of Beat Saber.
"We accept experiences vary, but this feature compromised comfort, safety, & quality to different levels for different users," Rubin wrote.