"We just want to make weird cartoon shit," Chris Prynoski says to me in the VR office of Titmouse's LA Studio. "We want to stay as far away from reality as possible."
Having demoed his latest creation, I don't doubt him for a second. Titmouse started out as an online T-shirt company in the early 2000s. Years later, it's become a prolific animation studio, one that founder Prynoski thinks is perfect to lead animation's entry into virtual reality. He proved the point to me by making me sit next to a pink demon lady in a VR music video.
Bringing Music to Life
Prynoski has been crafting a collaboration between Titmouse and the band Night Club to create an HTC Vive experience for their song Show it 2 Me. Given Prynoski's experience working on Metalocalypse, Daria and Beavis and Butthead, and Titmouse's name behind Nerdland and The Venture Bros., the result is an unsurprisingly obscene 80s wasteland.
Filling the start menu is Night Club's album cover, the stiletto knife serving as the start button. I reach out my hot pink monster hands, grab hold, and then drop into an endless black void. Soon, it's raining dozens of daggers. They fall into my face as I'm propelled through tunnels of neon pink and blue palm trees.
"This one was bananas," Prynoski later tells me of development. At one point, he motions to the walls around us, covered in sticky-note timelines the team uses to map out every piece of the creation. Somewhere among the yellow squares is a queue that morphs the aforementioned demon lady's head into a skull, then a wolf head, and then the head of some other chimeric creature I won't attempt to name. Co-director Dylan Carter's descriptions were "weird doll head" and "a rat thing."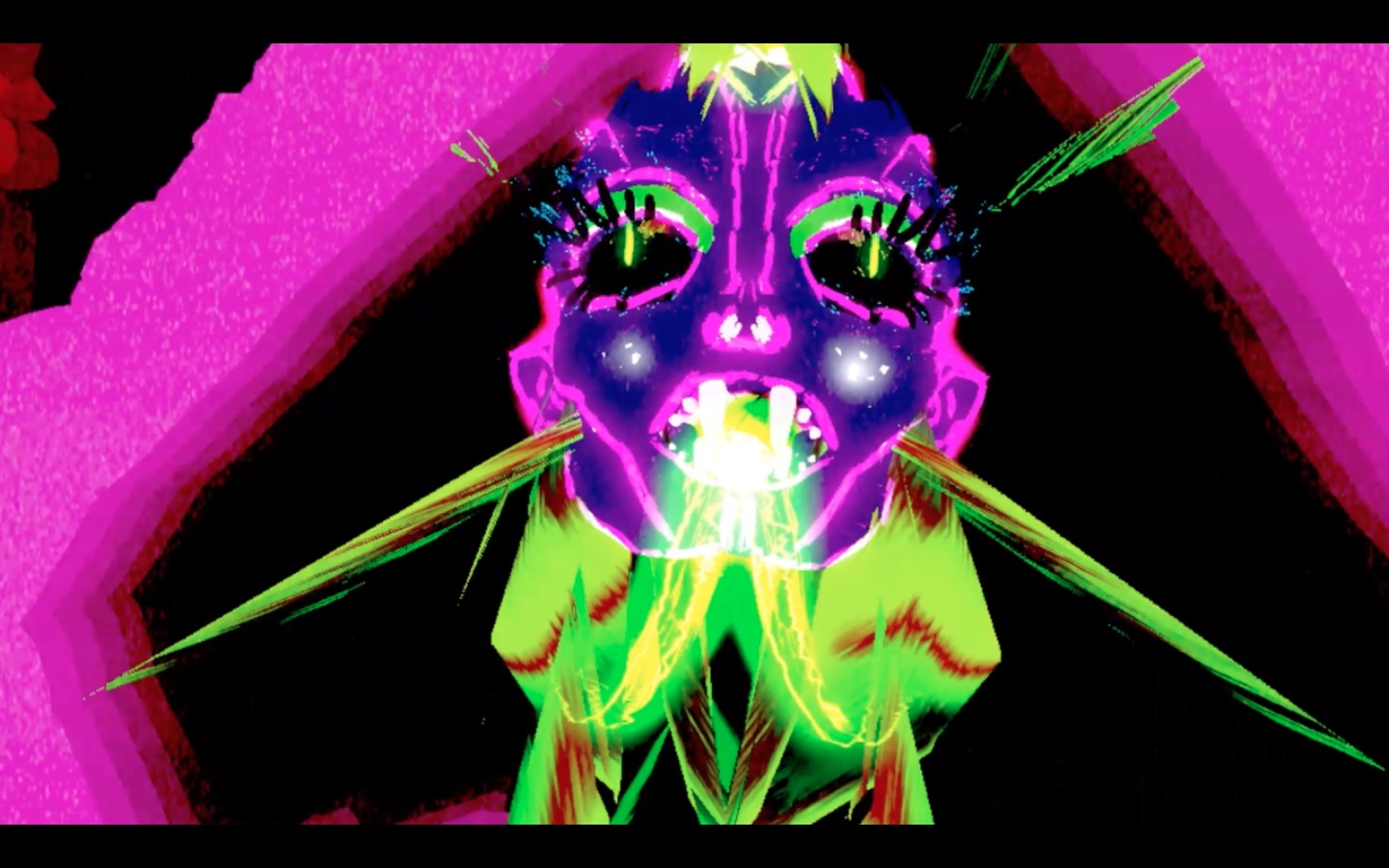 "There's a lot of people that are digging into the virtual reality part, the emphasis on reality, where they're creating photoreal experiences," Prynoski says tepidly. He notes flight simulators and medical training programs as obvious successes in the field, but at Titmouse, it's about the fun.
The entirety of the song is a first-person journey through this dark void, four minutes of passing animations that pulse to the beat. I can draw temporary neon squiggles in the air with my hands, or grab knives out of the occasional dagger storm, but for the most part I am standing there, soaking in countless glowing oddities. As the chorus drops, I'm placed into the passenger seat of a fluorescent sports car. Night Club's track sets out a laidback skeleton of techno thumps, as nonchalant as the she-devil at the wheel. She nods her head to the rhythm and is just so casual she seems barely capable of keeping hold of the cigarette hanging from her right hand.
I try poking her a few times, as well as fiddling with the gear of the car, but there's very little interaction programmed into the piece. It's more of a visual cacophony, notable sights including giant demon bodies floating below me, giant demon bodies passing overhead, and giant, curled demon hands replacing the palm trees of my trippy tunnel drive.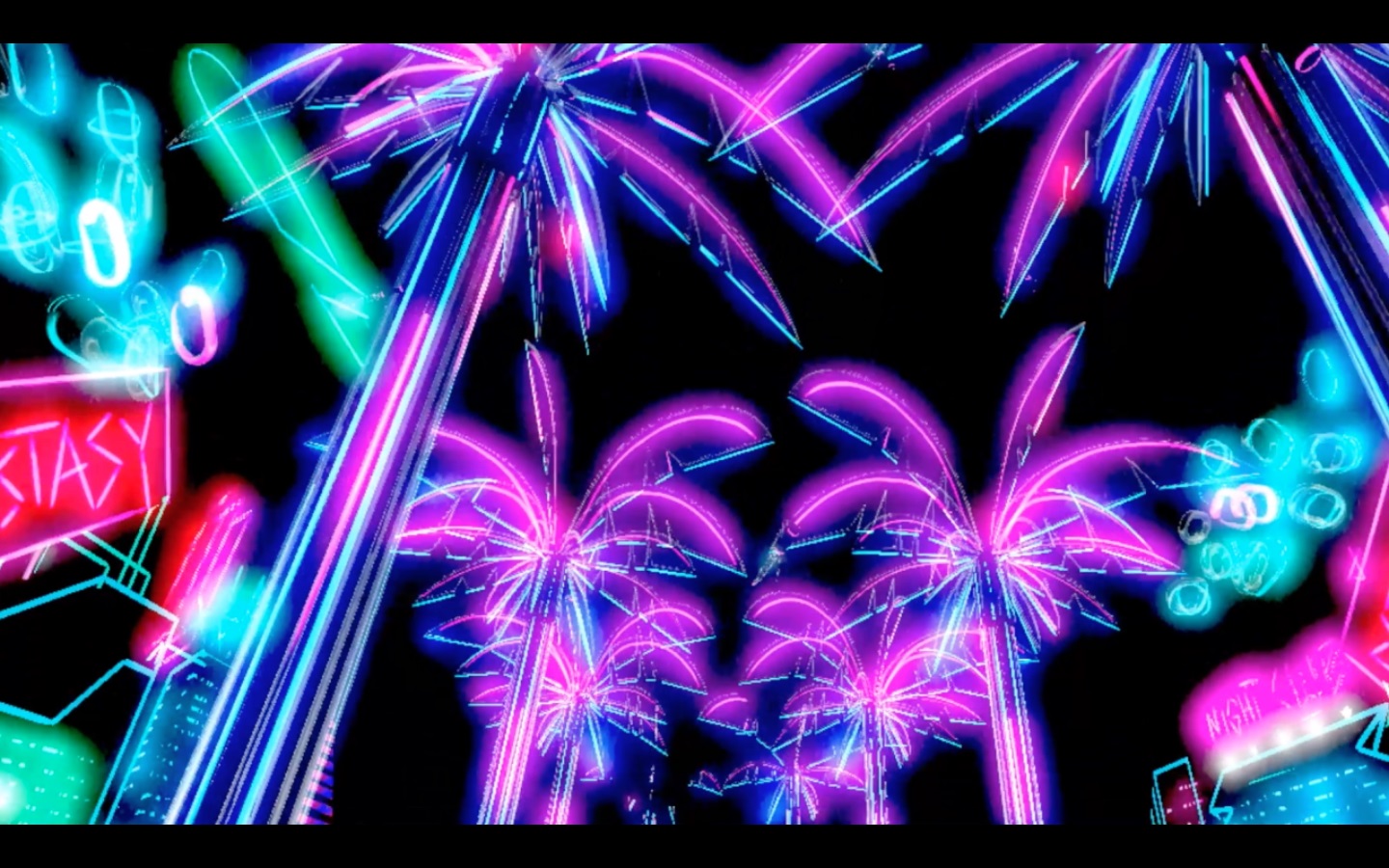 The Future of Animation?
The dozens of assets were all drawn using Google's Tilt Brush, a VR creation tool with more recently released audio reactive brushes. The team has no need to program in beat queues; these brush strokes will coordinate pulsing, flashing, and head-morphing to the tune of whatever song is run through the program.
It's this technology that inspired Titmouse into a music video project after years of close work with Tilt Brush, a partnership that began even before Google's acquisition. But when I ask if this program is the future of animation, the answer is probably not. The application is mainly limited to the absurd.
Co-director Carter likens the kit to the old Mac drawing software Kid Pix: "You get all these weird, little drawing tools, and so you get to make cool stuff all the time. But if you ever wanted to draw something realistic, you couldn't use that tool. The medium just isn't made for that kind of work."
"It's actually kind of a good restraint," Prynoski says of the Kid Pix of VR. "I knew what the limitations of Tilt Brush were, and we kind of used them to figure out what the style of this was. One thing that Tilt Brush does really well is the neon-looking and glowy-looking stuff. It helped to pick this 80s feeling song and make it feel like that kind of era."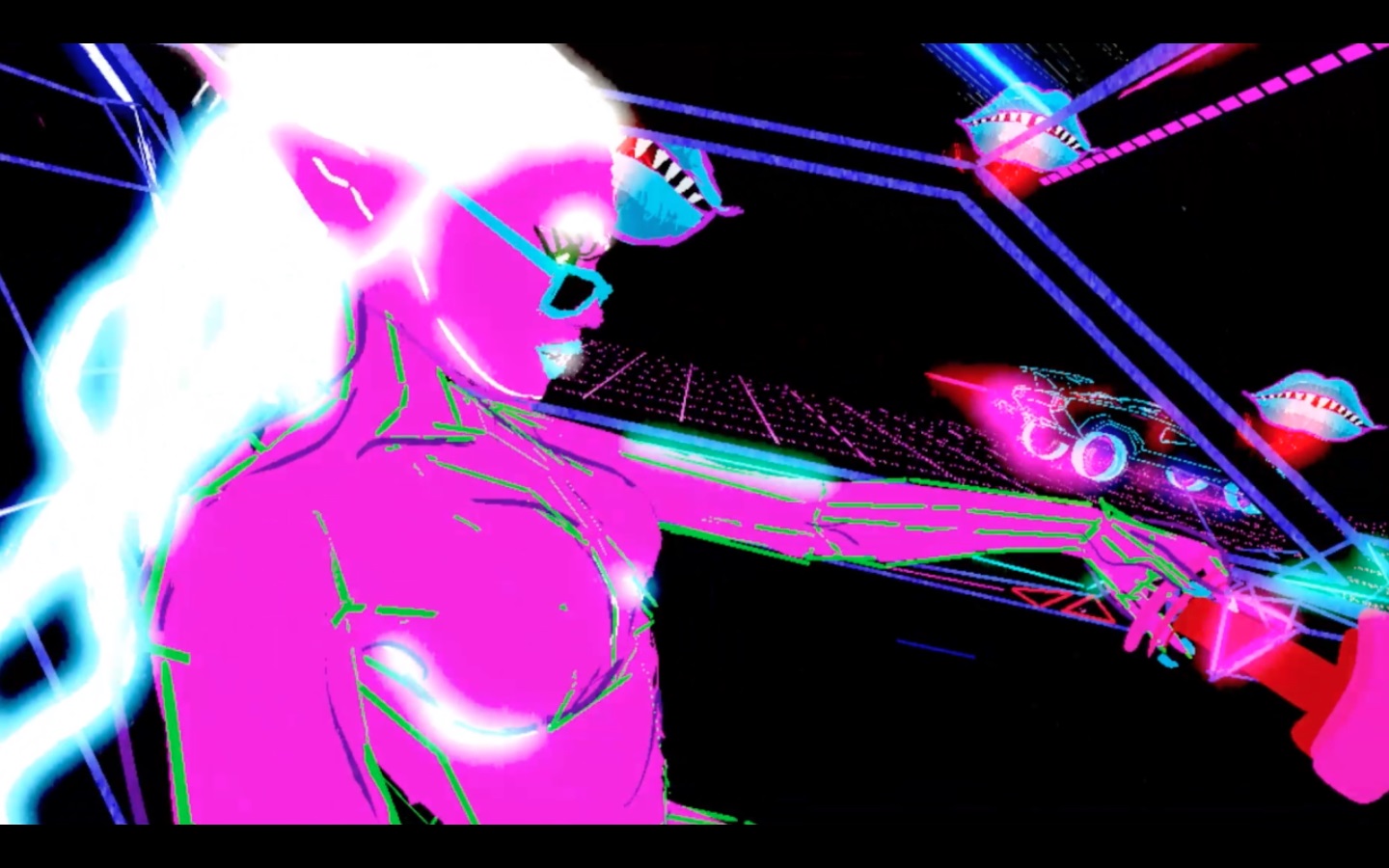 Titmouse has multiple virtual reality projects in the pipeline. One is a game similar to their first VR outing, Smash Party, a free title made in collaboration with Viacom Next where you step into a cage and smash things to bits. The game is a long ways off, though, so we talk about the team's pseudo-narrative endeavors instead.
Prynoski then pulls out his phone and shows me doodles of what seems to be–by his excited hunch–Titmouse's more immediate passion. The simple lines sketch out a player sitting on a couch beside two characters, both voiced by comedians. In this "Harry Potter-esque" world, we would watch the antics of a magic box, these characters cracking jokes in my ear. A turn of my head and a gaze at either would trigger certain lines, much like the mechanics of last year's Gary the Gull.
The future of music video VR, and Titmouse's greater ambitions, looks to be small, passive experiences like this. Prynoski is skeptical of the cost and length of narrative creations in the hardware, but animation, he says, solves a lot of these problems. It eliminates the need for expensive 360° productions that suddenly need to mask the wiring, stages, and other unsightly tools of film making. Animators can get wildly ambitious right out the gate, and for a fraction of the cost.
"Easy," Prynoski happily muses on his projects. He then notices the walls covered in paper. "I mean, not easy," he chuckles, "but… easy."
The main worry of these projects, however, is that they grind counter to the most popular experiences of virtual reality, times spent interacting with worlds rather than just watching them. The medium can struggle with maintaining attention without user input, but a day after my time in Show it 2 Me, I listened to Night Club's tune again and each line brought me back to the sights I'd seen in VR. This music video is primarily a delivery method for the band–the definitive experience of their song was waiting for me back on the Vive.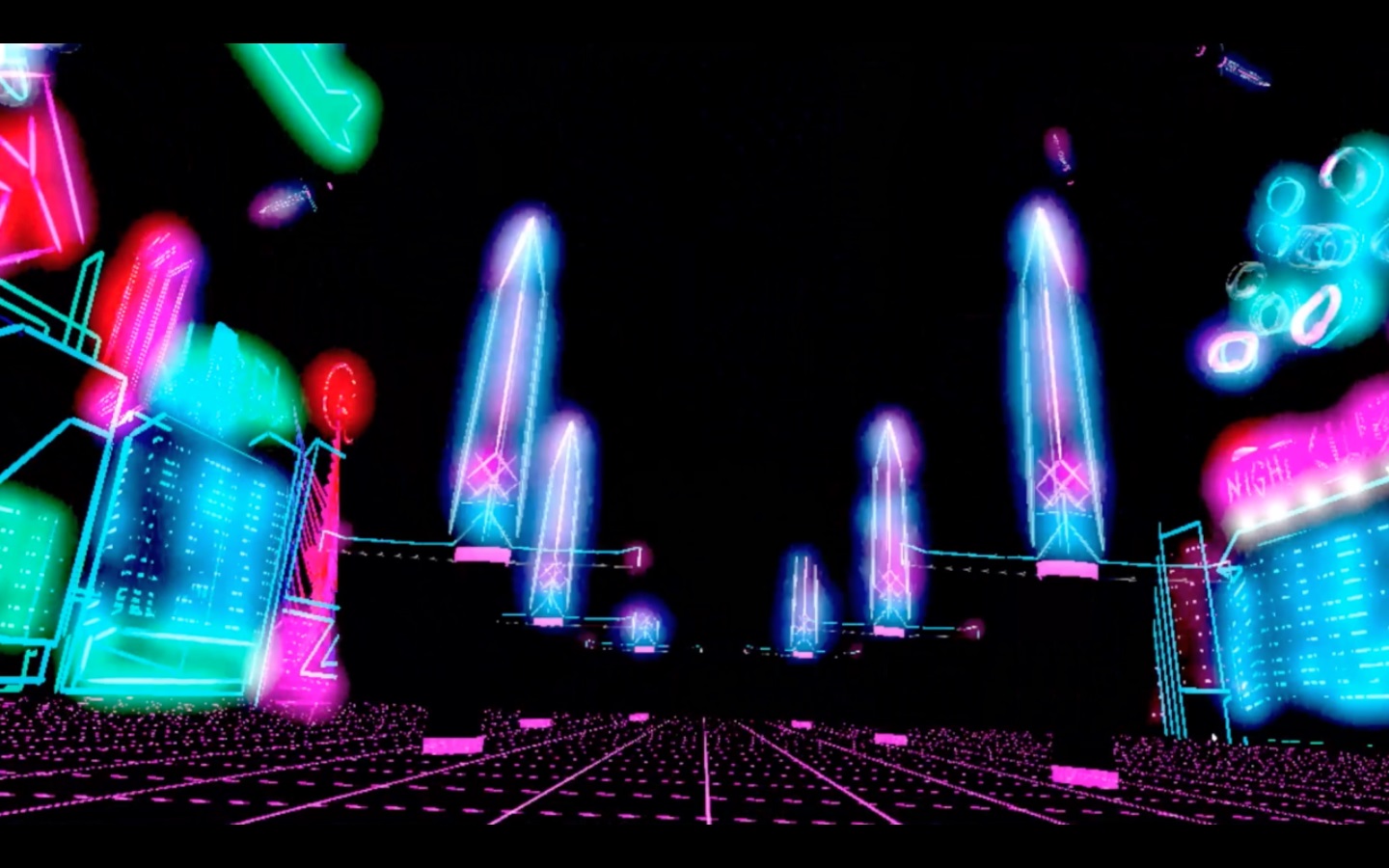 Just as the music video once introduced a new music outlet, Prynoski notes, VR has the opportunity to start a cutting-edge media wave, one that can lend exposure to bands with thinner pockets, and fresh experiences for users. It's an exciting prospect, but ultimately, what excites most is Titmouse's irreverence to reality. Show it 2 Me proves they have a readiness to bring the absurd and obscene to VR, with all the expertise of a company that's spent its lifetime entertaining through artificial visuals.