March's Steam Hardware Survey results are in, and the Oculus Rift continues to increase the gap with the HTC Vive.
Last month's survey results were the first ever in which Rift beat the Vive, taking almost 2% more of the total headset usage on Valve's platform that month. The distance is even bigger in March; 44.06% of headsets used on Steam in the last 31 or so days were the Vive, while 48.92% were the Rift. That's a difference of 4.86%, more than doubling the gap between the two.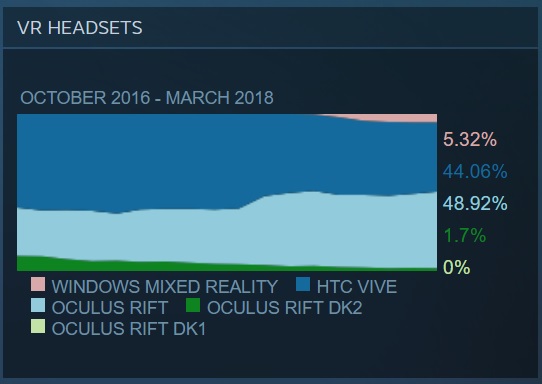 As always, we have to point out that this is not definitive proof that Rift is outselling Vive; Steam's hardware surveys are entirely optional and there are a number of factors that could drastically alter the results. Still, it's interesting to see Vive's mid-March price cut to $499 didn't slow Rift's apparent growth.
Interestingly enough the total percentage of Windows MR headsets used is actually down a slither from 5.36% to 5.32%. The Rift's second development kit (DK2) is also still going strong with 1.7%. Seriously, who is still using a DK2? Get that person an upgrade!
Anyway, this month's a big one for Vive, with pre-orders for the upgraded Vive Pro about to ship around the world. Will the 3K display help HTC get back in front? Or is $799 just too steep an asking price to compete with the $399 Rift?