There's a strange sight in the new No Man's Sky trailer, especially for someone that hasn't touched the game since they put in 20 hours or so back in 2016.
The planets, vegetation and creatures all appear the same; brash and vibrant, molded in the images painted by early science fiction. What really catches me off guard are the people. There are lots of them.
I know No Man's Sky has enjoyed multiplayer support for a while, but next week's Beyond update ups the player count to 32 explorers. Suddenly these worlds I've known to be isolated, often hostile and always alien appear to be brimming with life and civilization. At first it gives me pause for thought; I know lots of people want this kind of social experience, but there is something to be said for the solitude of solo adventuring, especially in this dystopian universe.
Sean Murray isn't concerned. Not only can you confide yourself to single-player should you so choose but, in Murray's mind, this brings the game a little bit closer to his original vision. Going out into the intergalactic wilderness on your own, then venturing back to a thriving hub of activity where resources are traded and victories are hyperbolized?
"That's sci-fi," Murray says.
Go Beyond
It also speaks to the versatility of Beyond, an update that simultaneously adds three core new features and hopes to provide a fresh start for players old and new. It's the latest in a long line of exhaustive additions that have been built on top of the original version, adding expanded multiplayer and, of course, VR support.
"All games as a service games kind of have this problem," Murray says. "You add another new thing and another new thing and with each thing you go "This is the main thing." And you end up with a game which isn't necessarily cohesive, it's not how you would have built it if you had been building it from day one with those things in."
Instead, Beyond wants to level that playing field. That's why Hello Games is calling the third core pillar of the update — previously unrevealed until now — No Man's Sky 2.0. Think of it as giving the entire game a tune-up. In Murray's words, it's a chance to "really fill in the detail and deepen some of the ways of playing" whilst also making sure new and returning users don't get lost.
He presents a comically long list of tweaks, changes and additions that address all areas of the No Man's Sky experience. It includes things like creature riding, farming, cooking, new galactic maps, NPC encounters on planets, bigger bases and much, much more. There's even a logic system in place which the Hello Games team has used to build their own take on Rocket League on one planet. Murray tells me the list of changes is more than twice as big as 2018's No Man's Sky Next, which was no small update either.
A New VR Universe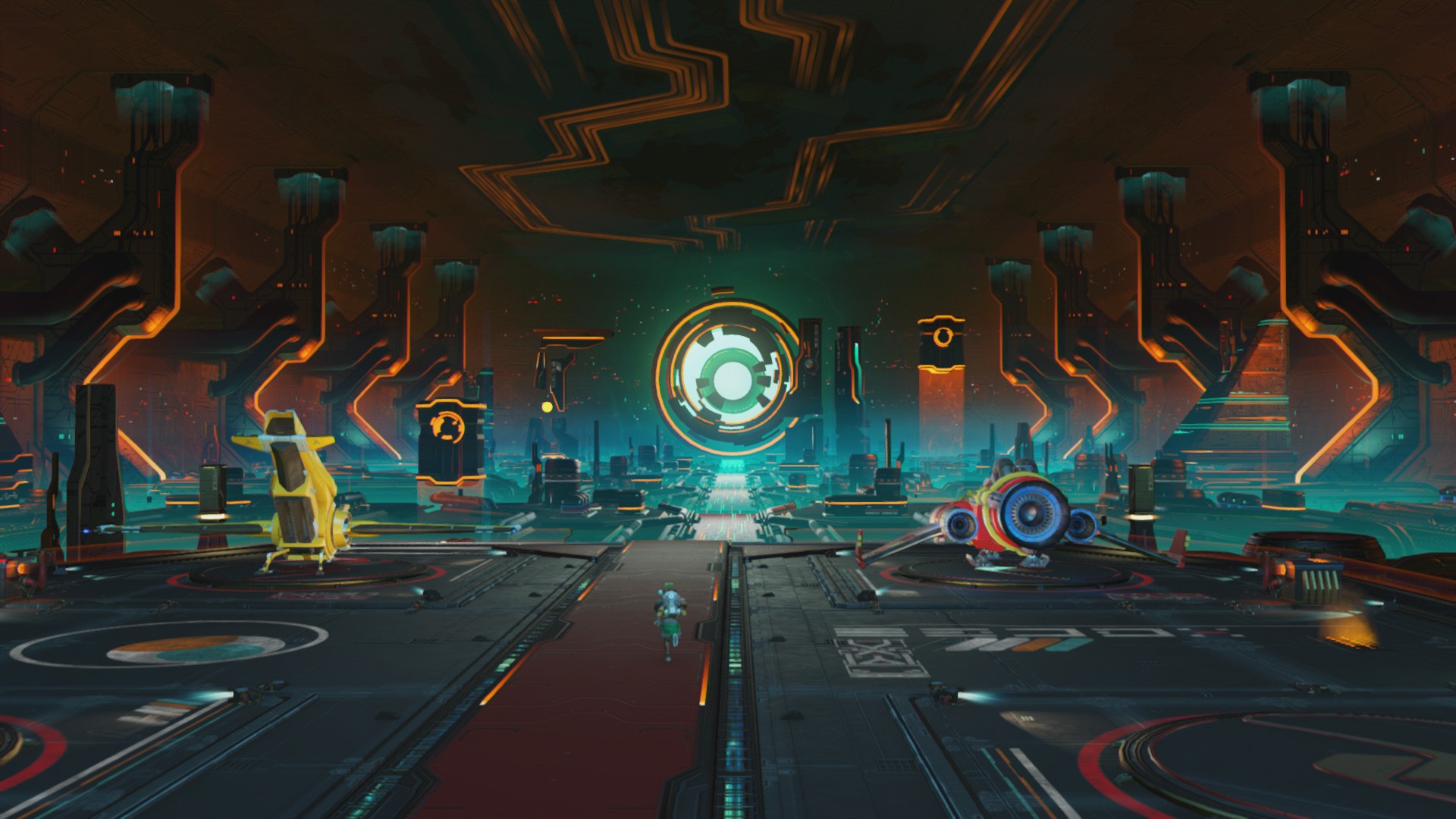 Obviously, we're here to talk about the VR, but these changes are just as crucial to that part of the game. As you probably already know, everything we're talking about here applies to the VR version of No Man's Sky, from the multiplayer to the farming and, yes, the creature riding. Not only have these been carefully inserted into an already massive game, they've been tamed and optimized for the unwieldy world of headsets. It sounds like a herculean effort but, from what I've seen so far, the implementation is nothing short of magnificent.
I remember watching Murray talking about the possibility of No Man's Sky in VR all the way back in 2014 when PSVR was Project Morpheus and Oculus was still on its second development kit. It was a time when the industry was beginning to establish the ground rules of VR development, and one set out very early on was simple: no ports.
And yet, No Man's Sky VR rarely shows the seams of post-launch integration. Reacquainting myself to the game in a radical new form with Valve's somethings labyrinthine Index controllers is initially overwhelming, but step-by-step you begin to lose yourself. Everything from the motion controller support to the scale of worlds and user interface feels almost native. This, Murray says, has been far from easy.
"The scale, oh my god," he says of initial development. "Our character does technically fit inside the ship and fits inside the vehicles, all of that kind of thing. You just play it and you think "No, in my head the ship was really big." And it's really fucking small! It's mind-blowing, going through doorways and stuff. Technically the character does fit through it, but I feel like I'm going to bump my head. I feel like "Oh my god, that crate! How low down has that crate been?""
Reshaping VR
And so Hello Games had to set about scaling up its ships and vehicles, along with adding extra details to their interiors that would stand up to the scrutiny of VR. "And it's made us make the non-VR version a lot better," Murray adds. "You just have more of a sense of scale."
I get a sense for that with the mining, which lets you burrow into the surface of planets. It's an immediate wow moment, housing yourself in a network of caves you yourself created. Other moments, like surveying a snowy landscape as three teammates jog across it, and marveling at the never-tiresome transition from atmosphere to orbit are just as transfixing.
VR's necessity for new language has also made for some surprisingly intuitive translations. To turn on the analyzer mode I put my hand up to my head and pull the trigger/grab, for example. You jump out of a cockpit by actually lifting your ship's windshield up. Better yet, to interact with items you point at them with your hand, hold grip, and then pull your hand towards you. It's a step towards a strange sort of spatial interface, perfectly in-stride with Hello Games' novel-inspired take on sci-fi.
Perhaps the most unexpectedly exciting element, though, is how well VR support fits with the expanded multiplayer. Beyond brings a lot of new features to No Man's Sky's online offerings, including a space station where the 32 players on a server can all meet up to connect, chat and go out on missions together. It's here that you can show off your ship, teleport to yours or other people's bases and even form squads with groups of players to start going on missions with. Murray says Hello Games will start hosting community missions that everyone can take part in, week-in, week-out.
Hello Worlds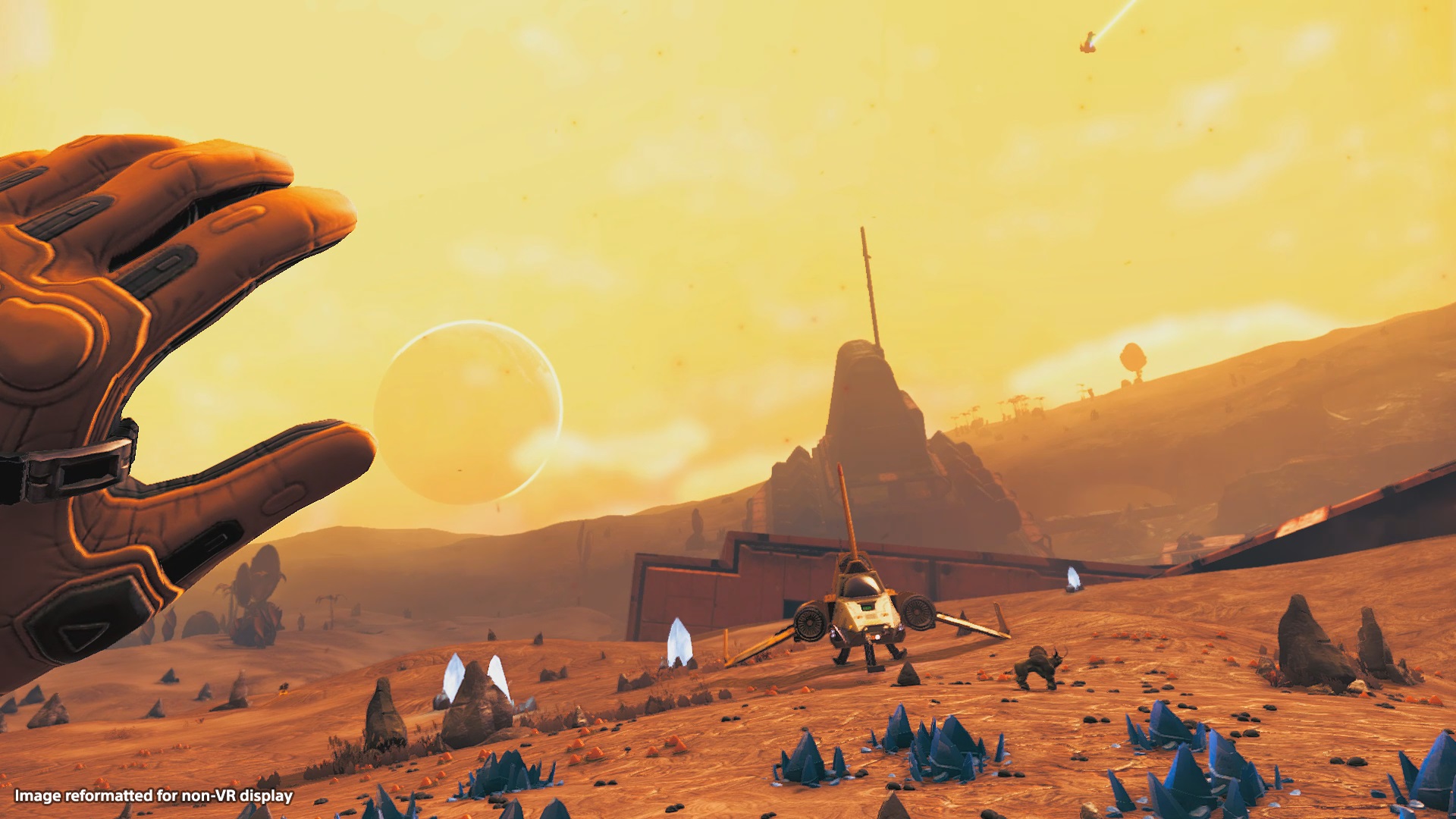 If you're here for the VR support, there's a chance your mouth may be drooling at this point. This is something that a lot of VR fans have wanted for a long time; an expansive virtual universe with endless amounts to see and do, all with a friend at your side. I can see now why Murray has been so keen to tout that over a million No Man's Sky players already own a headset. It's especially fascinating to hear that, in Q&A and developer sessions, the team has even seen VR and non-VR players split up and designate tasks depending on what jobs best fit their mode of play. VR support could bring about some fascinating behavioural changes to this community.
It's not the only shift I'll be keen to observe in the coming months. Next Wednesday, Hello Games snaps its fingers and an entire VR universe goes online. No tricks, no workarounds, no Early Access; this is the real deal, built upon three years worth of refinement. I suspect a lot of patient people are about to be handsomely rewarded.