In a surprise turn of events, Insomniac Games (yes, that Insomniac Games) is building an AR app for Magic Leap's debut AR glasses: the Magic Leap One. The experience, Seedling, was officially unveiled today at the first ever developer conference, Leap Con, and it's all about taking care of happy little trees.
This means that the creators of non-VR best-sellers like Marvel's Spider-Man on PS4, Sunset Overdrive on Xbox One, and the Ratchet and Clank series, as well as  VR hits like The Unspoken, Edge of Nowhere, and the upcoming Stormland, are working with Magic Leap's device.
Yesterday at the first-ever LEAP Con developer conference, UploadVR's Ian Hamilton got the chance to not only go hands-on with Insomniac's debut AR experience, but he also spoke with Nathaniel Bell, Creative Director on Seedling and Lead Environment Artist at Insomniac Games.
"We've been working on this for about a year and a half, it's been a pretty small R&D team," said Bell. "A small tight-knit group of people that really believe in the promise of mixed reality. I've been at Insomniac for going on 13 years. I'm a creator in the physical world too, I spend all day creating digital objects and then I go home and create physical ones. I'd like to merge those two worlds."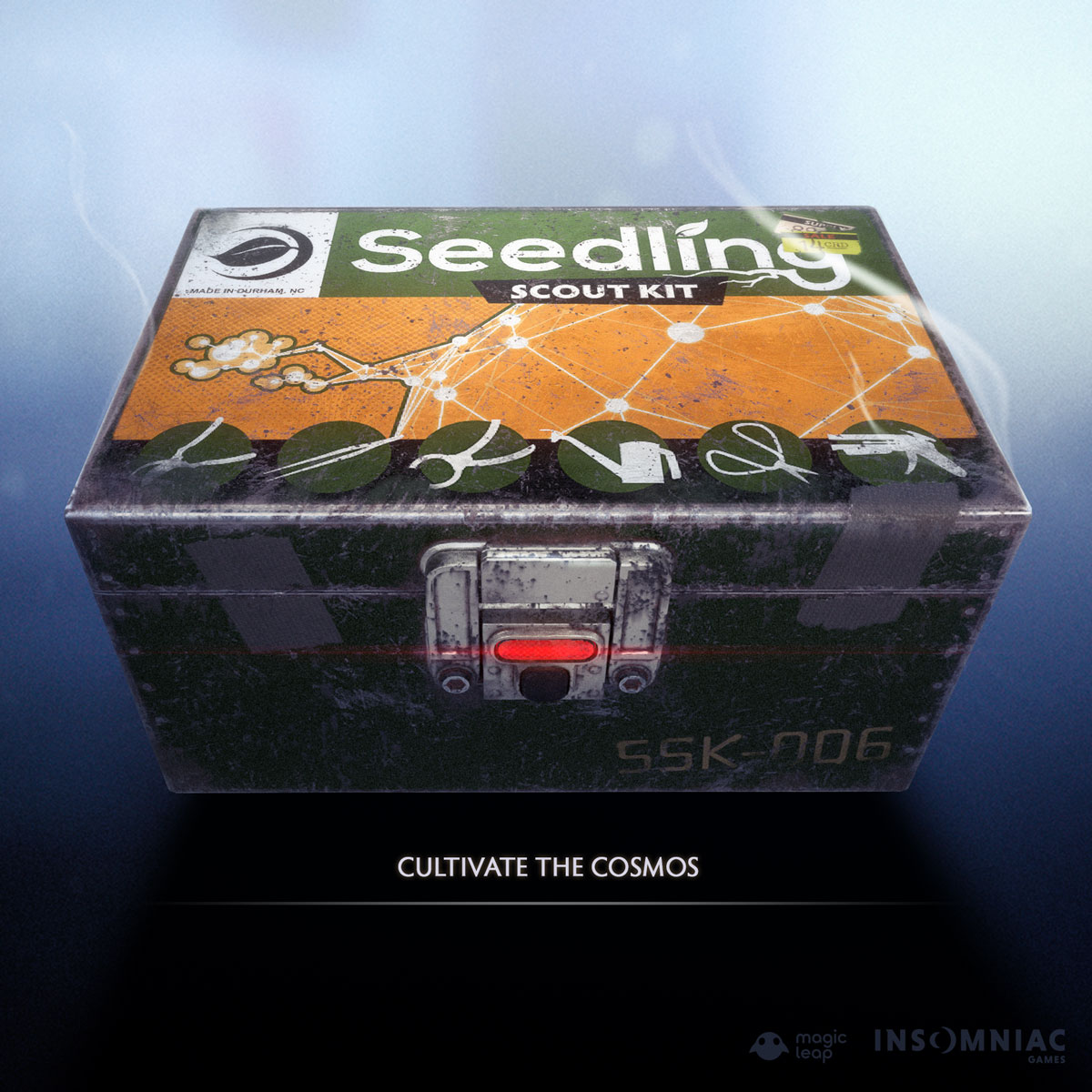 Ian had the following to say about his time with Seedling:
"What I saw from Seedling was a tabletop plant — about the size of a large bonsai tree — that seemed perfectly solid with tiny crisp little leaves that moved ever so slightly — as if blown by the wind. The touchpad on the magic leap controller could be swiped to get to different tools to manage the tree. Tweezers and clippers were a few of the tools I saw.

I used the tweezers to pull away growths sticking to the plant like spiderwebs and I used clippers to cut away smaller leaves that could help the tree grow more. The key thing for me was the tree was sized incredibly well for the limited field of view — it fit well inside the FOV. I didn't see this myself, but they said that if you plant the tree below furniture, it'll grow around the furniture."
So far, so good, I guess? There is a really impressive looking tree and it is really satisfying to interact with — but that's the game? Magic Leap is billing Seedling as a game made for the Magic Leap One by a "AAA" studio, so what do you actually do?
"There is a very Insomniac story as a charming wrapper to this experience," said Bell. "We tell a story in real-time, which is kind of a new thing for us. As you take care of your tree and check in every day, the story is revealed. We deliver the story through narration and help you use your mind's eye to paint more than what's there…there is more than what you saw in the demo."
If I'm being honest, I'm still very confused and I know Ian is as well in terms of what Seedling actually is. From the sound of it, this may end up being a bit like an AR Tamagotchi-esque game, but with plants? Maybe?
Honesty, no one knows. At LEAP Con today, Ted Price explained that you take on the role of a "Seedling Scout" that must nurture and grow an alien lifeform. As it grows, it evolves and changes over time.
"I've worked on every VR title at Insomniac, with the exception of Feral Rites," said Bell. "So The Unspoken, Edge of Nowhere, and a little bit of Stormland…Once we learned that gesture support was coming [for Magic Leap] we thought 'Okay, maybe we can use that for menus or something,' but then when we saw how powerful it is, it started to go into everything. I love touching all of the leaves."
Seedling is reportedly scheduled for release in November. Insomniac is also working on another still unannounced Magic Leap game as well. Let us know what you think of how this one sounds down in the comments below!