Well this is surprising; HTC has yet another new VR headset on the way, promising to make an important breakthrough for a major category of device. Meet the HTC Link.
The Link was first reported on by Japanese site Mogura VR. Intriguingly, it's promising full six degrees of freedom (6DOF) tracking, which is something we haven't seen in any major smartphone-based VR headset so far.
It's set to work with the company's latest smartphone, the HTC U11. Concrete details are scarce but it appears that the kit won't use Vive's lighthouse stations. The headset and two compatible controllers appear to have lights on them, which look to be tracked using an external sensor, similar to what can be seen with Sony's PlayStation VR. The camera and controllers are bundled in the box.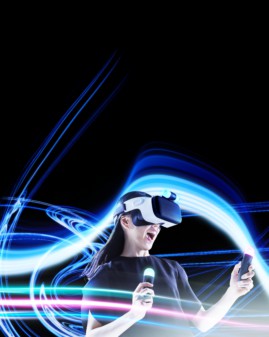 Interestingly it appears that the U11's display won't be used in the Link. Specs state the device has two 3.6 inch 1080 x 1200 LCD panels with a 90Hz refresh rate. It's also got a 110 degree field of view (FOV) and weighs 554g.
Content-wise, HTC has teamed up with popular anime Ghost in the Shell for a new experience.
Sadly, there's a reason it's only being reported on in Japan; HTC confirmed to UploadVR that the kit is only set to release there and there aren't plans for a wider release. The company also pointed out that this is strictly not a Vive product.
All the same, the reveal comes at an interesting time. Last week Google announced it was making new standalone VR headsets with 6DOF tracking, and HTC was one of the first it was partnering with. The company will be releasing a new member of the Vive family under this partnership later this year, running on Google's Daydream ecosystem. HTC didn't say, but it wouldn't surprise us if this is the reason we won't be seeing the Link over here any time soon.
From what it sounds like the Link is available in Japan from today.