At the Irvine Spectrum shopping center in Orange County, California, anyone can use virtual reality to step inside worlds and fight Skynet or escape Jurassic World.
The attractions represent the culmination of work by half a dozen companies and one of the best chances yet to prove there's a market for out-of-home virtual reality entertainment in the United States. Indeed, VR's journey toward the opening this summer of top tier attractions in Southern California began six years ago in an office not too far from the Irvine Spectrum. That's when Brendan Iribe, Palmer Luckey and the other co-founders of Oculus entered their first office and started building the Rift.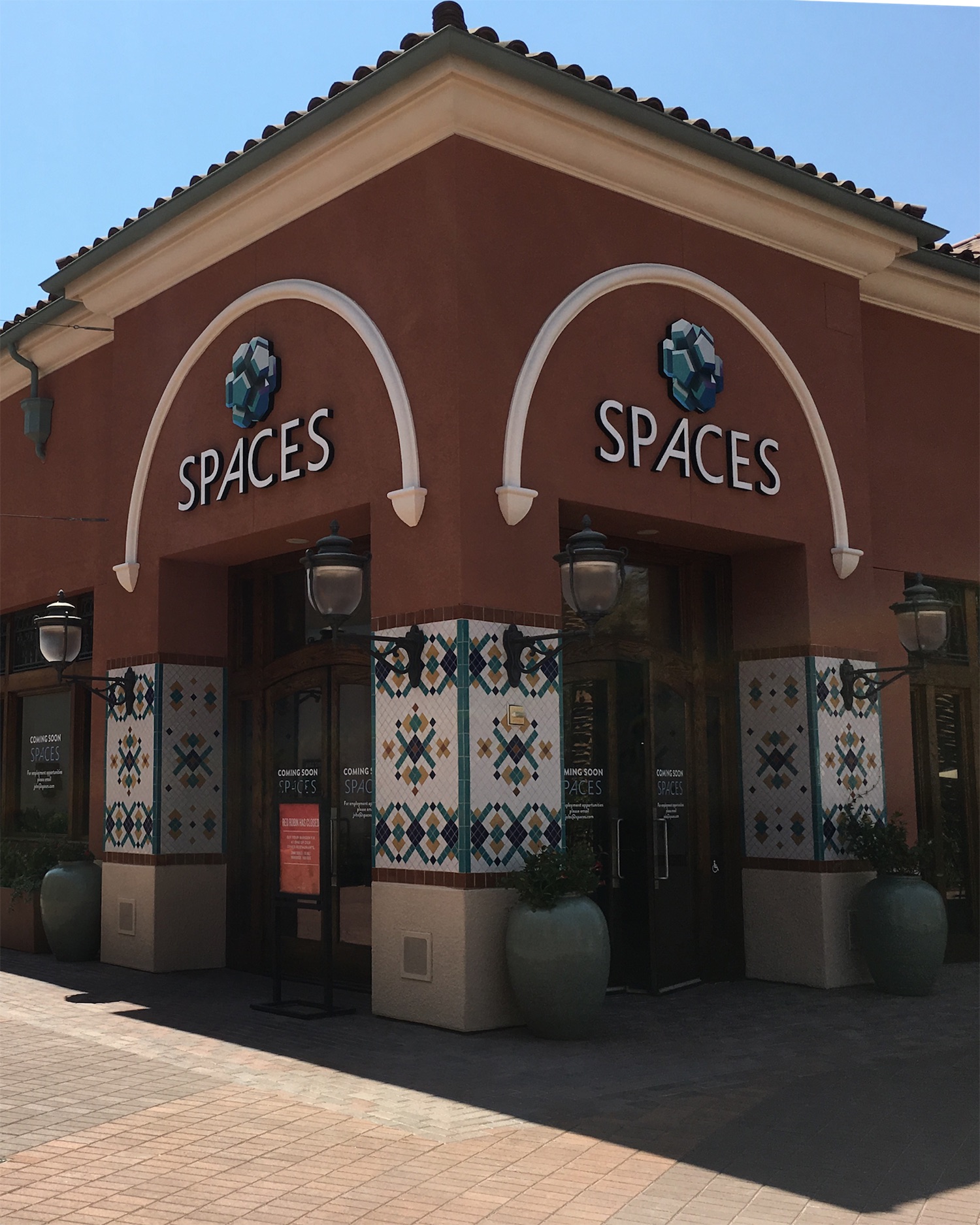 Spaces Inc. uses the Rift connected to an HP Omen PC backpack to provide a wireless walk-around VR experience complete with face scanning, full-body tracking and a trip through time battling Skynet. Tickets are $30 per person and up to four people can play together at their location right across from Barnes & Noble and Dave & Buster's.
Spaces is a startup co-founded by Shiraz Akmal and Brad Herman, former Dreamworks veterans who ran a division called DreamLab focused on new kinds of immersive experiences. Their debut ticket price is a few dollars less than similar experiences from The VOID, which operates a location featuring Star Wars at Downtown Disney in nearby Anaheim. Yet another Orange County shopping center recently saw the opening of a VR attraction for Aliens charging $22 per person. The price being asked for all these is quite a bit more than the $5 Dave & Buster's is charging for a five-minute trip to Jurassic World in a motion simulator with an HTC Vive. If Spaces represent the high end of VR attractions, then, this startup is doing some things best-in-class. Here's a look at what a trip to Spaces is like.
Leaving With A Video Of Your Trip
The experience begins when Spaces hands the guest a QR-coded card to track their high scores and face.
Yes, Spaces scanned my face.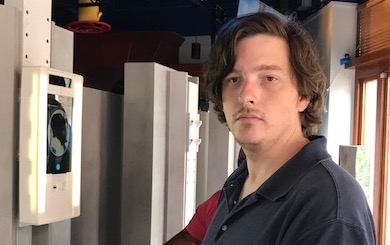 Face scanning is a quick process that requires looking left and right.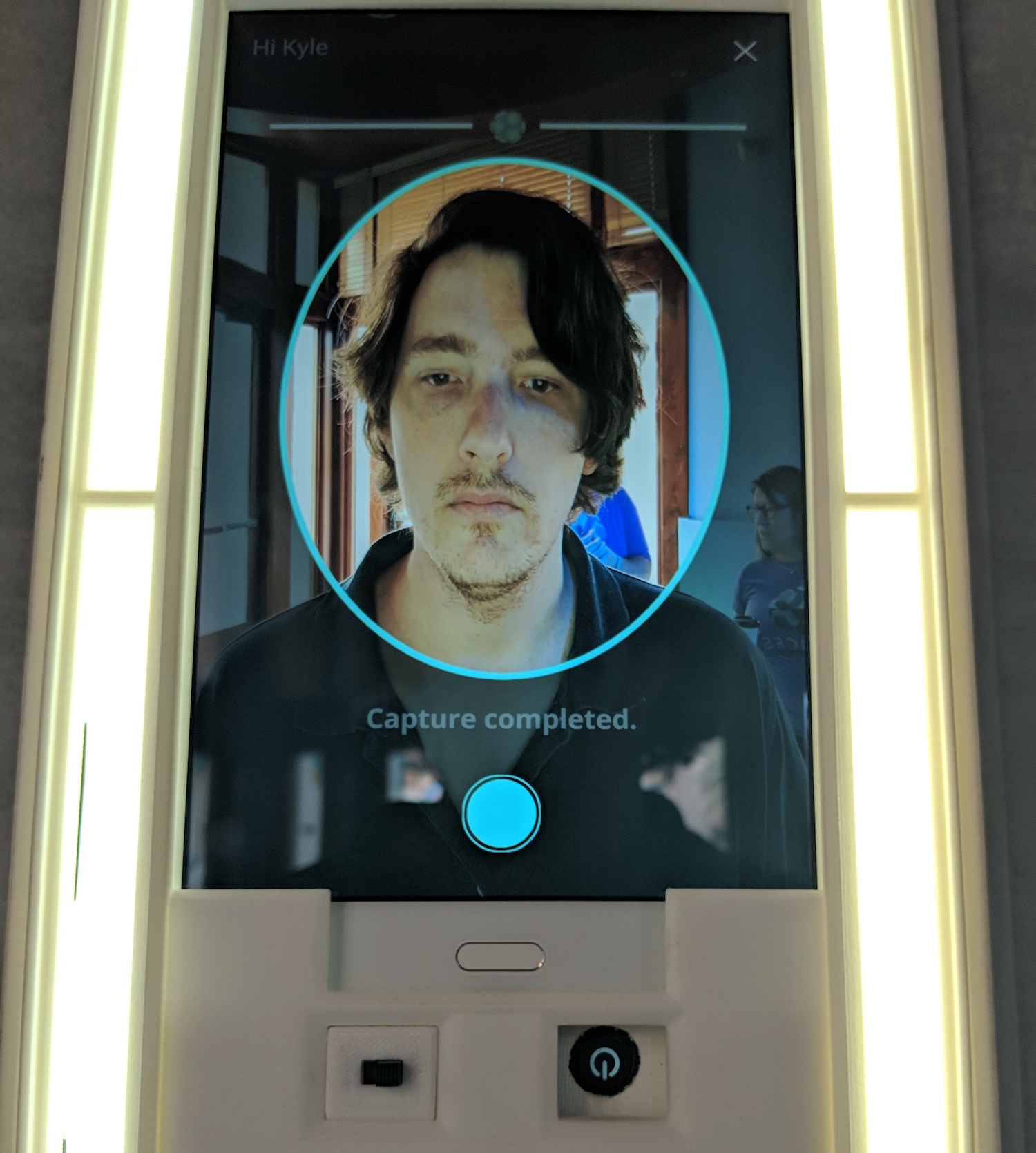 The actual time spent inside VR in the Terminator experience should be about twice as long as Jurassic World — a little more than 10 minutes. Terminator also offers far more interactivity, including full-body tracking and movement as well as physical props you need to use to complete your mission. Spaces also sends everyone home with a 15 second clip of their experience.
For an extra $10 a team can go home with a 2-minute version of the video. Below is an example of the two-minute video as cut automatically by their system during my playthrough this week.
The capture of my face looks weird and funny and the video misses some of the most memorable moments of playing through the experience. For example, you can see a shot in the video above where we pick up a battery pack and take it to another location. The virtual camera was clearly set up to capture us moving the battery to the right spot at the right moment. We eventually figured out the right place to take it, but only near the end of the camera's shot. Still, the only time I've seen another startup automatically produce a video of your trip to their VR attraction was a proof-of concept that Neurogaming had up and running. The video I got out of that process didn't have any sound and there was no face scanning. So even though this video from Spaces is far from perfect it is already — even in this early state — a step above what I've seen from other well-known location-based VR startups.
Spaces uses Striker guns modeled in VR to look like miniature gatling guns of the same size. Of all the virtual rifles I've been handed over the last few years, the weight, size, haptic feedback and look of the gatling gun in VR made this my favorite VR gun to use ever.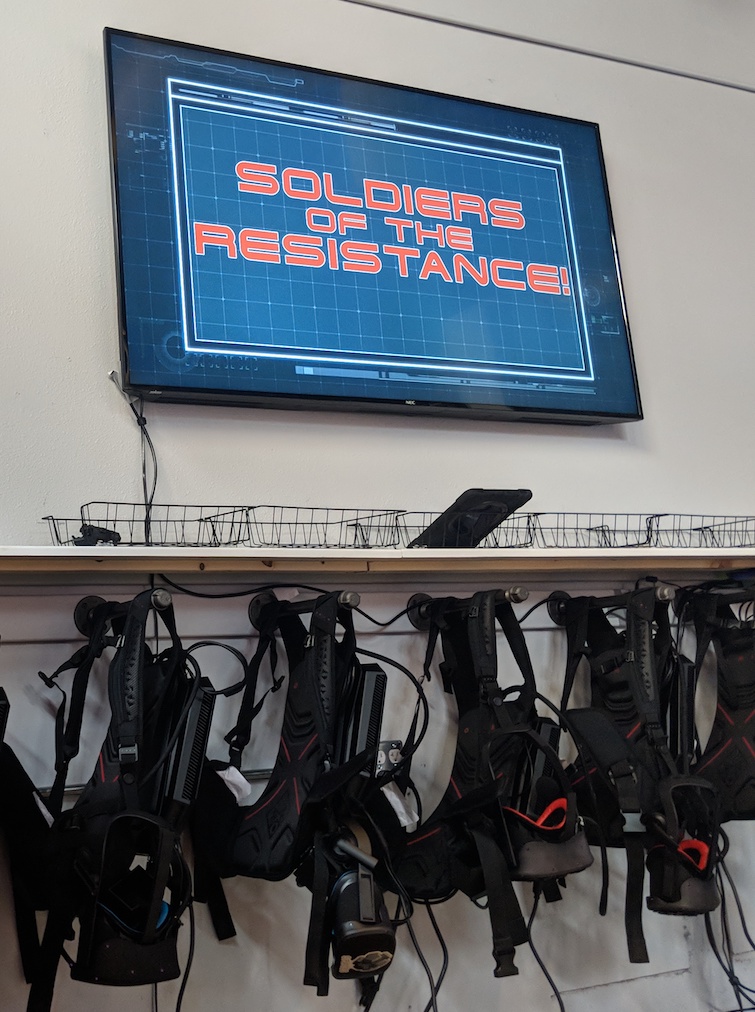 The below photo does a pretty good job of showing the entire arrangement at Spaces in the Irvine Spectrum. I'm glad Spaces allowed open photography at their location because some other location-based VR companies have not been so forthcoming. We were told that shooting toilets hidden around the map would actually garner the most points and we found one hidden through a hole in the ground.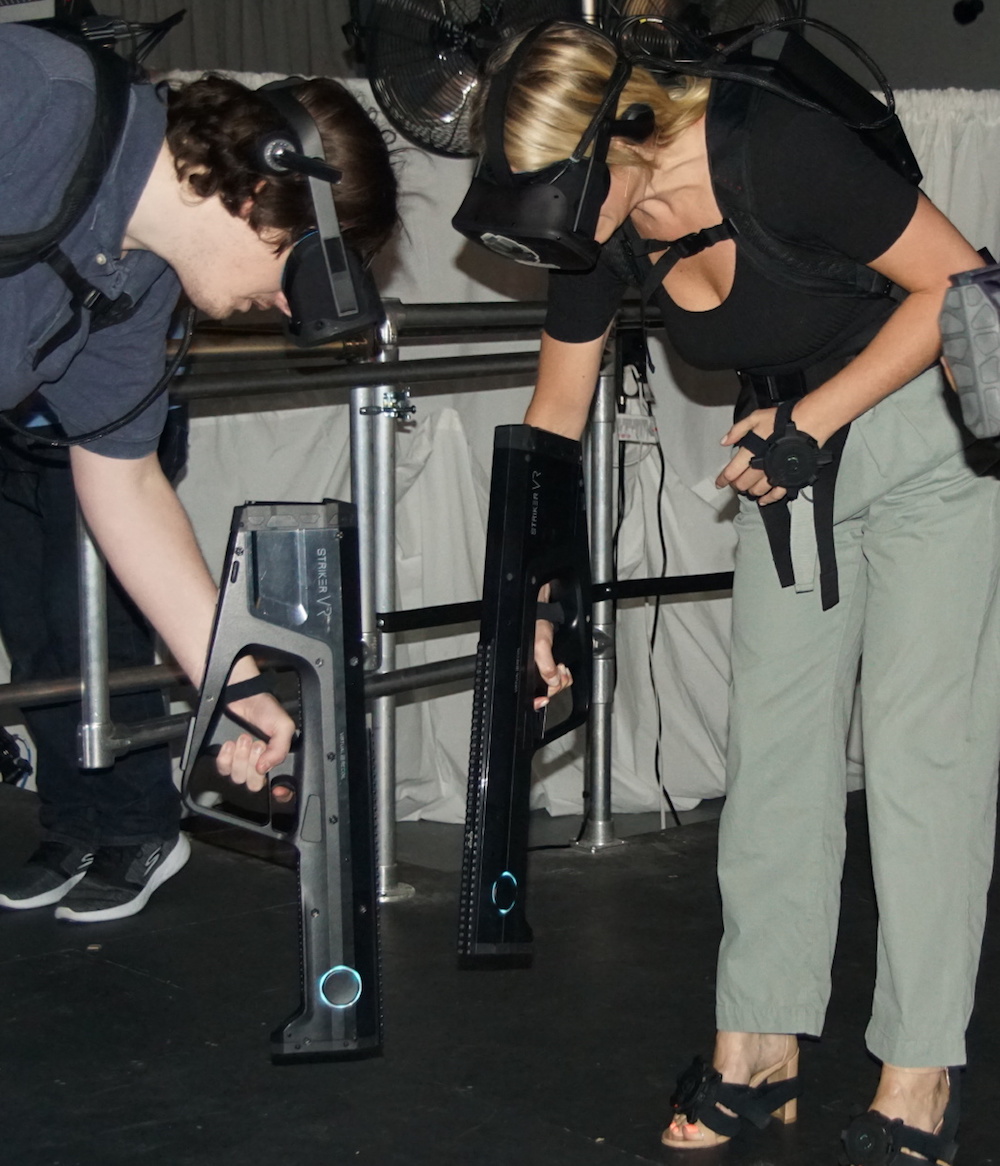 You can see a pair of foot trackers and hand straps. I felt fully embodied inside my robot avatar almost the entire time and though the video shows some awkwardness with avatar movement, it doesn't feel that awkward wearing the headset and looking down at your own body. You can even see the fans in the background for providing wind effects. At one point when I was leaning over some railing in the experience I saw a minor tracking hiccup, but other than that the experience was pretty seamless from entry to exit.
Conclusion
Overall, it looks like the Irvine Spectrum is home to two of the best VR attractions I've ever seen. High scores and taking home videos of your experience are incredibly important things to include if you are going to start asking people to justify spending more than $30 per ticket. Spaces including those features on day one suggests to me they are thinking holistically about how to make out-of-home VR experiences sustainable over the long term.
If you are looking for early indicators that out-of-home VR in the United States will be a success, keep an eye on how much foot traffic these VR attractions get at Dave & Buster's and Spaces at the Irvine Spectrum.