Google's virtual reality division is doing some exciting things with the tech at the moment, and it's just made an equally exciting hire to help it.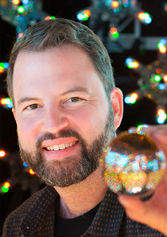 Paul Debevec, a researcher and the chief visual officer at the University of Southern California's Institute for Creative Technologies, has come on board at the tech giant. In case you are unfamiliar, USC's ICT lab is the same place Rift creator Palmer Luckey worked before starting Oculus.
Debevec confirmed the news himself over on Twitter today. In the past he's made major strides in capturing and recreating people and objects within digital spaces. He's been a pioneer in the use of light stage technology, which captures the reflectance field over a human face to authentically simulate them.
At Google, it's possible his expertise could be critical to helping the company capture realistic avatars, along with any number of other technologies that will be critical for VR going forward. Google's head of VR Clay Bavor also mentioned that Debevec's "team" is coming on board too, but a Google spokesperson declined to comment further and USC didn't immediately respond to a request for comment.
Debevec hasn't revealed exactly what he'll be working on in his new role, nor if the hire means he'll be leaving his old post at USC.
Taking a look at his body of work, though, you can quickly get a feel for how he could help bringing even more realistic and convincing VR environments, objects, and characters to pass. Take a look at the above video, shot in 2014, for example. Here Debevec employs an elaborate setup to record a high resolution digital model of none other than President Barrack Obama.
50 LED lights and a wide range of high resolution cameras were used to create a stunningly lifelike rendition of the President's face. The result was the ability to 3D print an exact statue of his head. Now imagine we could bring that into VR and believe we were really talking to President Obama ourselves. Google is all about bringing new technologies to everyone, everywhere, and doing avatar capture with ever-greater fidelity at lower costs seems like exactly the type of thing Google would need Debevec's expertise to try and accomplish.  Of course, that's just one application Google could want from Debevec's pioneering work.
The Google VR division, meanwhile, was established earlier in 2016, though the company has been working for the tech for over two years now, beginning with its Google Cardboard concept. At last month's Google I/O developer conference the search engine giant unveiled Google Daydream, a mobile VR ecosystem designed to roll out across several approved smartphones, headsets, and motion controllers that all adhere to a standardized set of specifications.  The first wave of products in this line will be rolling out later this year.
Google is also helping to push 3D capture forward with its Project Tango technology. The first phone to utilize a Tango camera, Lenovo's Phab 2 Pro, will be launching in September. Perhaps Debevec could also be looking at how that tech could integrate with VR too?
We'll update this post if we hear any more details. We've reached out to Debevec for comment too.
Ian Hamilton contributed to this report.