There are few things more elusive than a "good" VR roller coaster game. If you look at the Google Daydream App Store or the Oculus Store for Gear VR you'll find tons and tons of roller coaster apps that aim to put you in the seat of an immersive thrill ride. There are even plenty of grainy, low-resolution 360 and 180-degree videos to watch from the first-person perspective as well. So many developers have been preoccupied with whether or not they could transport viewers into the front row of an adrenaline-pumping roller coaster, few stopped to ask whether or not they should.
The one thing that VR coaster fans have been waiting for though, an official RollerCoaster Tycoon VR game, could finally be arriving soon in the form of RollerCoaster Tycoon Joyride from Atari and Nvizzio Creations — at least, partially.
I say partially because Joyride will not have full front-to-back VR support. The only portion of the game that actually has VR support is when you strap in on one of the coasters and set out to ride it in first-person. All of the menus, building, and coaster editing must be done from outside of VR, unfortunately.
Luckily the PSVR's Cinematic Mode is an acceptable replacement for real VR, since you can make the screen ultra large so that it takes up your entire field of view. There's no head-tracking in this mode, but I've used the feature to simulate VR in games like Shadow of the Colossus.
Unlike most RollerCoaster Tycoon games, Joyride is specifically focused on coasters. You can't build out entire amusement parks and there are no simulation mechanics — this is all about speed and steel. As a result, Joyride has a handful of different ways to enjoy the game: missions, pre-made coasters, and sandbox editing.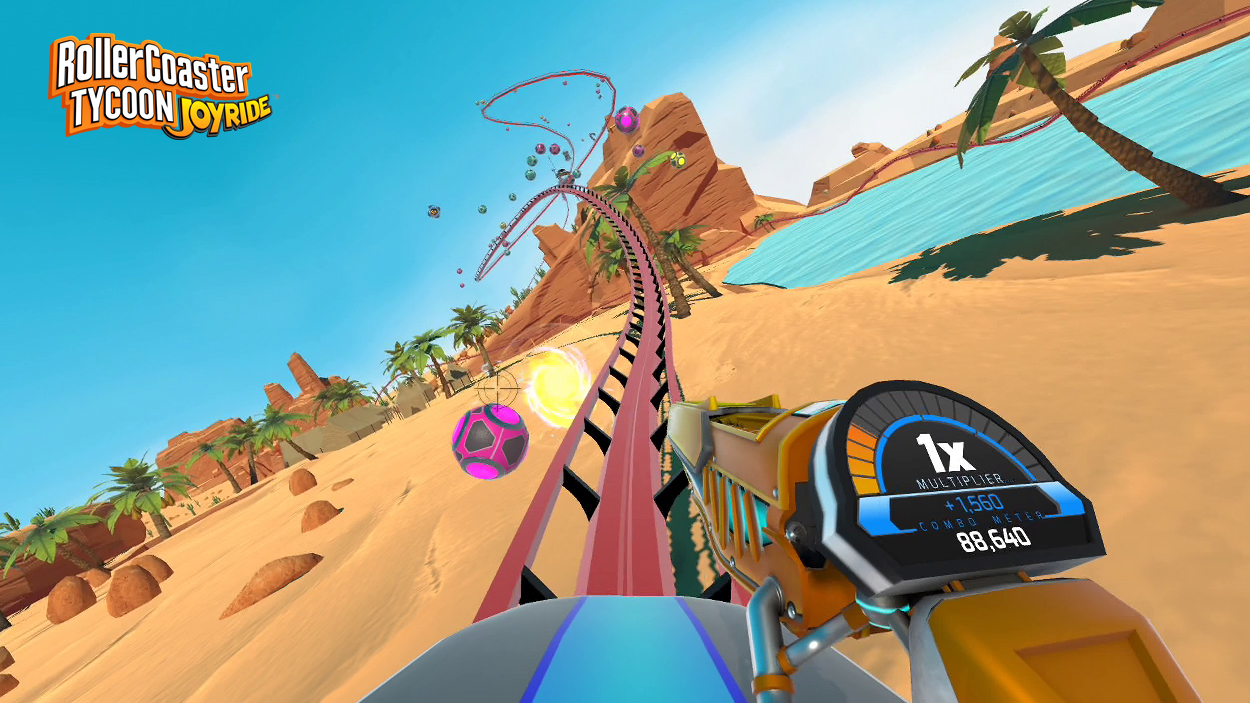 During my demo at GDC I got to see a bit of each mode and I'd recommend any new players starting with the Mission segment. Each mission takes place on one of two background environments (a canyon-themed desert landscape or a modern city with skyscrapers.) You'll have to build out coasters that meet specified objectives, such as containing seven booster tracks or three different loops.
The most impressive thing about Joyride is just how streamlined everything is. Since ther aren't any simulation mechanics to get in the way of the fun you can jump back and forth between editing and riding extremely quickly. And the track editor is the simplest I've ever seen in a coaster game letting you create the track as you go along in an almost freehand semi-drawing way. The inclusion of PS Move support to craft the tracks in the air would have been sublime, but alas it's not included. An Atari rep said those sort of additional VR features just weren't in the project's scope or budget. Being Atari's first VR game, Joyride feels like a bit of am experiment.
From the moment a blank map loads up to having something rideable can literally be a matter of minutes. Whether you're drawing standard tracks that curve, rise, and dip all through the air, installing pre-made bits like loops and twists, or placing boosts and other specialty tracks to enhance the ride, everything is dead simple and fun to use.
At the main menu there are "Easyrider" tracks that are light on inducing any nausea, as well as more hardcore tracks designed to push your limits. All of these can be freely edited and then saved as new courses in a matter of minutes as well.
Once you decide to actualyl ride a coaster you can do so either in VR or outside of VR, although this mode is really designed with VR in mind. You can either ignore all of the floating robots and targets and just enjoy the ride, or you can aim and shoot at them using the motion controlled DualShock 4. As of now there is no way to totally turn off the targets and robots, but I mentioned that will likely be a requested feature.
RollerCoaster Tycoon Joyride is a very pretty game and it seems to really scratch an itch for dedicated coaster fans. However, it does feel like a shadow of what it could have been. The VR features are downplayed significantly and the lack of any simulation mechanics means players don't have a lot to do unless they just absolutely love building coasters and that's it. Luckily tracks can be shared online as well so players shouldn't run out of tracks anytime soon.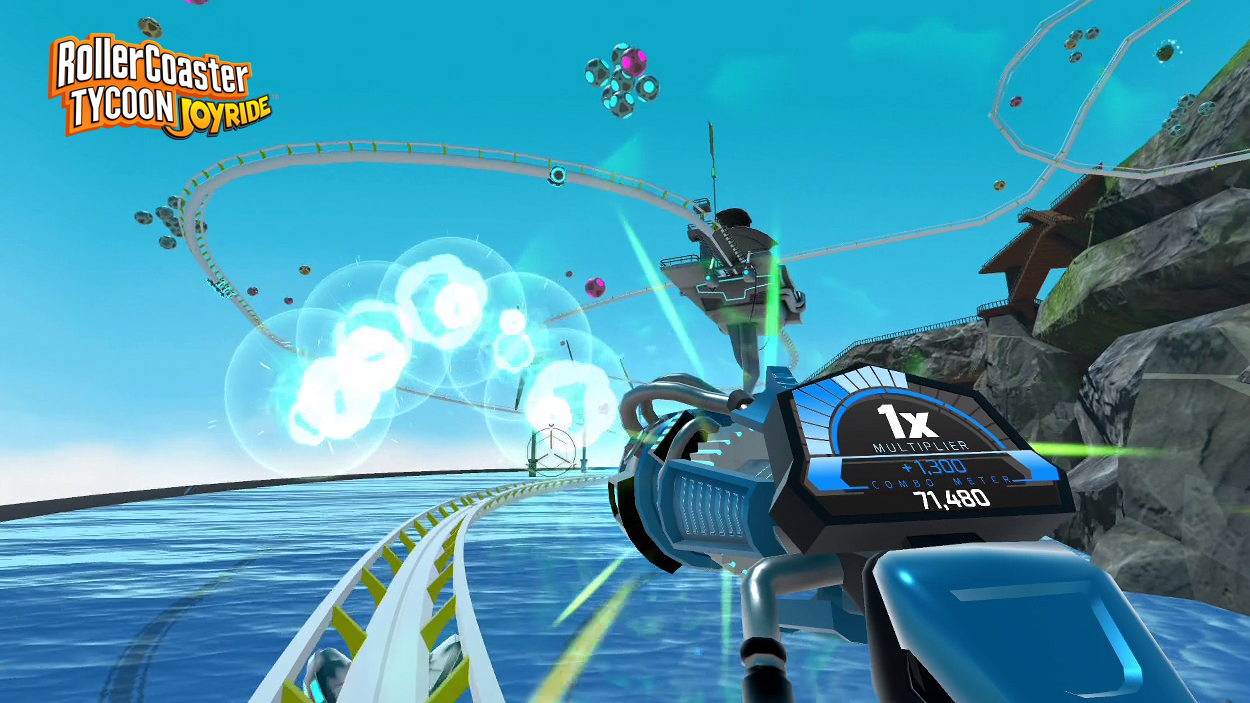 RollerCoaster Tycoon Joyride is slated for a Spring 2018 release on PS4 with PSVR support. Let us know what you think down in the comments below!