Floor Plan returns with a remastered edition, offering visual and performance upgrades next week on Quest.
Initially released in 2016, Floor Plan Remastered marks the first time Turbo Button's original game arrives on Quest, though Floor Plan did appear on Oculus Go. Set within an elevator, each floor greets you with different cartoonish mascots and you must find objects other characters need. Reminiscent of point-and-click style adventures, it takes roughly an hour to beat.
Regarding improvements, Floor Plan Remastered promises "improved controls" and new comfort options, alongside a visual overhaul with new models, textures, and lighting. A fully playable version of a never-before-released Floor Plan prototype is also unlockable. Turbo Button describes it as, "a short experience that was created over a year before the original game in the days of the early Oculus devkits, and led to many of the ideas that shaped the Floor Plan series."
The studio also outlined performance differences between Quest 2 and Quest 3, letting you choose between 'Favor Quality' for realtime shadows or 'Favor Clarity' for higher framerate and resolution. Reaching 120fps on Quest 3, you can find the full comparison below: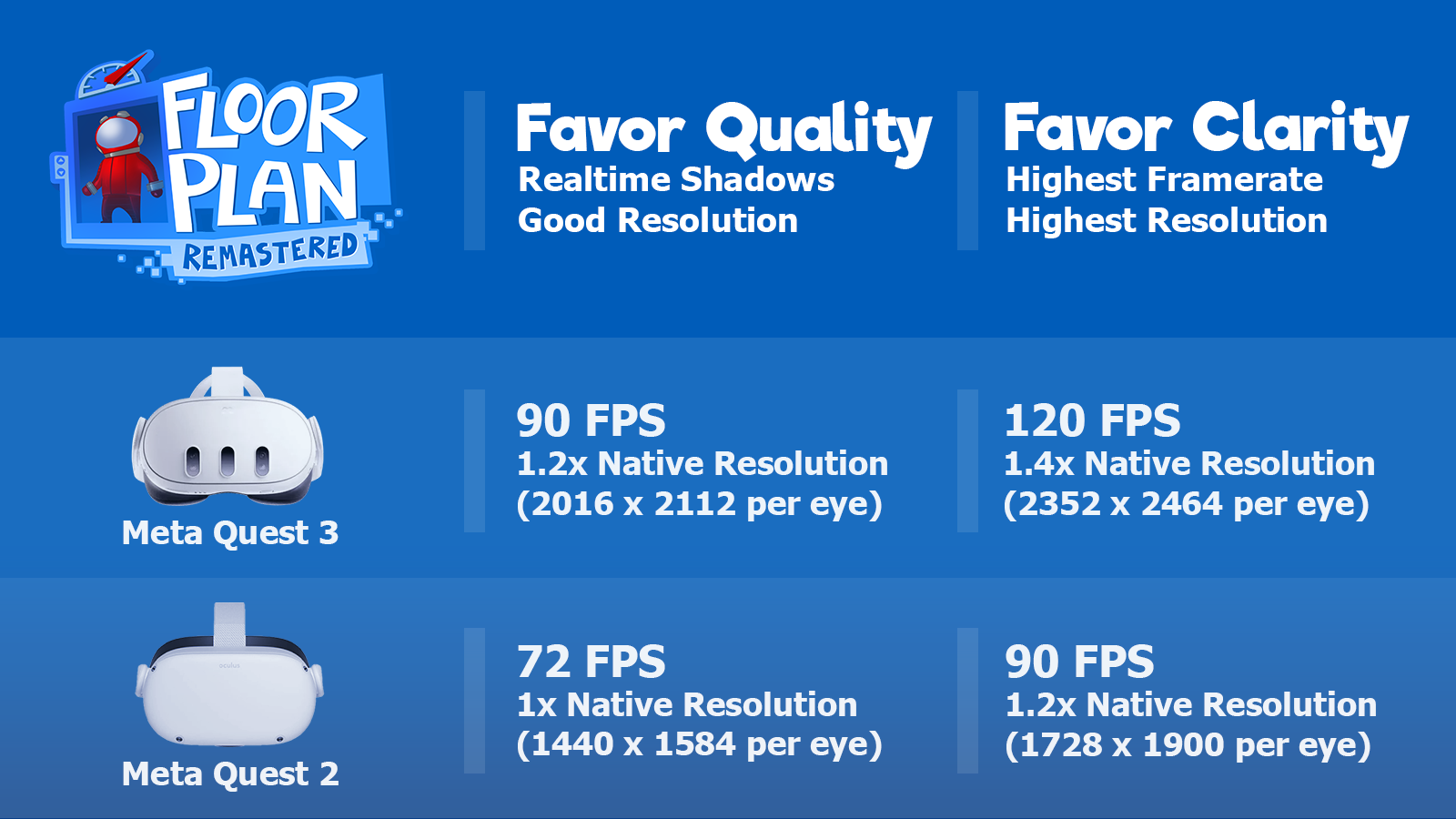 Finally, Turbo Button also told UploadVR about its plans for a Floor Plan 2 Quest 3 visual update, which follows the Backside Story expansion in June. While a specific release date wasn't confirmed, Holden Link from Turbo Button explains "we're hoping it's only a week or two away." This update promises resolution, framerate, and texture quality improvements.
Floor Plan Remastered arrives on the Meta Quest platform on October 26 for $6. Elsewhere, you can find Floor Plan on SteamVR, Google Daydream and PSVR.