When Oculus announced Oculus Go late last year at its developer conference, the headset came as a bit of a surprise. The previous year Facebook announced the Santa Cruz standalone prototype with full six degrees of freedom. By OC4, they added controller tracking that allowed full freedom of movement for both your head and hands throughout an entire room. It was truly a vision of the future for VR. In a way, Go seemed like a step backward.
Oculus Go is a 3DOF headset like the Gear VR with a single 3DOF controller, and developers can easily port over apps from Gear VR. For all intents and purposes, Oculus Go is basically a Gear VR without the need for a smartphone to power it.
For starting at just $200 for the 32GB model (or $250 if you want 64GB), that's impressive. We previously looked at a somewhat similar headset — Pico Goblin — but Oculus Go brings the weight and power of Facebook behind it.
Go is here to finally bring standalone, out-of-the-box ready VR to the masses.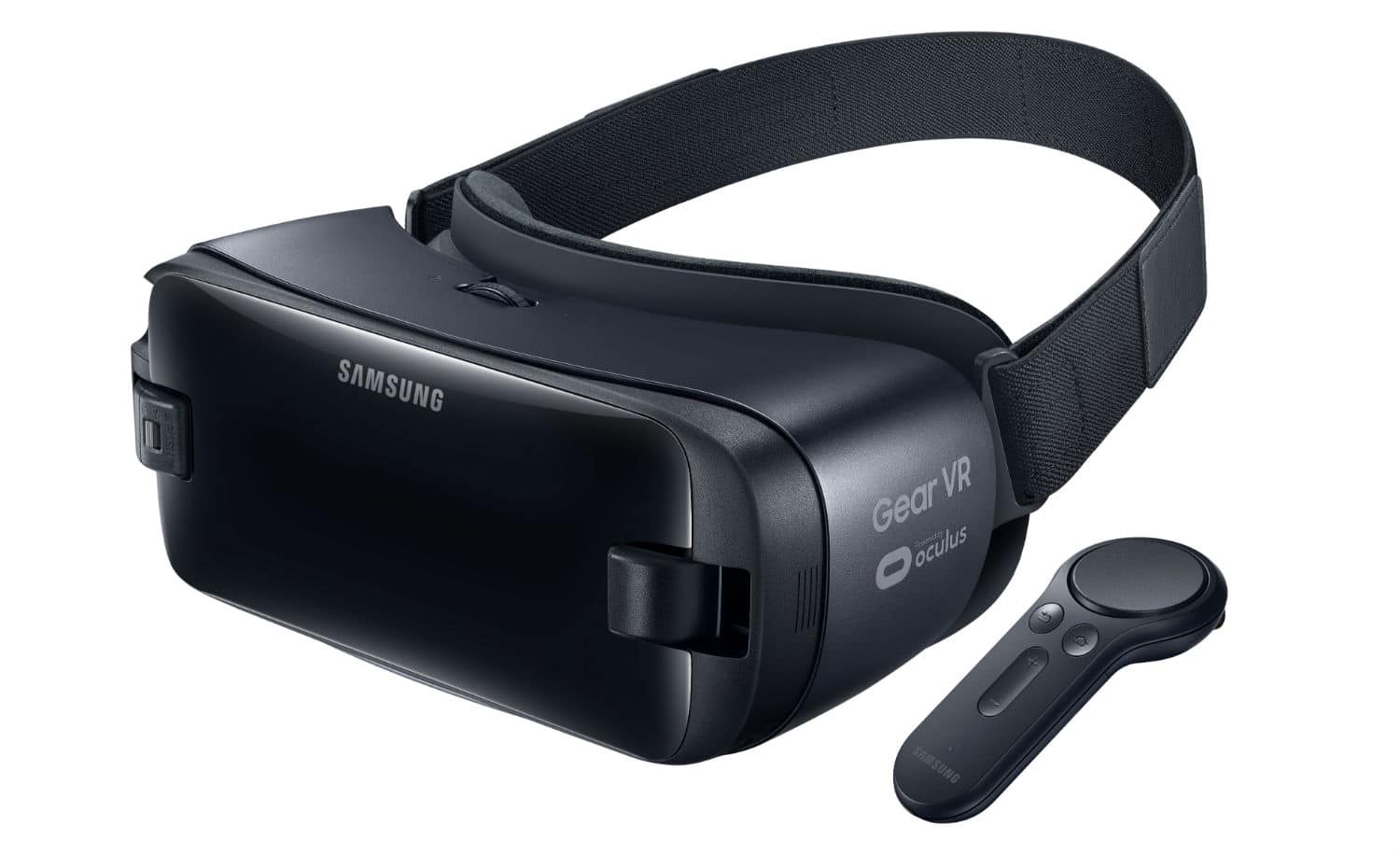 From Gear to Go
Gear VR has been successful as a pack-in item with new Samsung Galaxy smartphones. However, as a dedicated VR platform, it has a lot of core, underlying issues. For starters, relying on the user's smartphone for juice means that you're asking someone to not only use up the battery of their VR device, but also drain their phone battery as well.
Some phones were prone to overheating while inside Gear VR, and sometimes background processes and other apps accessing the data signal or WiFi meant it was difficult to use networking features in VR. If you already had a compatible Galaxy phone then sure, it made sense to grab one. But what about the millions of Android users that don't use Samsung devices and/or don't have a Google Daydream? What about the high-end Rift or Vive users that want a portable VR headset? Enter Oculus Go.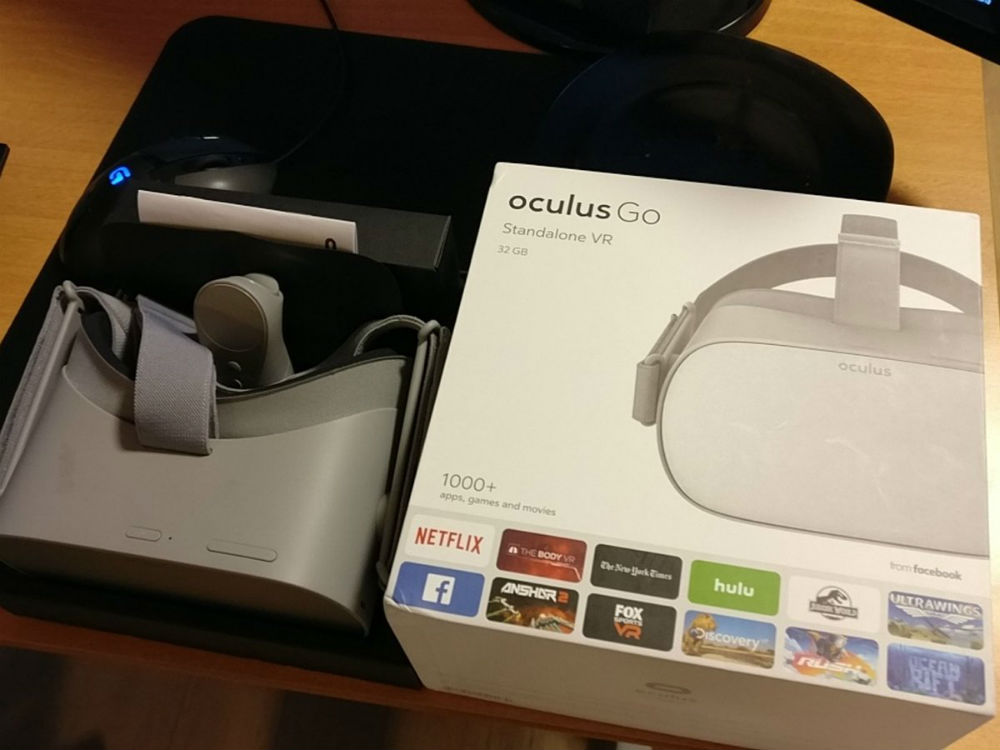 Setup
Oculus Go is the first piece of hardware that Facebook-owned Oculus has released that is entirely standalone. It doesn't run off of a Windows-powered PC, it wasn't created in partnership with Samsung, and it doesn't require another company's phone to work. Everything from the physical device to the operating system and app store is all Oculus. That's a big deal.
In order to get your Go up and running it's actually very simple. You'll first need to download the Oculus app from either Google Play or the iOS App Store and follow the steps. Through the app you'll set up your controller, get it paired, input WiFi network information, and more. It's annoying that an app is needed to get the headset up and running, but thankfully it's not needed again after that. Although if you want, you can queue up apps for download using the mobile app, which is a nifty feature.
The box includes a charging cord and USB-to-wall-outlet plug, as well as an eyeglass spacer face plate, lens cleaning cloth, and attachable lanyard for the controller.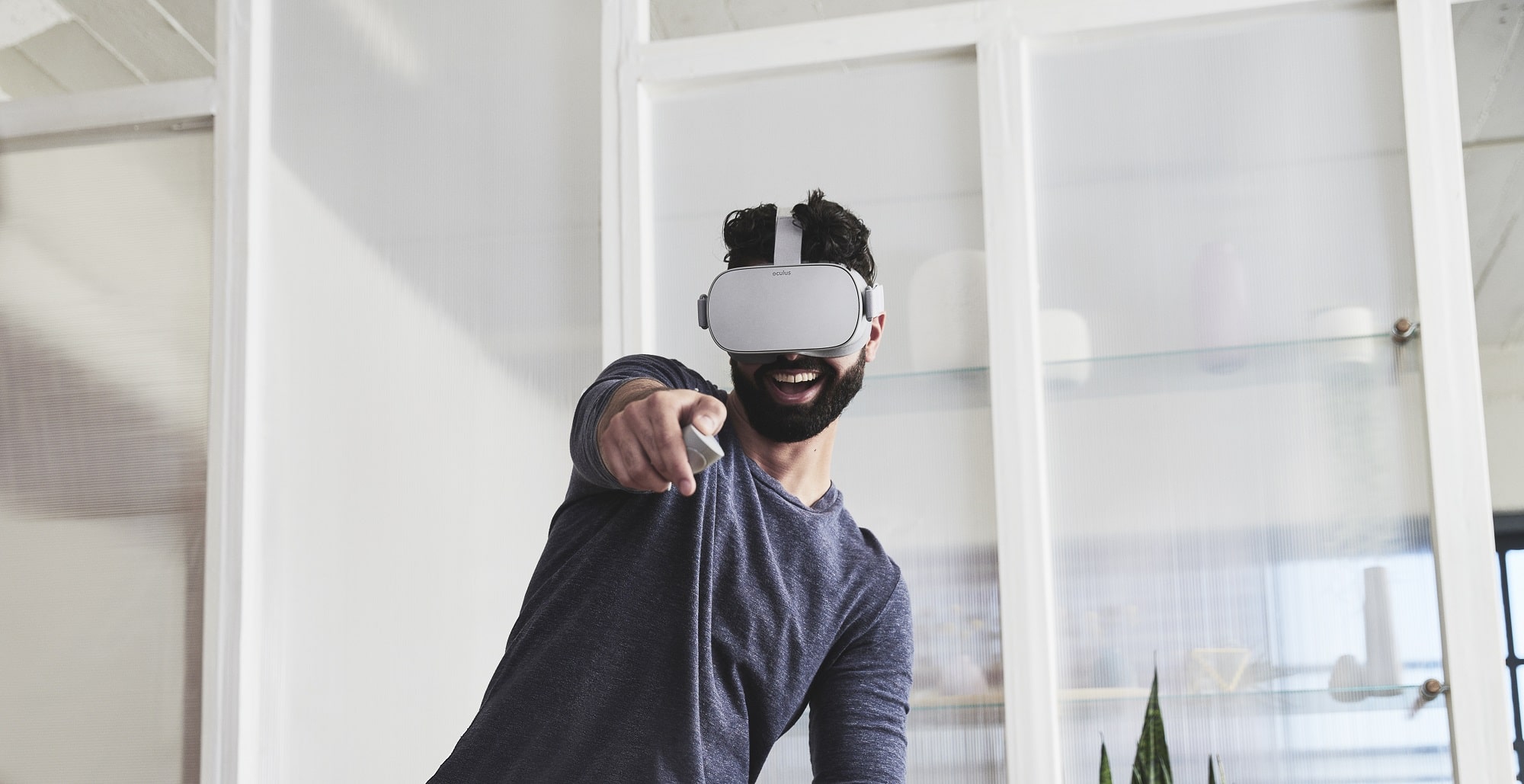 Headset Design and Ergonomics
As a glasses wearer, I think this is the most comfortable VR headset Oculus has made. It doesn't have the awkward, top-heavy feel of the Gear VR since a phone isn't strapped to the front and it doesn't smash my face like the Rift does. Since I need to wear my glasses inside the headset, the Rift always felt a little claustrophobic, but the Go is plenty spacious.
The soft, breathable fabrics seems to ventilate itself well and I never once had to mess around with foggy lenses at all. The outer shell is very reminiscent of the Rift in style, but obviously sports a much lighter gray shade as opposed to solid black.
By default, Go has a strap that goes around the back of your head and another that goes over the top of your head, with an adjusted back band to hold everything in place. You can remove the top strap if you'd like, but I preferred to keep it on so the headset was a bit tighter, but less likely to slip around.
I'm still of the opinion that the halo-style visor design employed with the PSVR and the Windows VR line of headsets (specifically the Samsung Odyssey and Dell) are the most comfortable headsets on the market, but Go isn't far behind.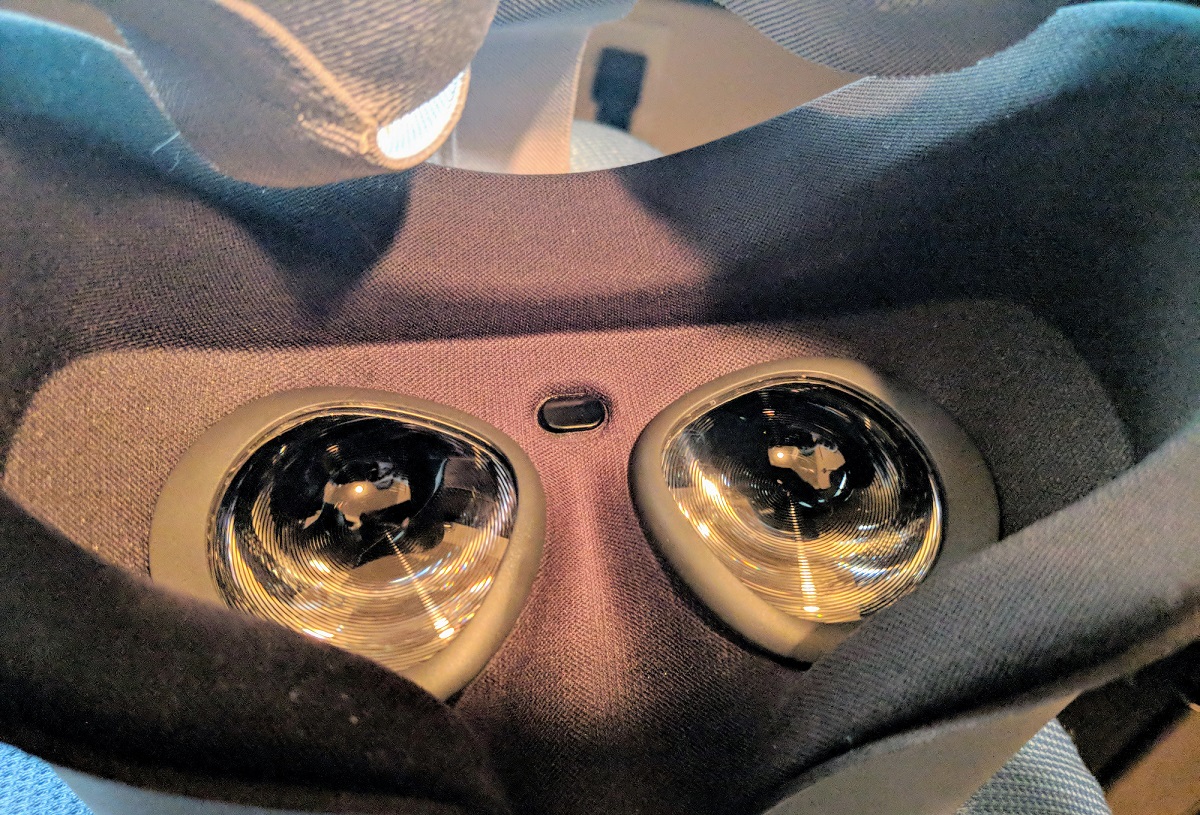 Display and Optics
I haven't done extensive side-by-side testing of the Oculus Go against other headsets on the market, but I can say that anecdotally it's got one of the sharpest screens I've seen. Bright, colorful games like Pet Lab really pop and watching movies or videos in a virtual theater and hanging out with people in Rooms really looks sharp. People aren't going to be disappointed by the Go's visual clarity at all.
The Oculus Go features a 2560 x 1440 WQHD LCD screen and extremely clear lenses with reduced god rays. The refresh rate is 60Hz, or up to 72Hz depending on the experience. It's powered by a Qualcomm Snapdragon 821 mobile VR chip.
Compare that to the 2160 x 1200 resolution of the Oculus Rift and you can see why I found the Go so impressive.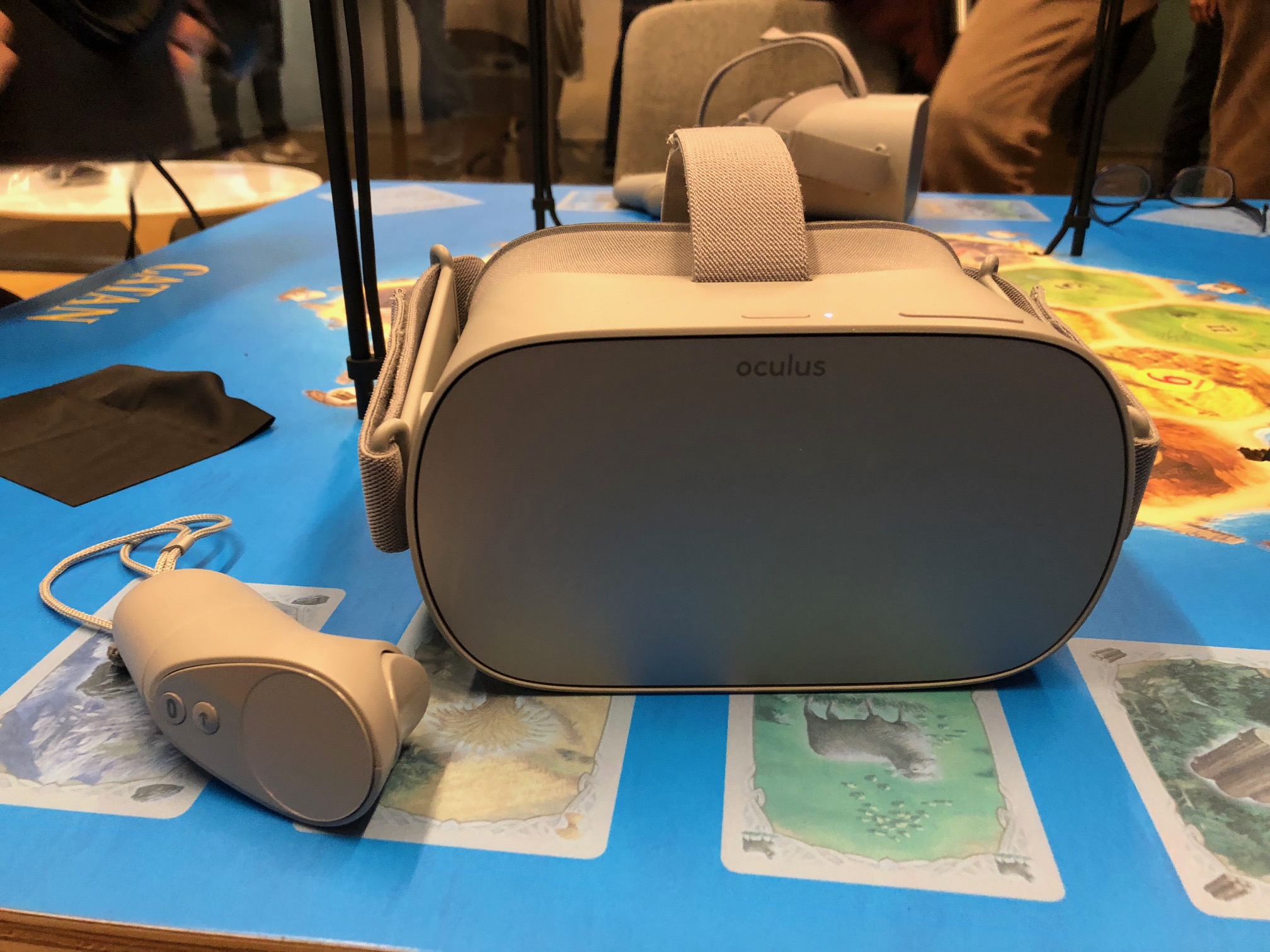 Sound
One interesting decision that Oculus made with Go is that they embedded its speakers directly into the sides of the headset, along the strap. The result is that you don't have to adjust earphones at all and everyone else can hear what you're doing — which is nifty for sharing experiences. However, the downside to this is that — you guessed it — everyone around you can hear what you're doing. The benefits gained from sharing experiences are negated when Go doesn't support any sort of Chromecast streaming or anything like that out of the box.
Thankfully the headphones jack is right next to charging port on the left side of the unit, making it very accessible. Along the top you can find the power button and volume buttons.
The audio quality itself is quite good from the embedded speakers. They're so close to your head the vibrations reverberate around a bit near your ears. Based on our testing it seems like the mic quality is quite good. Friends we tested with didn't hear the speaker audio interfering or echoing at all.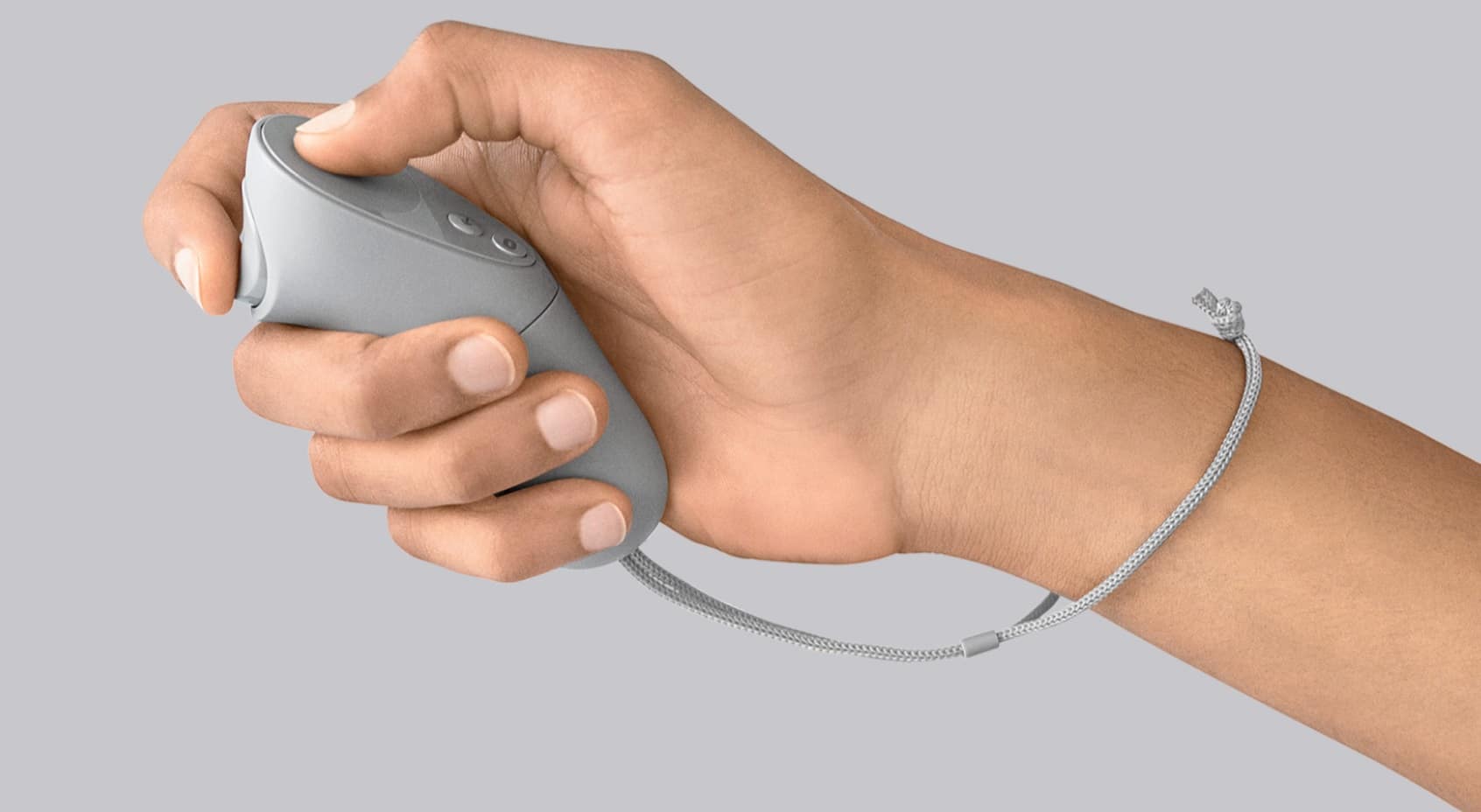 Tracking and Controller
This is the big sticking point for a lot of people: Oculus Go is just a 3DOF headset, meaning it doesn't have the ability to track when you lean and move through space. It can tell when you look up and down or side to side, but that's it. No spatial movement. The same goes for the controller.
Anyone that's used to the Gear VR or Google Daydream won't be missing any features — it works just like those two in terms of not being able to move spatially and only point or twist with the controller. You can't reach out and grab anything. Since the vast majority of Go apps are either existing Gear VR apps or are cross-platform, everything works flawlessly across devices in this way.
The downside is that, in 2018, it feels like a step backwards. Oculus Rift and HTC Vive are both two years old, the PSVR has been out for about a year and a half, and we've got standalone headsets like the Pico Neo, Vive Focus, and even Oculus Santa Cruz that are all doing positional tracking without being tethered to a PC.
Obviously Go is geared (pun intended) toward a more casual audience and the price point clearly reflects that, but since the Gear VR already seemed to be filling this niche it feels a bit redundant and disappointing from a tracking perspective to not have more freedom.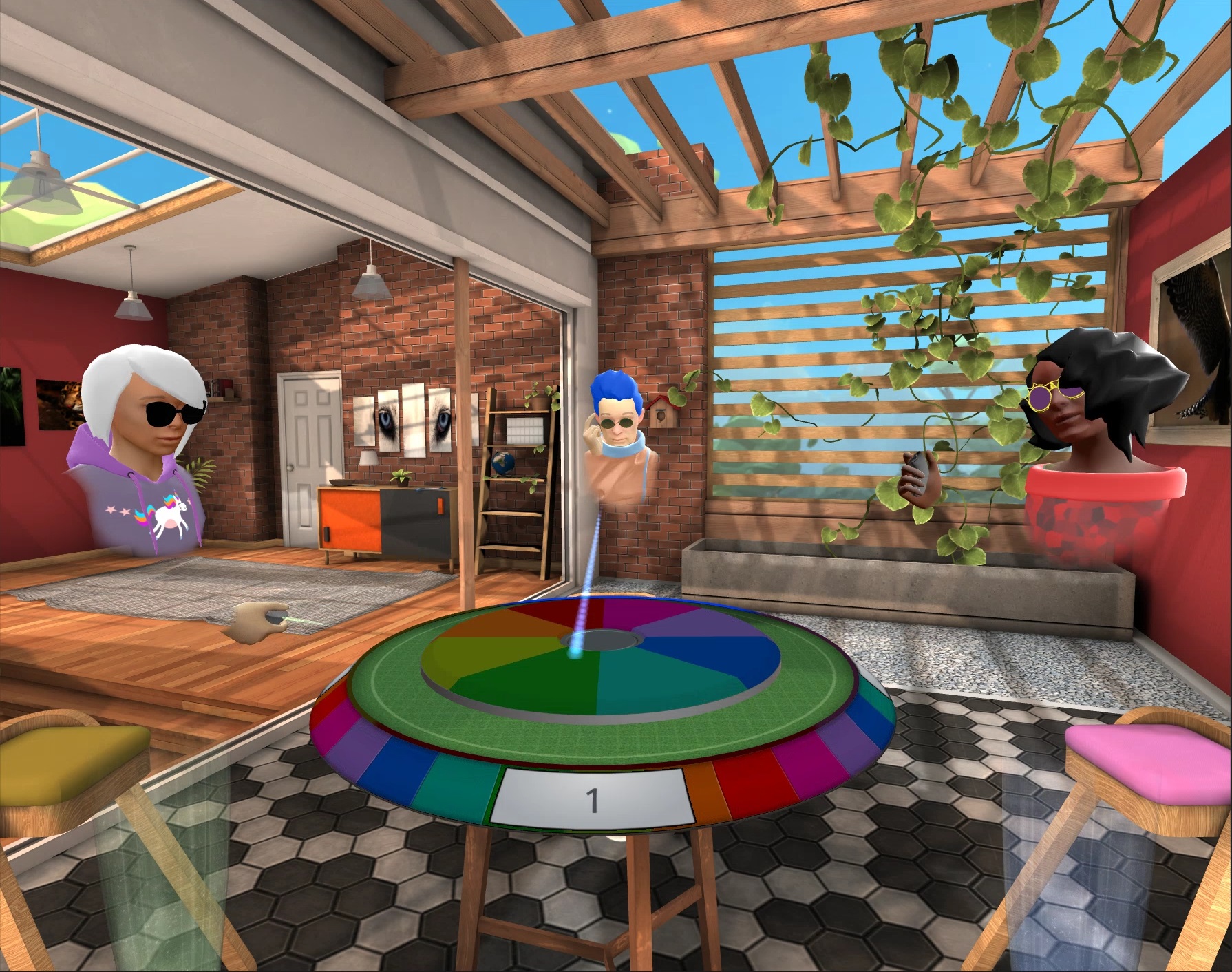 Apps and Games
Another part of Go that felt lackluster is the catalog of experiences. Oculus Go is a brand new VR headset and its the first standalone VR headset from Facebook-owned Oculus. Needless to say, I expected to see some marquee games and apps to really help sell the headset even to people that have VR already. That's not what we get.
There are a handful of really unique and new things, like all of the great updates to Oculus Rooms, the forthcoming Oculus TV, and more — but most of the games and apps (and I mean most by a manner of a thousand or more) are already on Gear VR or are releasing on Gear VR today alongside the Go versions.
So, as someone that's had a Gear VR ever since 2015, I've seen what that device can do. I've played the big games, I've watched movies and TV shows, I've talked with friends, and I've graduated to the Rift, Vive, and other more powerful devices.
From that perspective Go feels like a missed opportunity. You've got a headset here that has great visuals, no tethers to a PC or phone, a controller for interaction, and access to WiFi. Tether it to your phone and you can connect anywhere with a cell signal. So the question on my mind is — why didn't they double down on social VR more?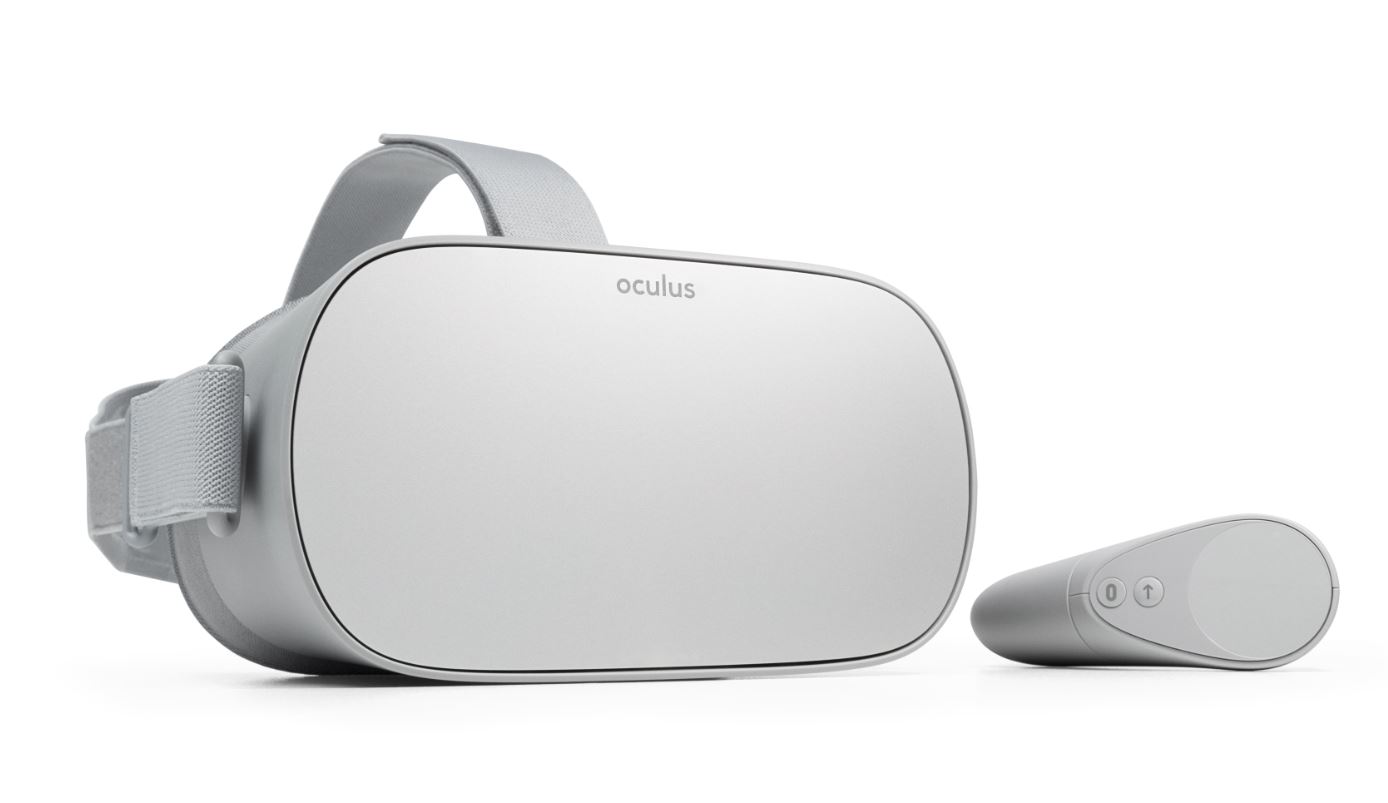 Battery Life
Usually this wouldn't really deserve its own section for a hardware review, but Oculus Go has a really, really bad battery life. I'm not exaggerating when I say that it may very well have the worst battery life of any interactive piece of technology I've used in recent memory.
If you're watching standard media, like a movie or looking at images, then it can last approximately 2 – 2.5 hours and if you're playing a game that drops to just 1.5 – 2 hours. That's not good at all. That's barely long enough to watch a movie and definitely isn't long enough if you spend a few minutes doing other things or want to invite people over to watch something inside VR.
For example, just yesterday while testing things out, I bounced around between a few apps and games and ended up spending an hour inside the headset. In that single hour I was already down to 56%.
Now before you say that you could easily just plug it in while you're using it, I'd say that this is the opposite of what the user manual says to do and is also unreasonable since it's designed to be wireless and untethered.
Other Features and Topics
Before wrapping up there are still a few areas I wanted to touch on that didn't really fit into other categories of the review. For starters, the UI. It's a brand new look that's changed from the Rift and Gear to make it easier than ever to quickly switch between different areas and features on the device. Right from the home menu I can pull up a friends list, click the call icon to start a party, and immediately jump into mine or their room to hang out or kick off a session in a specific app.
Furthermore, the included Oculus Go internet browser is very well done. The browser included a built-in 180 or 360 video player so if you found a video on a website that was in 180 or 360 that you wanted to watch, it's as easy as clicking play. No need for third party apps or rearranging things into specific folders.
Using the new Oculus Gallery app it's also easier than ever to quickly access content from your phone (by linking the Camera Roll), from Facebook, Instagram, Dropbox, and even your home media server as long as it's on the same WiFi.
Finally, we cover the new updated Rooms app and the Avatar Customization in another article here with more details.
Conclusion
After our brief GDC demo we called the Oculus Go a "solid" $200 headset and that's still true; it's an impressive and important piece of hardware. Coming in at an affordable price point, Go makes a strong case for any VR enthusiast to pick one up at the very least as a media device and portable VR headset. It's just a shame that the library doesn't feel more fresh and new.
However, the bottom line is that, as it stands, Oculus Go is an excellent VR headset with great value if you don't already have a Gear VR and serves as an excellent complement to the more powerful PC-powered VR ecosystem. While the poor battery life and lack of position tracking are large blemishes, the ease of use, surprising visual clarity, and depth of features make Go an easy recommendation for anyone interested in getting started with VR or anyone interested in having a dedicated VR device to take on the go.
---
For more on the Oculus Go, check out our coverage hub right here.