Looking for mixed reality games and apps on Quest 3? Here are some of the best mixed reality experiences we recommend checking out right now on Quest 3.
Quest 3 launched earlier this month with a big marketing focus on mixed reality, thanks to the headset's improved passthrough image, depth sensor and slightly improved room/spatial awareness.
That said, it's not super clear which apps and games support mixed reality, nor which are worth your time. So, we've tried a bunch of mixed reality experiences and compiled this list of those that we think are worth checking out.
These recommendations aren't ranked in any particular order, but split into two categories – games and apps. We did this because sometimes the line isn't incredibly clear cut and there were apps like Vermillion or PianoVision that we wanted to highlight, but aren't necessarily traditional 'games'.
As with most of our lists, we'll keep this one updated and if you have a game you think might be a candidate for this list please email tips@uploadvr.com or use the contact us page.
Without further ado, here are recommendations on which mixed reality experiences you should check out.
Best Mixed Reality Apps On Quest 3
Vermillion
Vermillion launched in 2021 as a fantastic simulation of wet-on-wet oil painting in VR, allowing users to bring up a virtual canvas and create some stunning paintings that can be physically printed out or displayed virtually. Those who do oil painting in real life have even been able to use Vermillion to create stunning pieces of art that hold their own against the real thing.
Since launch, solo developer Thomas van den Berge has added a bunch of new features, including canvas layers, passthrough support and multiplayer functionality.
Vermillion shines brighter than ever on Quest 3, featuring upgraded resolution and lighting for brush strokes. When we checked it out on Quest 3 earlier this week, we were able to paint a stunning and creative rendition of the UploadVR logo, as seen in the video embedded above.
Bring up a Bob Ross tutorial using the in-game browser and get painting in mixed reality – just remember, there are no mistakes: only happy accidents.
Figmin XR
After Google ended development on Tilt Brush and made it open source, many developers began implementing Tilt Brush features in brand new tools with expanded functionality. Figmin XR is one of them.
Powered by Tilt Brush, Figmin XR lets you paint and create in 3D space in mixed reality using that familiar foundation, but with plenty of added features. There's support for creating and importing 3D models, a 3D text editor, an in-built voxelizer and much more. If you want to sketch, create, augment or view models in mixed reality, Figmin XR is worth checking out.
PianoVision
PianoVision is easily one of the most interesting mixed reality apps available, especially given its educational twist – and it has come a long way since early iterations using Quest 2's passthrough image.
The app aims to teach piano by syncing up and aligning with a physical keyboard, allowing it to overlay falling onto the keys in a synthesia-like manner in mixed reality. Instead of learning via sheet music or other more traditional methods, PianoVision is (as the name suggests) a more visual approach.
It's possible to use PianoVision without a physical piano or keyboard (by tapping fingers against a flat surface), but we wouldn't recommend using it that way. It's designed for use with a real piano – whether a digital keyboard or true acoustic. The app has a brief alignment process for getting the virtual keys to line up, but it's easy to complete and although not always automatically perfect, there's a range of adjustment tools for fine tuning.
If you have a digital keyboard with MIDI output, you can download the PianoVision app onto your computer and connect it to your keyboard via USB. This allows the Quest app to sync with your actions on the real keyboard, which means it can recognize when you're playing the right – or wrong – notes.
There are still some limitations (the app doesn't distinguish between a flat or a sharp key, example, displaying all as the latter – music theory nerds will understand why that's important) and it can't still teach you good technique like a physical, experienced teacher can. That said, it's a fantastic tool to encourage an interest in music – and that's what matter most. It comes with over a thousand songs built-in, and accepts MIDI files for custom songs as well.
Mixed Reality Games On Quest 3
Synth Riders
Synth Riders has always been indie sibling of VR rhythm game progenitor Beat Saber. However, with Synth Riders' mixed reality update, it's beaten Beat Saber to the punch.
Synth Riders' MR mode is playable across the entire game, punching out a portion of your wall and extending its cyberpunk, futuristic environments out into the passthrough view of your surroundings.
Not only does this look awesome, but it's also a great way to play without worry about hitting anything in your periphery. It's the best of both worlds – the cool immersive setting with the spatial awareness that comes from playing in passthrough.
It's crazy that Beat Saber doesn't have mixed reality support on Quest 3, but that gives you all the more reason to check it out in Synth Riders.
Demeo
Demeo has long been one of our favorite virtual reality social experiences and mixed reality only makes it better. Placing the Demeo game board in your real space makes it feel even more like a tabletop board game. Demeo also supports local multiplayer, so if you have friends with Quest headsets, you can all play in mixed reality together in the same space – the virtual board will align between all headsets and accurately appear in the same position for all players.
Plus, if you have your room setup with a physical table, the Demeo game board can be snapped to the table and becomes part of the table itself, with the borders fading away (my table in the video above was a little too narrow for it to be a perfect fit, but you get the idea). If you want to move it elsewhere, simply grab the table and move it to the desired position. It's a fantastic system – just hit the AR button in settings to get it started.
Puzzling Places
Puzzling Places has long been a favorite VR game of ours, but it feels especially fun to play in mixed reality.
The game uses photogrammetry data to present you with 3D puzzles based on real places. Split into pieces, you can group sections of the puzzle around your room and places the reference tiles wherever you like – it feels like the most natural and comfortable evolution of an already awesome game.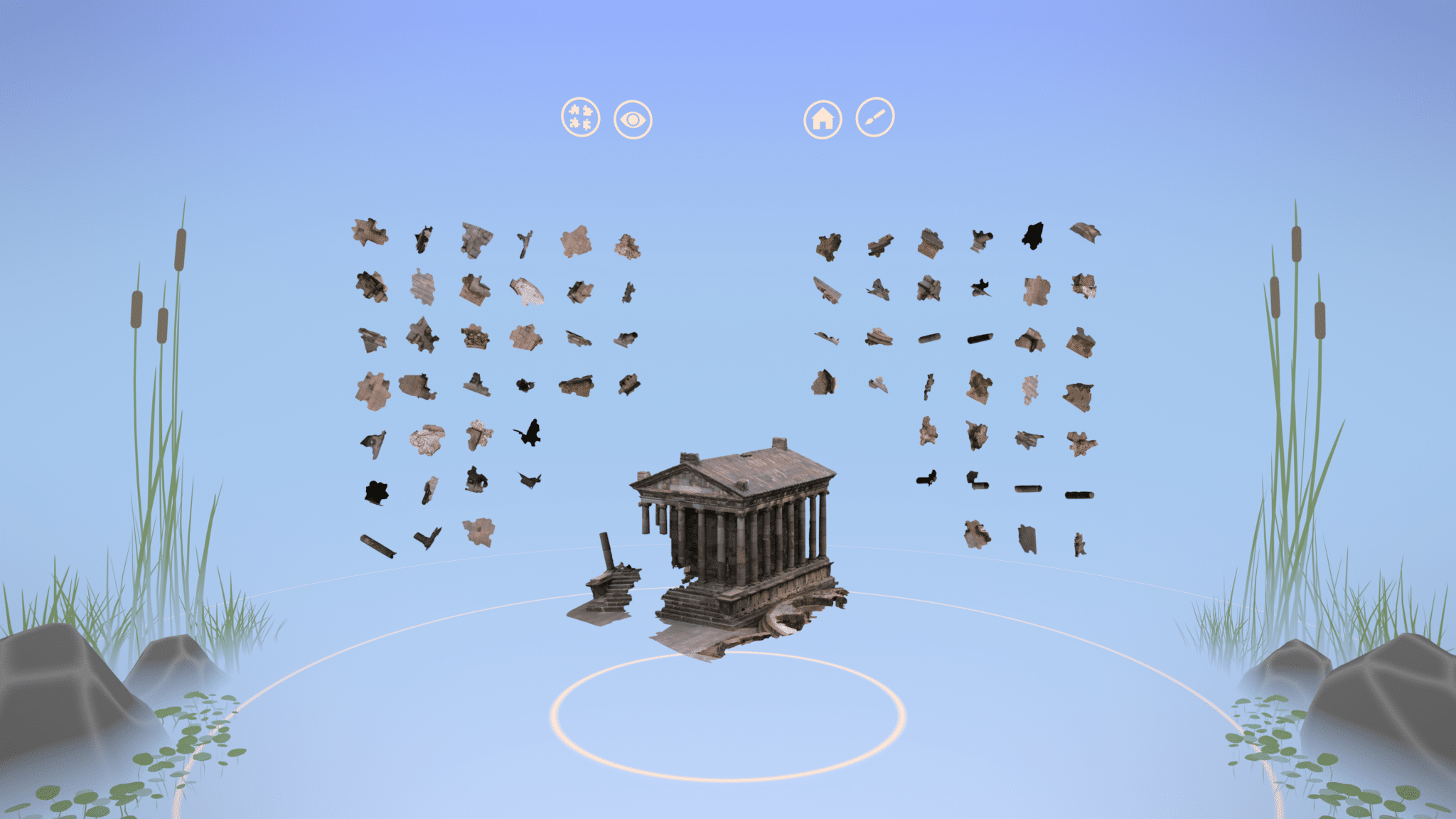 Technically the mixed reality mode is still an experimental feature in Puzzling Places, so you'll need to enable it in the game's settings on the main menu. However, it's well worth a try on Quest 3 and likely the only way we'll be playing from this point on.
Cubism
Cubism is one the best VR puzzles games available on the Quest system and though you've been able to play it in mixed reality on Quest Pro for a while now, it looks even better on Quest 3.
The upgrade in passthrough quality on Quest 3 really makes a difference here, making the Cubism puzzle pieces feel completely integrated with your real space.
You can also turn on support for furniture and other items mapped to your space in the settings, which will allow the puzzle pieces to react to your environment and let you place game elements against flat surfaces.
You can see me place the game board down on the table in the video above, as well as bounce the pieces off the table and the books surrounding them. It's a super immersive way to play and well worth trying out.
Drop Dead: The Cabin – Home Invasion
Drop Dead: The Cabin launched as a co-operative multiplayer wave shooter earlier this year. However, the game's latest update, which adds the Home Invasion mixed reality game mode, is arguably a lot more interesting and fun than the base game itself.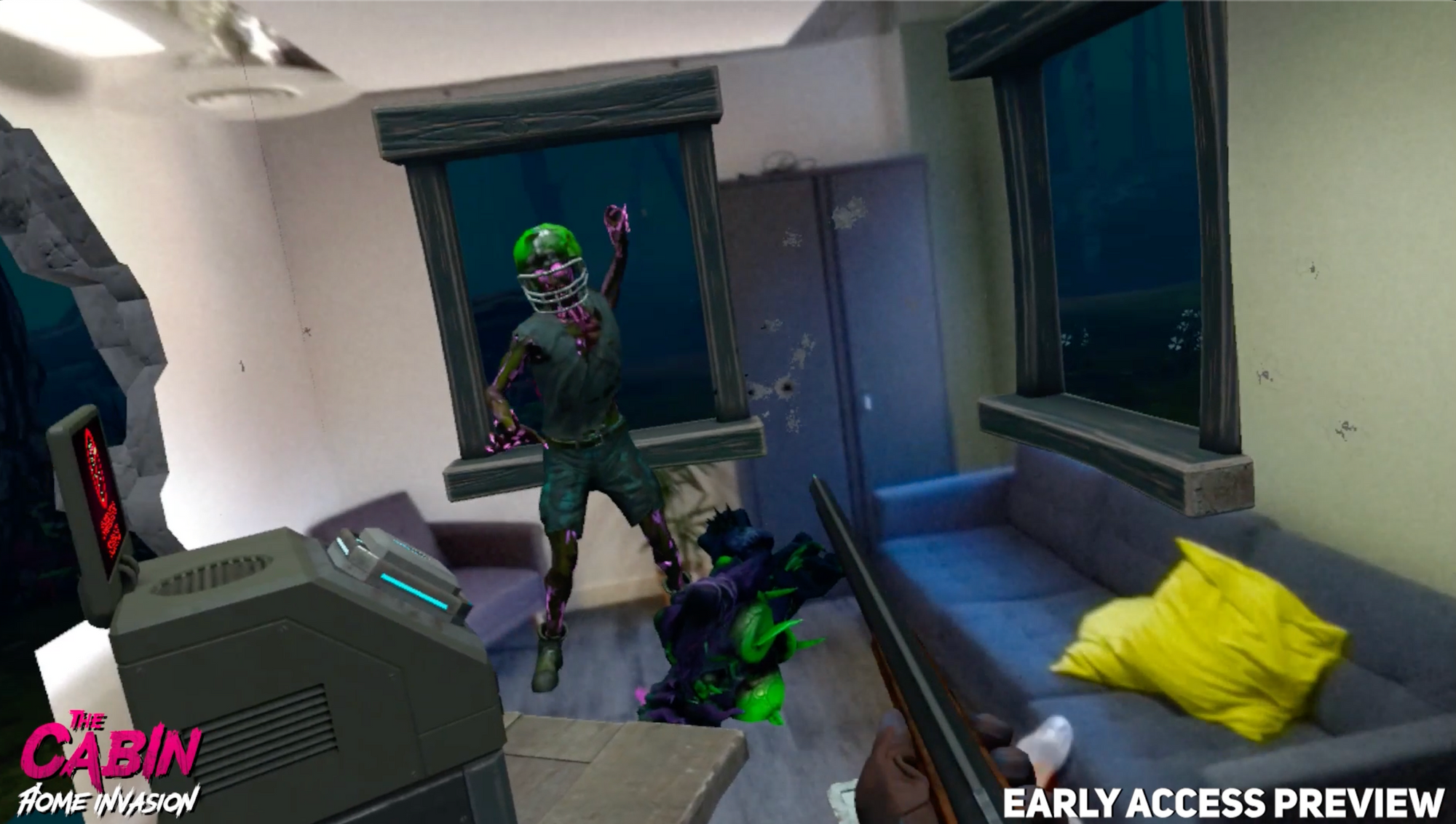 Home Invasion, accessible from the main menu, turns your room into a battleground where you'll fight off waves of zombies and other creatures invading your space. It requires at least one table, door and window in your play area to work – you can map them out in advance using the Space Setup in the Quest settings, or the game will prompt you to do so before you begin.
Once all set up, you'll have to keep a transmitter online and fight back against zombies as knock through the windows and doors of your room. You'll start with limited resources distributed between waves, but you'll get access to bigger and better weapons as the pressure increases.
What's really cool about Home Invasion is that it takes your real room and makes it appear as though it's placed in the dark forest from The Cabin. It's an awesome way to demonstrate mixed reality – just make sure you don't put any holes in walls or windows when reaching out to shoot.
Much like the base game, Home Invasion isn't the most smooth experience around – we still experienced quite a few bugs while playing. However, it's nonetheless one of the most interesting and unique mixed reality experiences available right now, which is why it's still featured on this list anyway.