Update: During its press conference today, ASUS officially unveiled the ZenFone AR, which is poised to officially be the first Tango-enabled smartphone that also supports Google's Daydream VR platform. The phone is reportedly "built to see like your eyes do" with its trademarked ASUS TriCam System that enables detailed area learning, motion tracking, and depth sensing technologies. The phone features a large 5.7 inch Super AMOLED display with a resolution of 2560×1440.
The ZenFone AR will be the first smartphone to launch with 8GB of RAM and features ASUS's specially designed Vapor Cooling system. The phone will also be powered by a Tango-optimized version of Qualcomm's Snapdragon 821 processor.
The ZenFone AR is expected to be available in Q2 of 2017.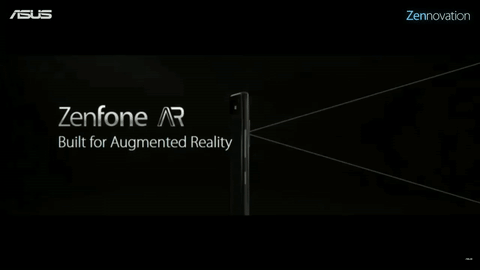 Original: Following today's news about the Qualcomm Snapdragon 835 mobile processor, we learned about more mobile VR and AR developments. In a leaked Qualcomm blog post (which has since been taken down), it looks like the upcoming ASUS ZenFone is expected to be both Google Daydream and Tango ready. Daydream is the VR ecosystem released by Google in October of 2016, whereas Tango is the AR platform that uses an array of cameras and sensors to portray items in the real world on the phone's screen.
However, worth noting, is that the ZenFone is actually not powered by the newly detailed Snapdragon 835 processor, but will instead be powered by the Snapdragon 821 processor.
According to the blog post spotted by Engadget: "The ZenFone AR with Snapdragon 821 is built for VR with high-resolution display, ultra-smooth graphics and high-fidelity sensors for precise head tracking. Snapdragon 821 provides the cutting-edge visual, audio and interactive technologies required to deliver truly immersive mobile VR experience for leading Android smartphones."
In a screenshot posted on GSMArena, the blog post also states that the ASUS ZenFone is "the world's first mobile device to be both Tango-enabled and Daydream-ready," which appears to contradict the fact that the Moto Z was poised to be the first smartphone to support both platforms. Perhaps the ZenFone will beat it to market.
So far, the Lenovo Phab 2 Pro is still the only actually available Google Tango-supported smartphone, but it looks like that could be changing very soon. Google's own Pixel phone only supports Google Daydream and not the AR infrastructure of Tango. Expect to see more details about Daydream, Tango, and the ZenFone this week, including our hands-on report with the device from CES 2017.
We've reached out to both Google and ASUS regarding this information and will update this story if we receive comment or confirmation prior to an official announcement.
---
Featured image credit: Evan Blass