While Google Cardboard, Daydream, and the Samsung Gear VR lead the charge for accessible virtual reality headsets and experiences, augmented reality hasn't had its full day in the sunshine. There's already some ease-of-use for the platform via smartphones and their cameras, but the devices could benefit from the immersion of a dedicated headset. Enter Aryzon. Calling it the "Cardboard of AR", the 5-person team behind this cardboard AR viewer is opening the door for consumers to finally see what it's like to have their worlds augmented.
The Aryzon project is full steam ahead, already exceeding the funding goal of $27k with 33 days to go at the time this article was written. Due to the nature of AR, the Aryzon's cardboard structure is a bit more complex than Google Cardboard. It uses a combination of mirror and stereoscopic lens in conjunction with your smartphone's display to show you projected objects from any angle through a combiner glass panel.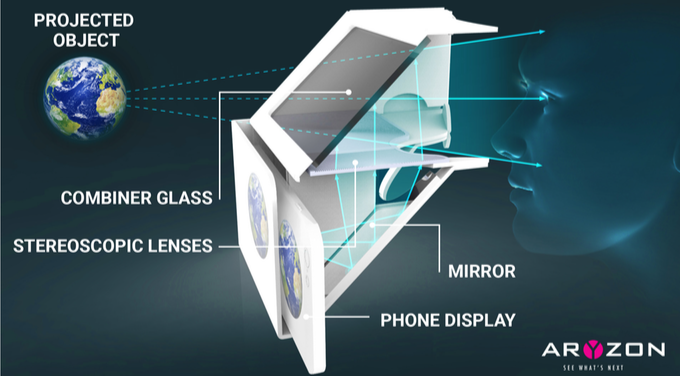 Augmented reality is a wonderful tool that can be impactful for education, construction, the medical field, and more. AR for entertainment is becoming more notable but offering an affordable device that shows off other elements to casual consumers will be beneficial to the industry as a whole.
If you want to reserve yourself an Aryzon AR viewer, you can pledge at least $27.  It is estimated to ship in September. It comes with a standard AR target image and access to the free application that serves as an introduction to augmented experiences. The app is available for both iOS and Android and, as they continue to exceed their funding goals, the Aryzon team wants to develop a software development kit in the near future to help inspire new AR creations. If you're a dev, they're also looking for additional help with app development. More information can be found on their Kickstarter page.