45 days to go! We're counting down to the release of PlayStation VR on October 13th by highlighting one game a day for the anticipated headset. Today we're showcasing the wave-based zombie shooter, The Brookhaven Experiment, which is just announced as coming to PS VR on launch day!
—
Late last week we had the opportunity to speak with Justin Corcoran, CEO of Phosphor Games, about the latest happenings with their smash-hit zombie shooter, The Brookhaven Experiment. Chief among the big announcements we discussed was the news that Brookhaven would be not only coming to PS VR soon, but that it will be a day one launch title for Sony's forthcoming VR headset.
"Brookhaven will be on PS VR, at day one, as the full game," Corcoran told Upload during a phone interview. "We had a demo running about 8 months ago and we did a lot of work to maintain the 360-degree gameplay with only a single camera, it works really well."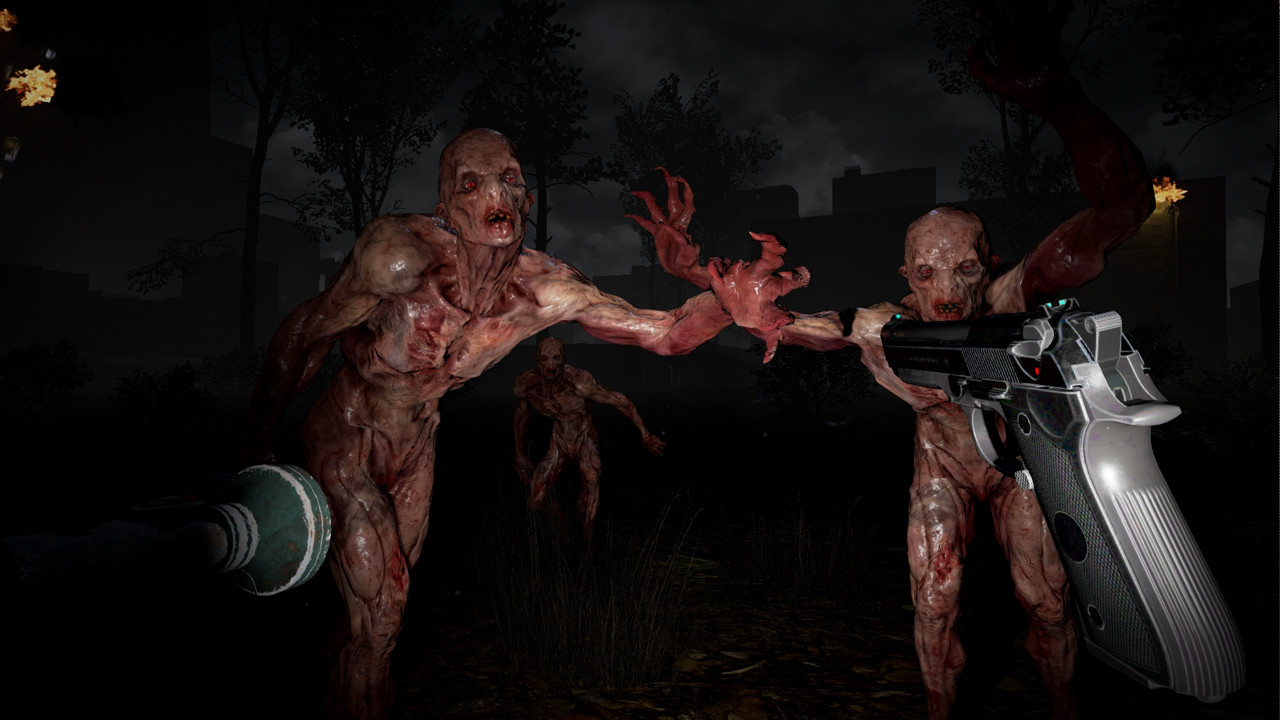 The announcement became official this morning on the PlayStation Blog via a post from Project Lead, Jarod Pranno. "We thought this kind of terror would be a very memorable first experience for many people in VR, and the countless videos of players screaming in fear and fun as they played The Brookhaven Experiment demo proved us right," Pranno writes.
Best reactions from one of the scariest VR experiences, 'The Brookhaven Experiment' by @phosphorgames.#VR@htcvivepic.twitter.com/In34OjrDzZ

— Upload (@UploadVR) July 5, 2016
As it turns out, this was always part of their grand vision for the game. Not only had they planned on it coming to Vive first, but also Oculus Touch, OSVR, and PS VR as well. Back before the original demo ever released, Phosphor was already laying the foundation for their presence in Chinese VR arcades. And now, since the demo, things have been falling into place steadily.
"The bar to get a game on Steam is very low," explained Corcoran. "The bar to get a game on a dedicated platform [like the PS VR] however, is much harder. You have to hit benchmarks, get it in certain specifications, working with more difficult devkits. We've been launching games on consoles for years, so we have experience."
The Brookhaven Experiment is one of VR's most ubiquitous titles. Even if you aren't VR enthusiasts already, you've likely seen footage and reactions of people playing the game and either screaming, running around, or doing something else seemingly silly, such as in the embedded tweet above.
"There is a long history of survival horror on PlayStation, games that inspired us as we were making Brookhaven," Corcoran told me.
The game tasks you with shooting down zombies as they advance on you from all directions. There is a pre-baked Survival mode with waves of enemies that get progressively harder — and more frightening — over time, as well as a mission-based Campaign mode. The full game will be coming to PS VR, not a stripped down port.
"We at Phosphor are huge fans of survival horror, going back to the original Resident Evil and Silent Hill games on Playstation," Pranno writes in the blog post. "Virtual reality seemed like the perfect medium to express the sense of terror and helplessness you feel in the best moments of survival horror games! There really is no comparable feeling to having to literally look up at a monster that is twice your height, which is something traditional screen games could never make you feel."
While the PlayStation blog announcement doesn't list the release date, Corcoran assures us it is coming to the headset on October 13th, the day Sony's headset releases, just in time for Halloween. While Steam is overrun with "me too!" copy-cat zombie shooters, PlayStation VR really doesn't have anything else like this available.
—
For more information about The Brookhaven Experiment, be sure to read our full review of the HTC Vive release, which is available now on Steam.
50 DAYS OF PS VR COUNTDOWN