Don't expect an Xbox headset anytime soon, as Xbox Game Studios head Matt Booty says he's waiting for a bigger audience in AR and VR.
Between PSVR 2 and recent announcements for both Meta Quest 3 and Apple Vision Pro, it was perhaps inevitable that the Xbox VR question would appear once again. Asked by the Hollywood Reporter about expanding into AR and VR gaming, Booty suggested Xbox games need 10 million players to be considered successful, and he believes the audience is "not quite there yet" for both platforms.
I think for us, it's just a bit of wait until there's an audience there. We're very fortunate that we have got these big IPs that have turned into ongoing franchises with big communities. We have 10 games that have achieved over 10 million players life-to-date, which is a pretty big accomplishment, but that's the kind of scale that we need to see success for the game and it's just, it's not quite there yet with AR, VR.
Given Xbox's repeated dismissals, this isn't a particularly surprising interview and Booty's comments fall in line with previous comments from Xbox boss Phil Spencer, too. Back in 2021, Spencer was asked about potential plans involving VR. Calling himself a fan of Sony, Valve, and Meta's efforts, he reaffirmed Xbox's focus on staying "in the software side of that enablement."
Most recently, Microsoft collaborated with HP and Valve on the HP Reverb G2 and had prioritized the enterprise-focused mixed reality HoloLens headset. While PC Game Pass supports various VR games like No Man's Sky, there's only a handful of VR-supported first-party titles from Xbox Game Studios, chiefly Microsoft Flight Simulator and Minecraft.
Evidently, Xbox isn't ready to commit outright to VR by itself but this hasn't stopped them partnering with other companies. Back at Meta Connect 2022, Microsoft CEO Satya Nadella confirmed that the Xbox Game Pass library is coming to the Meta Quest Store via Xbox Cloud Gaming, letting you stream 2D games to your headset. However, no updates have been provided since then.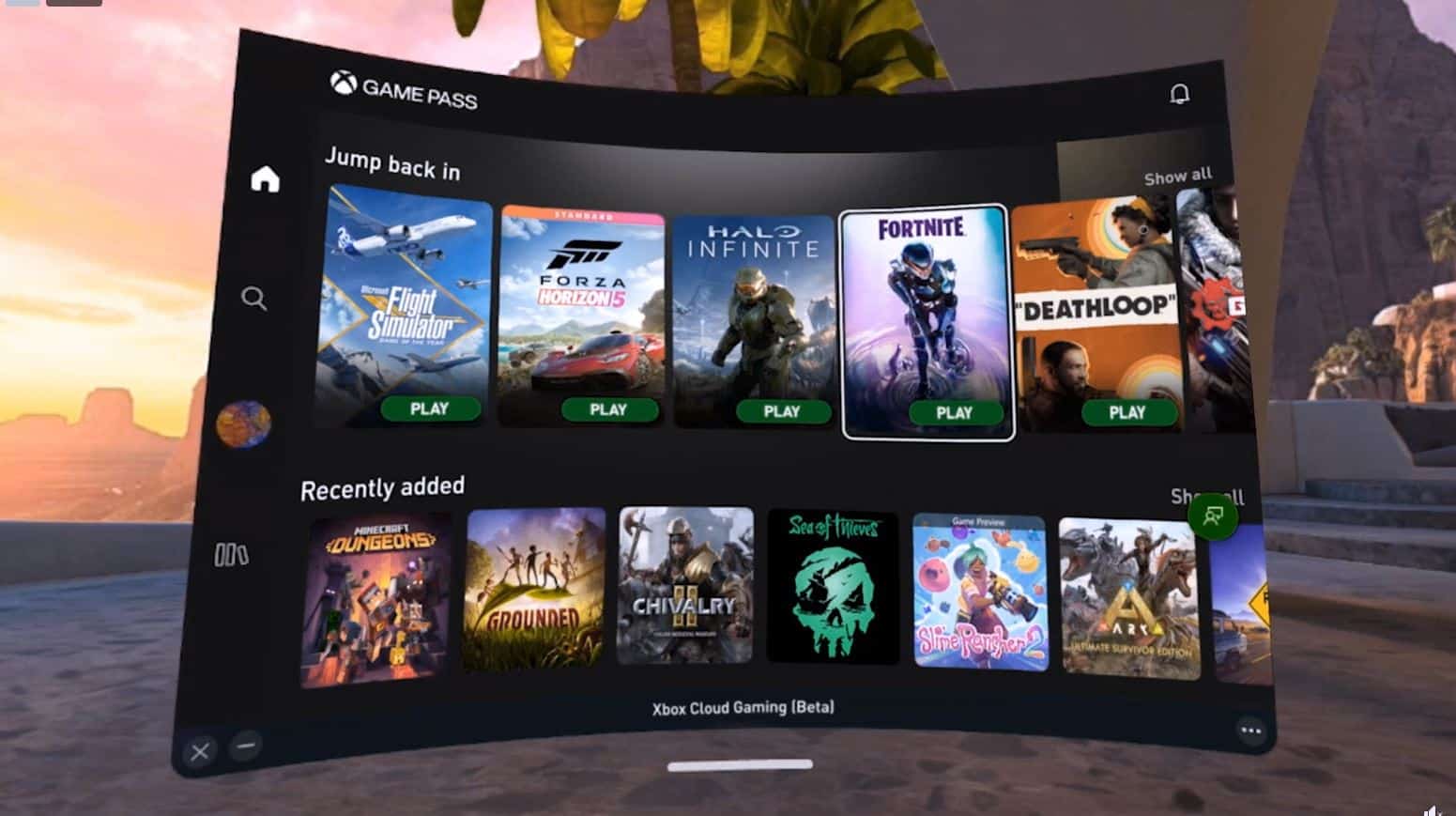 When asked about wider cloud gaming in the interview, Booty calls it "a very, very small market" and that Xbox isn't building anything specific for that. "I think there's still a lot of economic issues to work out in terms of the cost as well. So in a weird way, it ties back a bit to your AR/VR question, and it's something that we feel we need to be up on being involved with the technology."