HTC Vive is launching its consumer push for Vive Trackers with accessory bundles and support on the way from a series of software developers.
The highly anticipated accessory can enhance immersion while wearing an HTC Vive by bringing in physical objects like guns or sports rackets — or even your full body — and representing them all accurately in the virtual world. To date, most VR developers represent only the hands or head in their software because those are the only things that can be tracked accurately. Vive Tracker is the first attempt to change that on a consumer scale.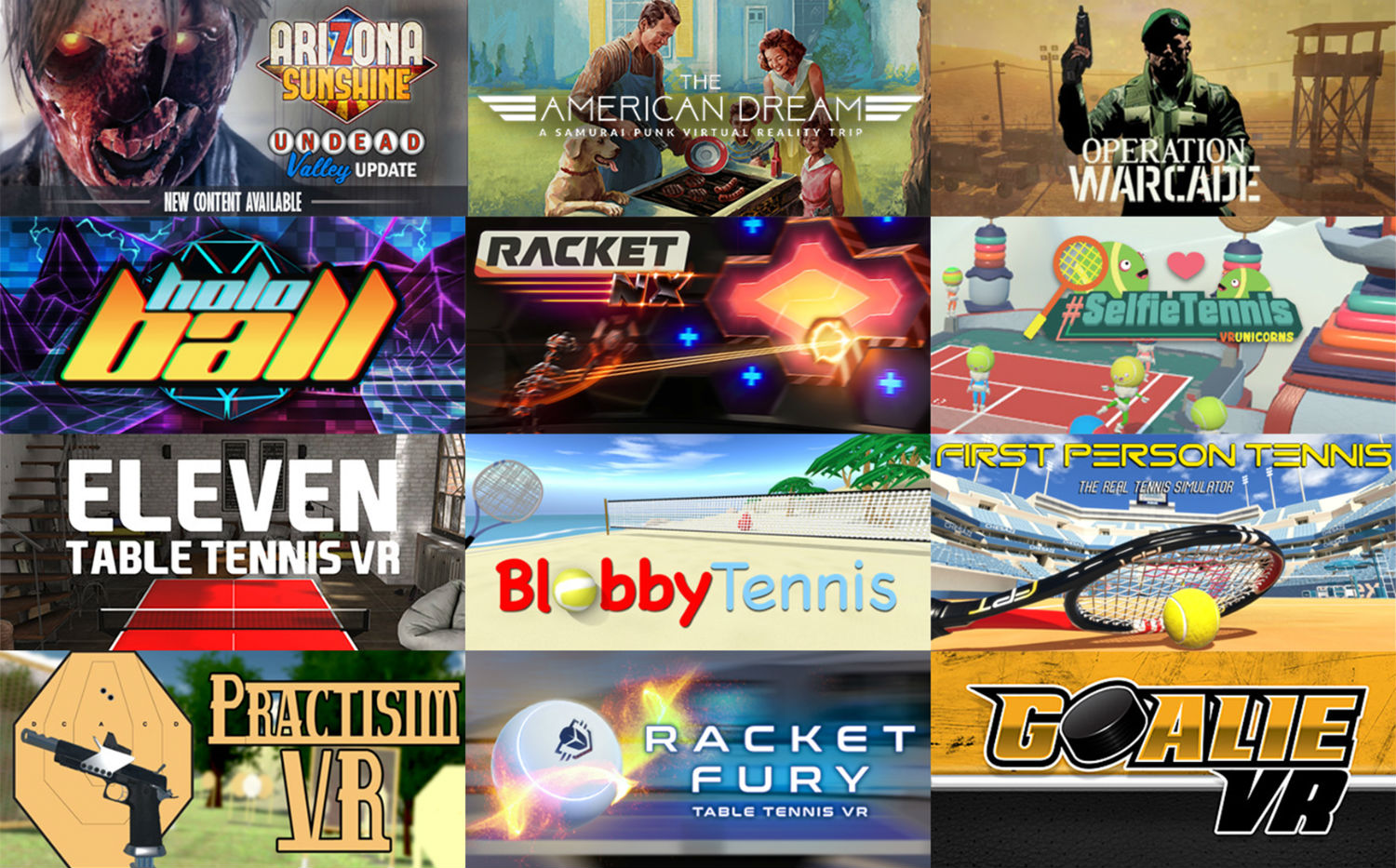 A pair of $150 bundles ship a Tracker alongside either a colorful gun or a pair of sports handles to simulate the feel of a ping pong paddle and tennis racket, each slated to arrive in early to mid-December. Here are the details on each bundle:
Hyper Blaster from Hyperkin is a gun accessory that comes with Stress Level Zero's Duck Season for free — fitting perfectly with the theme of that game as the classic gun is represented accurately in VR. The accessory also works with Arizona Sunshine, The American Dream VR, Operation Warcade, TacticalAR and Practisim VR but the gun won't be represented the same way. It is available only through Amazon.
Racket Sports Set includes a pair of handles meant to be weighted accurately so that when you screw on the Tracker it feels like a real ping pong paddle or tennis racket in your hand. The set includes Vive Studios' Virtual Sports free and is said to be compatible with 10 games by the end of the year. Pre-orders are available via Amazon, Abt Electronics, BH Photo, Fry's, Gamestop, Micro Center and Newegg.
Another accessory, the TrackStrap from Rebuff Reality, comes in a pair for $25 that makes it easy to attach Trackers to each of your feet. It is compatible with apps like Climbey, Holodance, High Fidelity and Island 359. The Vive Trackers sell on their own for around $100 each.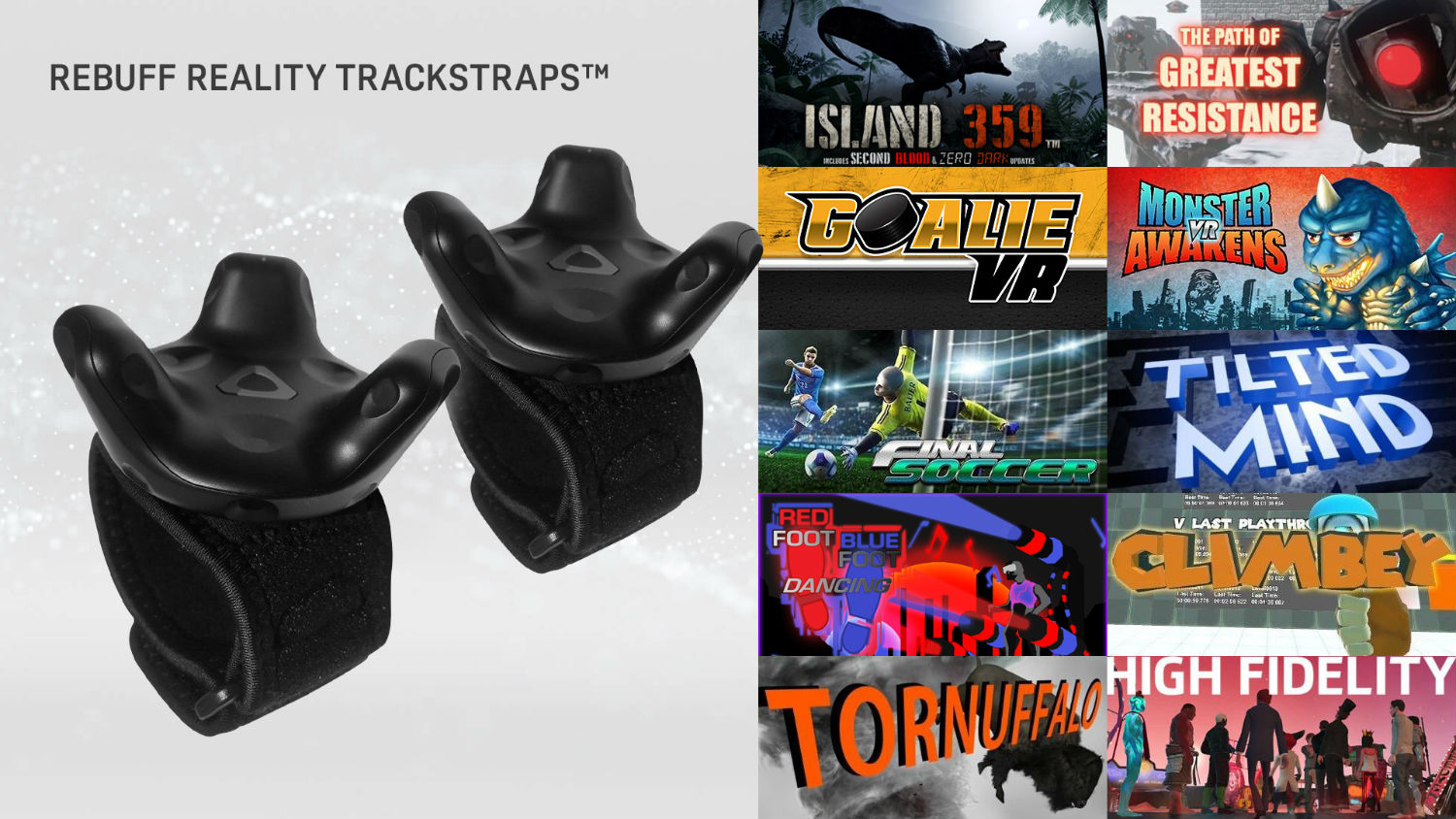 Jeremy Chapman and Steve Bowler, developers behind Chicago-based studio CloudGate and their dinosaur hunting game Island 359, have been working for months on a "Virtual Self" designed to produce a compelling avatar that matches your real body movements. But by adding Vive Trackers to your feet or waist, this software could provide an incredibly accurate and immersion-enhancing full body model. Licensed to other developers,  the "Virtual Self" could make it easy to add full bodies in much more VR software.
CloudGate's "Virtual Self" update to Island 359 is expected to release Dec. 1 and they are planning an enterprise license of the software to release at a later date.
Forward Compatibility?
I asked HTC whether the consumer Vive Trackers will only be compatible with 1.0 base stations currently in market and that seems to be the case. This likely isn't a major issue for most HTC Vive owners, but it is something to think about heading into 2018 as more partners might employ an upgraded version of Valve's tracking technology next year. Assuming these Vive Trackers don't use the the TS4231 silicon they likely won't work with these improved SteamVR Tracking 2.0 base stations.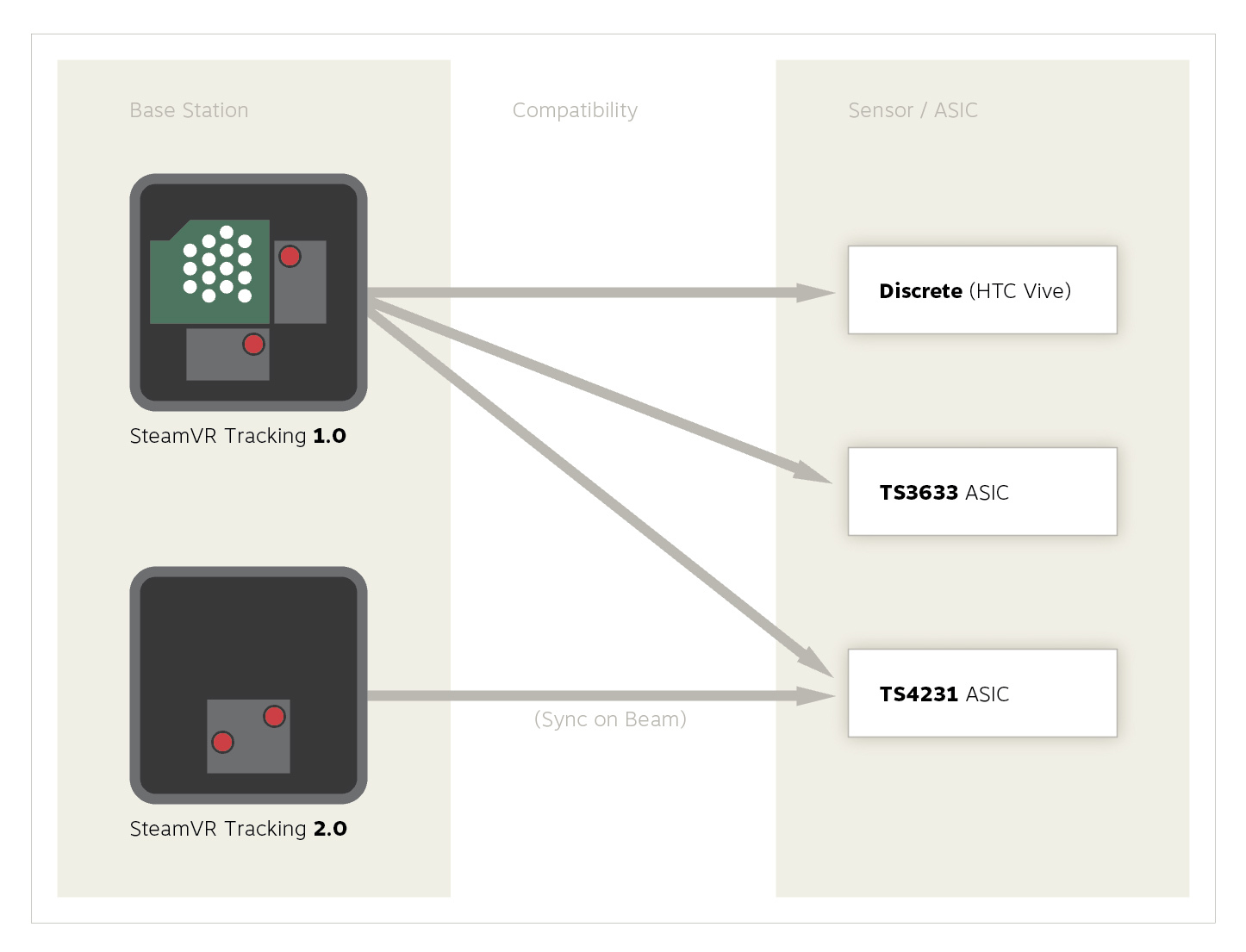 Companies like LG are working on VR headsets based on SteamVR Tracking and the 2.0 stations are said to be less expensive, smaller and can be extended to four stations to cover areas as large as 10 meters by 10 meters. Arcades, businesses or people with extremely large rooms to dedicate to VR are the likeliest to benefit from that increased coverage. If anyone wants to upgrade to those systems and swap out their 1.0 base stations, however, it will likely also render the Vive Trackers useless with the new hardware.
"We'll address the 2.0 stations as they are available in market," an HTC spokesperson wrote in an email. "2.0 is really about larger play spaces and enterprise. We'll have more to announce for support once that tech is available, but for consumers we wanted to get Tracker into market as soon as possible."
'Premium PC-based VR'
HTC is positioning the Vive PC-powered headset as the high-end premium VR solution. Even on Black Friday the device is priced roughly $190 above a comparable Oculus Rift system. The arrival of Vive Trackers (and the increased level of immersion that's possible using them) certainly lend weight to the premium claim.
"Valve hasn't announced any concrete launch timing on [Base Station] 2.0," an HTC spokesperson wrote in an email. "Our customers and developers are excited about adding new tracking options with Vive Tracker. With regard to lower cost for base stations, they aren't in market, so we can't speculate on plans. There are a lot of Vives in market that don't need to swap out base stations (literally every Vive owner today), and we are committed to supporting them. We are fully committed to premium PC-based VR and wouldn't make moves that undermine our customers investment in Vive."