After being revealed at CES 2019 back in January, HTC's next enterprise-level headset, Vive Pro Eye, launches today. Well, at least in Europe and China.
The headset launches in 25 countries across Europe, including in the UK for £1,499. To be clear, this price includes two SteamVR 2.0 base stations and the updated Vive controllers. For comparison, the original Vive Pro kit costs £1,299, so there's a £200 difference between the two. Unlike the original Pro, it doesn't seem like you can buy the headset by itself at a lower price.
We can't yet find details for US pricing and release date. We've reached out to HTC to ask but £1,499 translates to about $1,936.34. Currently, the Pro Starter Kit costs $1,098. Earlier today Vive also launched Chinese orders for the headset at ¥13,888. That works out to about $2,021.82, though this is with China's added taxes. We'll have to wait and see what the full kit comes to.
Crucially, Vive Pro also comes bundles with an enterprise license named Advantage and a two-year warranty for commercial use. Advantage automatically adds £198 to your basket but you can remove it too. Still, it will be essential for those looking to get Pro Eye for commercial use.
At that price, Vive Pro Eye is nearly £600 more than the full Valve Index kit, which launches in June for £919.
Vive Pro Eye is largely similar to the original Pro with one major addition: eye-tracking. The headset is able to follow your gaze and put it to use within a given VR app. It may be that it's used as a form of input, for example, but it can also be used for foveated rendering. This is a crucial technique for the future of VR, fully rendering only the part of a headset display in a user's central vision. The rest of the screen doesn't fully render, but it shouldn't be perceivable in your peripheral vision. This drastically reduces the processing demands of the PC powering VR. the image below shows you how it works.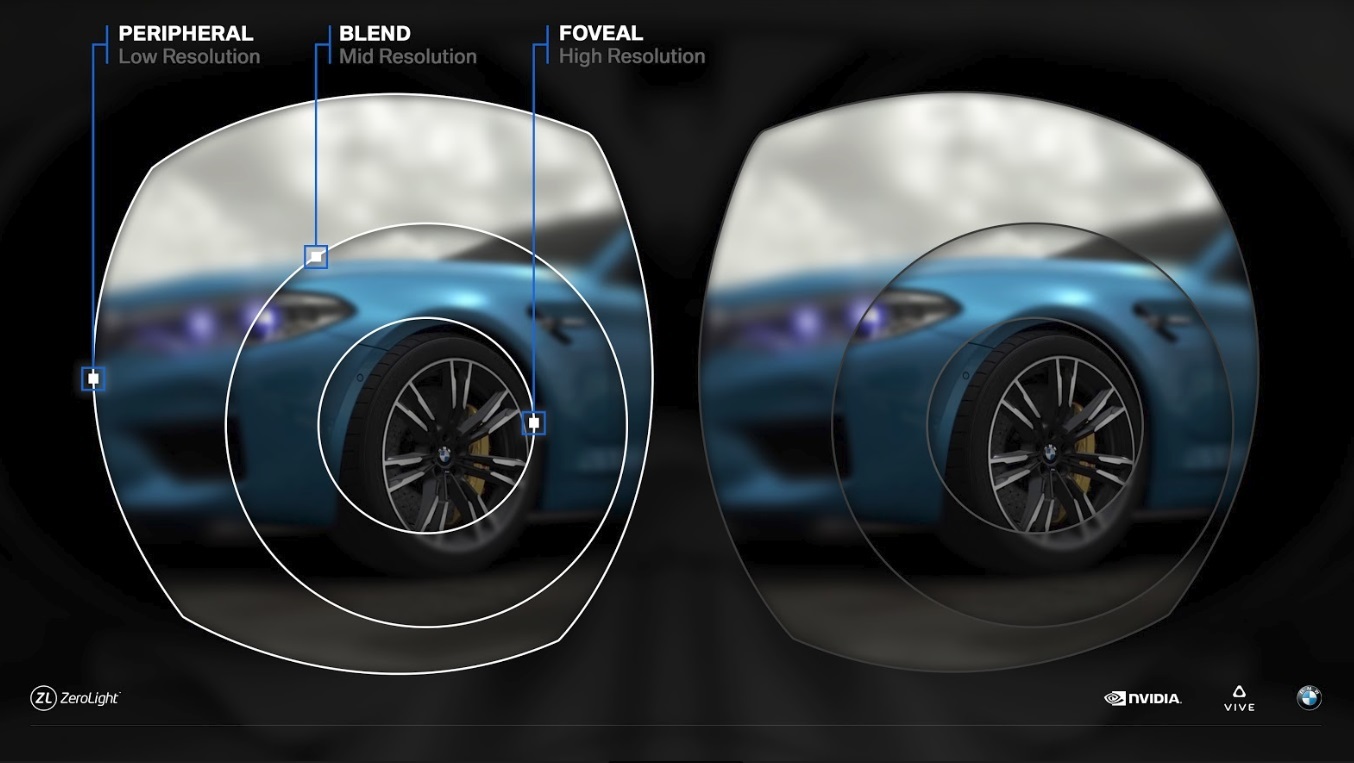 Other than that Vive Pro Eye two displays offer 1440 x 1600 pixels per eye (2880 x 1600 pixels combined). It's got a 90 Hz refresh rate and a 110 degrees field of view (FOV).
As we said up to this is very much an enterprise-focused headset. Anyone can pick one up but HTC has built it for business use first and foremost. Don't expect to see game developers flock to support its new features, then. If you're more interest in that, you'll probably want to wait for the HTC Vive Cosmos.