Tin Hearts returns to new VR headsets after five years, but how does the PSVR 2 edition hold up? Here are our full demo impressions from EGX 2023.
I never tried the delisted prologue on PC VR, making Tin Hearts a brand-new experience for me. Developed by Rogue Sun, it's described as a tale spanning "generations and dimensions," and the world's whimsical joy slowly became apparent during my 20-minute session. Detailing Victorian inventor Albert Butterworth's story, you wouldn't think guiding toy soldiers to an exit would have such power, but there's already strong potential in its worldbuilding and environmental storytelling. I felt nostalgic almost straight away.
What follows goes beyond a simple puzzle premise and levels are often mixed with past visions showing Butterworth's family. The full release includes 40+ levels, and the EGX demo showcased a handful. The introduction involves guiding three soldiers by placing shapes like right-angled triangles into contraptions and directing them elsewhere. It's straightforward and entertaining, yet these initial stages are almost deceptive as they build up to more complex puzzles.
Levels gradually open up to fully explorable 360° puzzles with teleportation movement that creatively use the broader environments. Watching the soldiers slide down a harp to get across builds on the game's whimsical nature well, as does giving each soldier a balloon for extended jumps by guiding them into a contraption. Naturally, toys break if not treated correctly and while smaller jumps are fine, falling too far destroys them. Not every soldier needs to reach the exit, though achieving this feels rewarding.
Answers are sometimes obscure, especially when there's a whole room to explore, but I appreciate that Tin Hearts doesn't rush you to the conclusion. Being able to pause time and see the soldiers' current trajectory is beneficial, as is fast-forwarding/rewinding time to speed up progress or rectify your mistakes.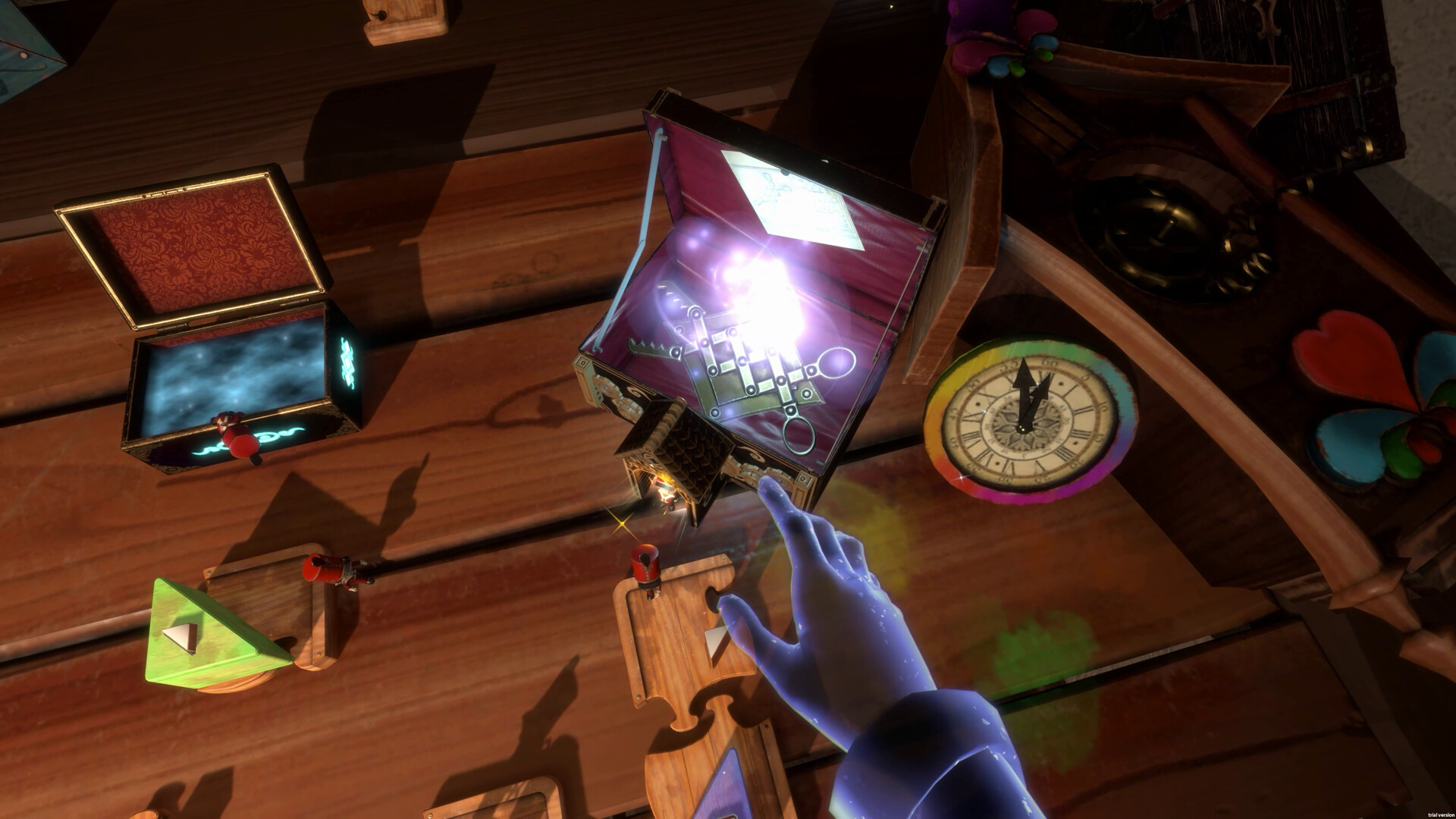 My biggest concern right now is the visuals. The PSVR 2 demo showcased some great-level design and nicely detailed, colorful environments but much like Hellsweeper VR recently, the resolution could have been sharper. That's particularly evident in the main menu. This could always change before full release, though I'd hope for more on Sony's latest headset.
Otherwise, Tin Hearts looks set for a promising return to VR beyond these resolution issues. Some well-considered mechanics, enjoyable puzzles and an intriguing whimsical setting quickly captured my attention, and I found myself drawn in as you retrace Butterworth's steps.
A release window remains unconfirmed on PSVR 2 and SteamVR, but the PSVR 2 demo arrives on November 2. Elsewhere, it's out now on flatscreen platforms.