In a Business Segment Meeting, Sony confirmed that PlayStation VR2 sold just shy of 600,000 units in the six weeks from launch up until April.
This means PSVR 2 outpaced sales of the original PSVR at launch, which sold roughly 550,000 units in its first six weeks.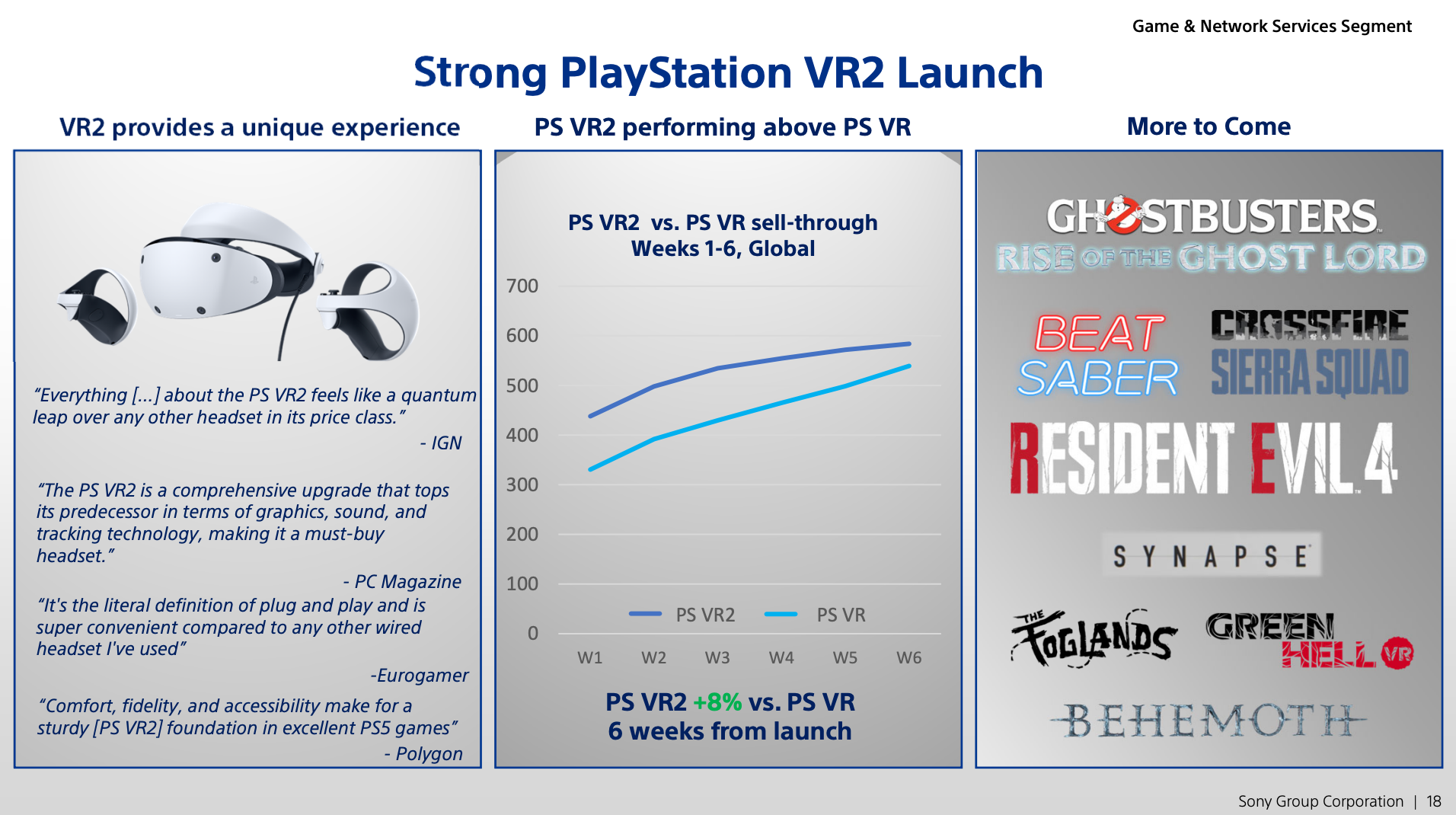 These figures come from the graph pictured above, taken from the presentation for Sony's Game & Network Services segment of today's meeting. As you can see, the graph shows PSVR 2 sales at just under 600,000 units at the end of week six, putting it above launch sales of the original PSVR. As noted in the presentation, this marks an 8% increase in units sold between the two headsets across their first six weeks.
This confirmation also dispels the previously reported figure from analyst firm IDC, which told Bloomberg News that Sony was "likely" to have only sold around 270,000 units between launch and the end of March. The six weeks outlined by Sony's graph cover almost the exact same period (from the week of February 22 up until the week ending April 2), so it's clear that IDC's reported figure of 270,000 units sold was about 330,000 units short of accurate.
The original PlayStation VR took just under 8 months to reach 1 million units sold.  This not only means that PSVR 2 is outpacing the original PSVR in its first six weeks, but also on track to potentially reach 1 million units faster than its predecessor as well.
The original PSVR headset went on to sell over 5 million units across its lifecycle, but recent comments from Sony CFO Hiroki Totoki indicate he thinks there is a "good chance" PSVR 2 will exceed that.
These new PSVR 2 sales numbers arrive ahead of tomorrow's PlayStation Showcase, which Sony promises will include looks at in-development games "from top studios" globally for PS5 and PSVR 2.