Peaky Blinders: The King's Ransom will receive at least five major updates this year, outlined in a new post-launch roadmap.
Released last month on Quest 2 and Pico 4, Peaky Blinders: The King's Ransom comes from Doctor Who: The Edge of Time developer Maze Theory. Outlined in a new video, the roadmap brings monthly content updates from April until August 2023. Starting tomorrow, that includes new shooting galleries, replaying any scenes and unknown "quality of life" improvements.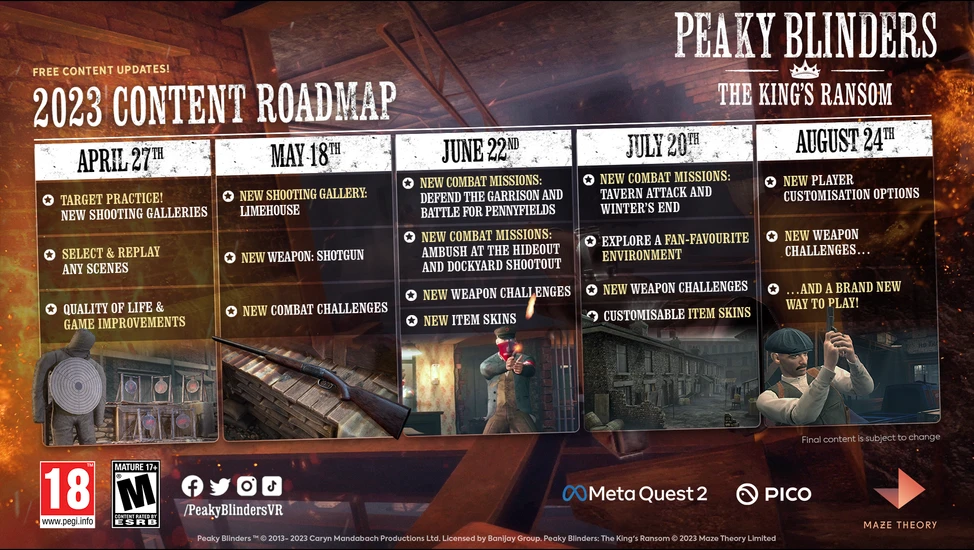 Subsequent updates mainly add new challenges, combat missions and item skins, while August promises new player customisation options alongside "a brand new way to play." We'd speculate this could be the SteamVR release, or a potential PSVR 2 port. Beyond August, game director Tim Jones confirms that it doesn't end there. "This is just the beginning, we'll have details of what's to come in phase two later this year."
Peaky Blinders: The King's Ransom is available now on Meta Quest 2 and Pico 4. You can check out our full review below, and we previously interviewed Maze Theory's Chief Creative Officer, Russell Harding, to learn more about development.