Six Oculus Quest titles cleared $10 million in revenue and one third of all the paid apps available on the store — more than 60 total — have earned more than $1 million.
The figures were released in a blog post authored by Mike Verdu, VP of Content at Facebook Reality Labs. Verdu's post acknowledges Facebook has been "temporarily swamped" with new submissions and is "working on adding resources and changing our processes to accommodate all developers who want to launch games on Quest."
We heard from developers looking to release a new app on Oculus Quest that they've been told by Facebook that the release schedule is already filled into 2022. We asked Facebook whether they are hiring additional developer relations personnel and whether more capacity is being opened up in the release schedule, but a representative declined to provide more detail beyond the statement made by Verdu.
Facebook employs a strict console-like content curation policy for the Quest store, but the company does allow sideloading content and announced in mid-2020 that it would add a non-store distribution method in 2021. The statistics announced today by Facebook show some developers able to navigate Facebook's approval process for store release are finding increasingly significant revenue. The graphic below provided by Facebook shows the jump in sales since Oculus Quest 2 released in October 2020: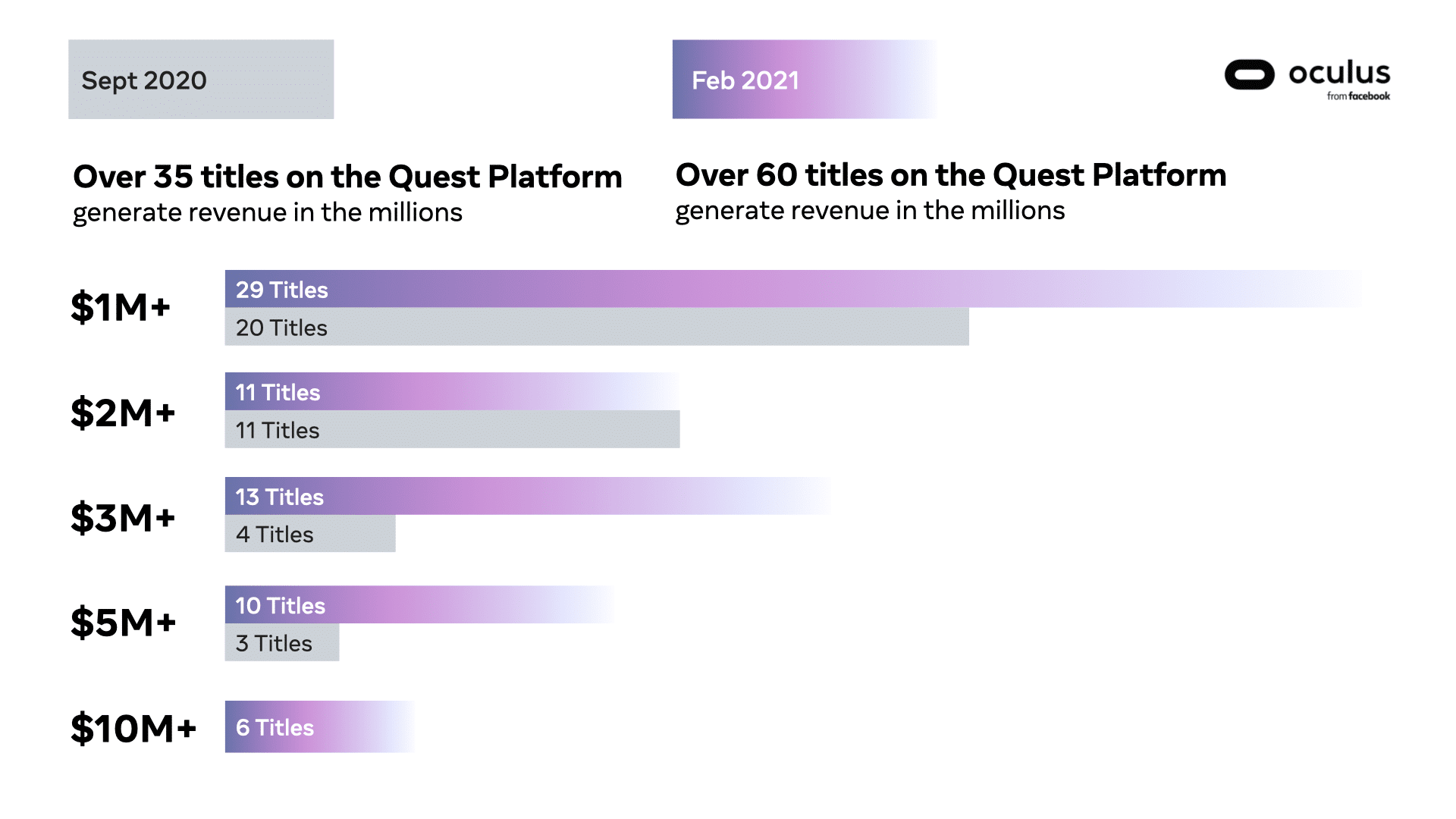 The post from Verdu also said Facebook-owned Beat Saber sold 4 million copies across all platforms. Shooters Population: One and Onward also reported large revenue figures in Facebook's post, with the former clearing $10 million in revenue after three months on the Oculus Store and the latter making $10 million on Quest alone.
The release of the data points follows strong revenue growth reported in Facebook's non-ad revenue at the end of 2020, as well as some of the strongest comments made yet by Facebook CEO Mark Zuckerberg about the company's path toward mainstream adoption.
Quest 2 "is on track to be the first mainstream virtual reality headset," Zuckerberg said during a call with investors last week. "Facebook has done more than any other company to help virtual reality reach mainstream."