UPDATE: Facebook told us that Amazon launched preorders accidentally. Preorders for Oculus Quest have not begun. The Amazon listing has now been taken down. However, Facebook told us the £499 (US $499) pricing for the 128GB model is correct.
---
ORIGINAL ARTICLE BEFORE UPDATE:
Live in the United Kingdom and wanting to get an Oculus Quest? Preorders for the 128GB model just went live on Amazon UK.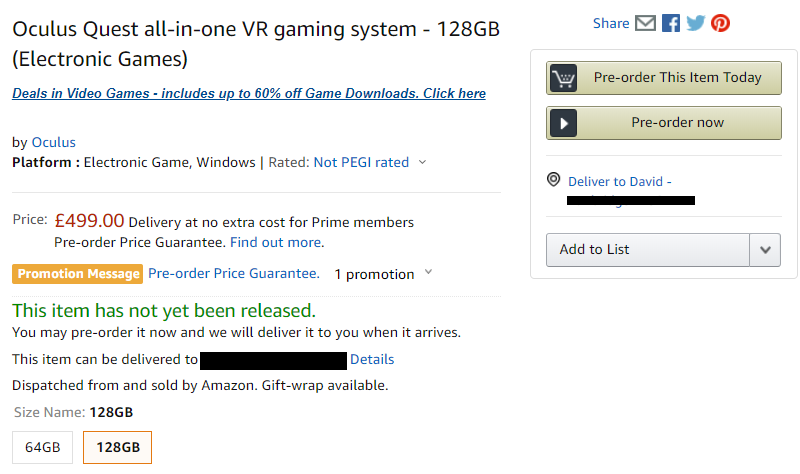 Oculus Quest still doesn't have a confirmed release date, but the indications seem to point to Facebook's annual conference at the end of this month. That means you could be waiting around two weeks from now.
This is a first party listing from Amazon itself, not a seller listing. It's unclear whether this was a mistake on Amazon's part, but we were able to add the product to basket and place the preorder fully. Amazon tends to be good about honoring mistakes, if it was. We'll be interested to see how they handle this case.

The base Oculus Quest model has 64GB of storage for $399 / £399. Last month Facebook confirmed to us that a 128GB model would be sold too, but the price was unknown until now. This would likely translate to $499 in the US.
Unfortunately neither Go or Quest feature an SD card slot, so you're stuck with the storage you buy. Facebook is working on the ability to use USB storage, but there's no release date for this feature yet.
The page also lists the full package contents. We've seen an overview of the contents in the past, but never a full itemized list:
1 x Quest Device, 1 x Controllers (L&R), 1 x Printed Accessory Folio, 1 x Manual, 2 x AA Batteries, 1 x Charging cable, 1 x Glass Spacer, 1 x Welcome card, 1 x Charger (US, UK, EU, AU)