The question we've been unable to answer all year with Oculus shipping Touch so late in 2016 is one step closer to being answered. Which headset offers a better room-scale experience, the HTC Vive or Oculus Rift?
We still can't fully answer that question yet, but two guides posted to the Oculus support page show experimental 360-degree and room-scale sensor setups that are smaller than the maximum size of an HTC Vive tracked room.
Here are three screenshots from the three publicly available users guides for comparison:
HTC Vive 2 Base Stations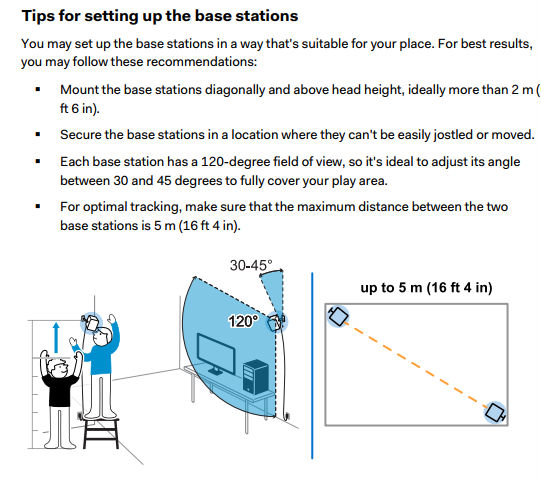 The HTC Vive user guide also notes "movement within a diagonal area of up to 5 m (16 ft 4 in) is supported. For example, a 3.5 m x 3.5 m (around 11 ft 5 in x 11 ft 5 in) space. For room-scale setup, a minimum play area of 2 m x 1.5 m (6 ft 6 in x 5 ft) is required."
Oculus Rift 2 Sensors, 360 Experimental Setup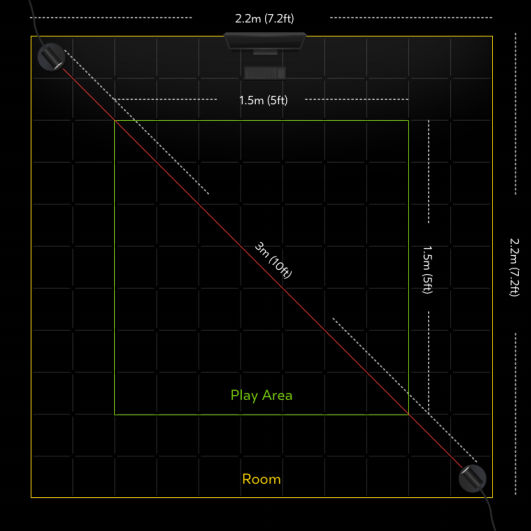 Oculus Rift 3 Sensors, Room-Scale Experimental Setup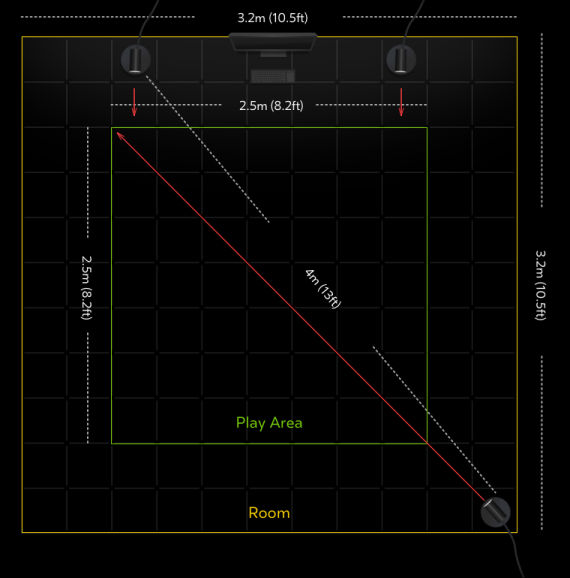 The Oculus 3-sensor guide notes "you'll be able to experience 360° tracking in a play area that you'll map out, which can be up to 8×8 feet (2.5 x 2.5 meters)."
It is also worth noting this chart from June showing the breakdown of the size of VR setups using Steam. It shows 20 percent of users with setups measuring larger than the maximum outlined by Oculus in these two guides.
This suggests that even if you invest in a third sensor for your Oculus Rift, totaling to roughly $880 in VR-specific hardware, and use the "experimental" room-scale setup as recommended by Oculus, you're still setting up a smaller play space than can be supported by an HTC Vive.
All of this doesn't mean you necessarily get a lesser experience with a Rift, but it is some of the most detailed information we've seen yet for comparing the capabilities of the Vive and Rift. The Vive is $800 and features only two base stations you place at opposite ends of the room for a play area that can be around a meter larger in either direction.