The latest update to the Lenovo Mirage Solo adds a passthrough mode. The Mirage Solo is the first standalone Daydream headset, launched in May last year for $399. Daydream is Google's Android-based VR platform.
Passthrough refers to seeing the real world while inside a VR headset via cameras built into or mounted on it. The feature was first announced back in September, and has now finally shipped to users.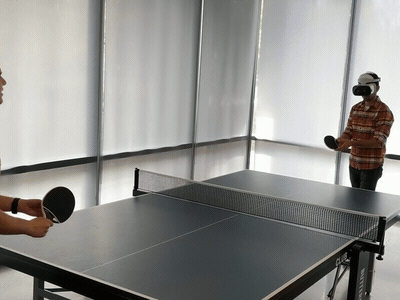 GIF from Google
The option can be found in the Beta section of the Settings, and is described as "Allow headset to use camera see-through mode for safety graphics and in experimental apps". There are no "experimental apps" which seem to use the passthrough mode yet.
Passthrough For Safety
The first VR headset to offer passthrough was the Samsung Gear VR. The phone's rear camera could be activated from the settings, however its low field of view, lack of stereo and latency made it impractical. The HTC Vive in 2016 shipped with a similar kind of passthrough built into its Chaperone boundary system, so when you step near the edge it activates.
Google's new passthrough system is also activated by leaning out of the play area. But unlike earlier passthrough systems, Google uses the two cameras and computer vision to enable depth perception. Passthrough techniques are also expected on the upcoming Oculus Quest and Rift S headsets.
Stereo-correct passthrough that activates when you move outside the play area is a great addition to VR, and could be an essential feature of all headsets in the future. Users who enable this on their Mirage Solo should be able to enjoy VR without worrying about situational awareness as much. Perhaps this is a stepping stone to a Mirage Solo successor from Google — a competitor to Facebook's Oculus Quest?