Meta CEO Mark Zuckerberg shared plans for upcoming layoffs across three areas of the company, which will begin this week and continue into late May.
The first affected group will be the recruiting team, with layoffs beginning this week, according to a note shared by Zuckerberg to Meta employees. This will be followed by layoffs and restructuring in tech groups in April and business groups in May. We contacted Meta to clarify whether this round of layoffs will affect the VR/AR teams but a representative declined to comment.
Update 03/19: In his Command Line newsletter from last week, The Verge's Alex Heath reported that the next round of layoffs and scheduled for April 17  and will "impact tech teams (engineers, product managers, etc.), including the roughly 20,000 people in [Meta's VR/AR division] Reality Labs."
Overall, this round of layoffs will see Meta reduce its total headcount by around 10,000 by April, while also closing applications for 5,000 open roles that have yet to be filled. The timeline marks the next few steps in Meta's "Year of Efficiency," which sees the company attempt large structural changes while still pioneering VR/AR technology and maintaining its position as market leader.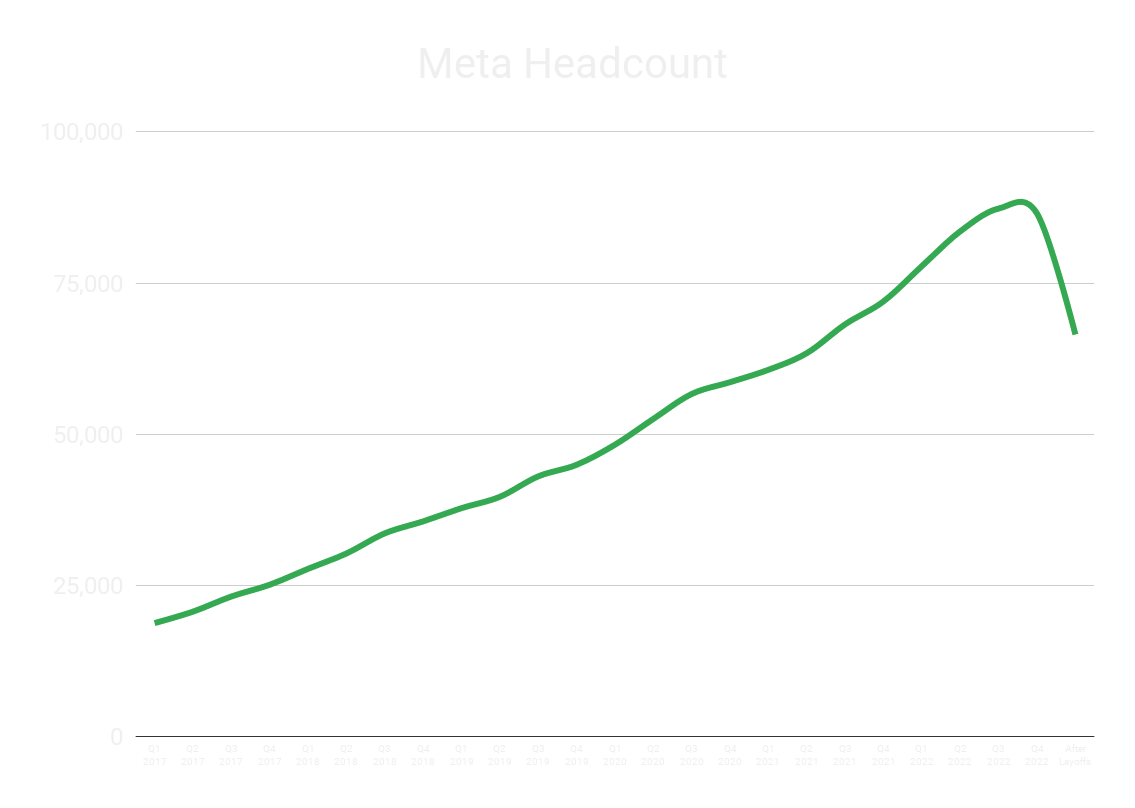 Zuckerberg called 2022 a "humbling wake-up call" in the announcement this week, which he credits to changes in the economy and increased "competitive pressures." He then noted that Meta should "prepare [itself] for the possibility that this new economic reality will continue for many years," which he nonetheless feels will grant the company "the opportunity to be bolder" with its long-term visions.
Alongside its AI and apps work, Zuckerberg noted that the company's efforts in the metaverse and next-generation computing platforms "remains central to defining the future of social connection."
One section also claimed that, subject to further study, Meta engineers who joined the company in-person and then either transferred to remote or stayed in-person "performed better on average" than those who joined fully remotely. Zuckerberg posited that "it is still easier to build trust in person."
The last few months have seen rapid changes at Meta. Following layoffs of 11,000 employees in November, games industry legend and executive consultant for virtual reality John Carmack departed Meta in December, writing that he "wearied of the fight." Meta's last reported headcount of roughly 86,000 employees doesn't reflect either layoff round, so we'll be curious to see what's reported in Meta's next quarterly earnings and how the company's headcount changes going forward.
Meanwhile, executives at the company continue making decisions about Meta's next generation VR systems with current plans pointing to new headsets this year and next year as well. Meta also faces renewed competition in VR/AR. Pico 4, the first true competitor to Meta's market-leading Quest 2 headset, released in 2022, while Sony's next foray into the market, PlayStation VR2, released in February for the PlayStation 5.
Earlier this month, reports indicated Meta has sold nearly 20 million Quest headsets.  Pico 4 sales were reportedly not meeting expectations in November, with the company laying off hundreds last month. Sony remains tight lipped regarding sales numbers for PSVR 2, but its CFO feels it has a "good chance" of outselling the original PSVR, which sold 5 million units as of December 2019.