The March Steam Hardware Survey results continue a recent trend. The Oculus Rift once again widened the gap with its main competitor, the HTC Vive.
Last month Rift had a 3.81% lead over both Vive and the enhanced Vive Pro. In February, though, that gap grew to a sizable 7.07%. Rift holds 48.21% of total SteamVR headset usage (up from 47.03%). The base Vive meanwhile is down from 40.62% to 39.36%. It's the first time we've seen HTC's headset dip below the 40% milestone. Vive Pro also shrank dramatically from 2.6% to 1.82%. Add the two together and HTC takes 41.18% of the total share.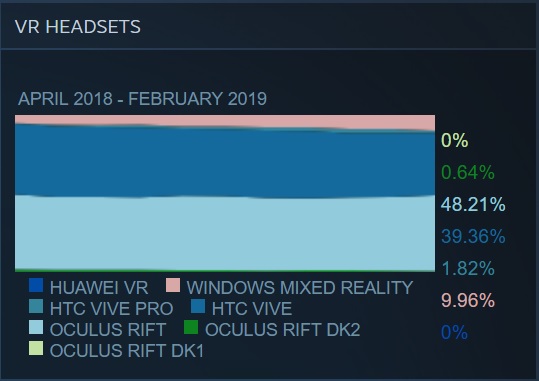 As with last month, it looks like small jumps for Microsoft's Windows VR headsets are to thank. Now at 9.96% (up from 8.94%), the headsets are painstakingly close to surpassing 10% of the share. No doubt scattered sales and the high-end Samsung Odyssey+ headset continued to push those figures.
As always, we'll note that these figures are not a definitive means of tracking the actual VR market share. The Hardware Survey is optional and requires users to have their headsets actually plugged in to count. Neither Oculus nor HTC has shared official sales figures for their respective headsets.
Still, we're expecting to see some big shifts for the survey pretty soon. Vive is set to launch the Vive Pro Eye in the next few months. It's an enterprise-level headset so it probably won't have a huge effect. But HTC's Vive Cosmos, its next consumer-level device, is also due to release this year. Finally, we're hoping for the announcement of the Oculus Rift S and Valve's own SteamVR device at GDC later this month. It's going to be a busy few weeks.