Microsoft's Windows Holographic VR headsets are going to run the gamut of specs like input, field of view, and resolution. Lenovo's offering sounds like it might sit somewhere in the middle.
The Chinese company revealed its first VR headset shortly ahead of CES 2017 in Las Vegas this week. As reported by The Verge and Engadget, Lenovo brought a non-functional prototype to its event, where it announced its line-up of products for 2017. No one can attest to how well the headset actually works, but its spec sheet leaves plenty of room for discussion.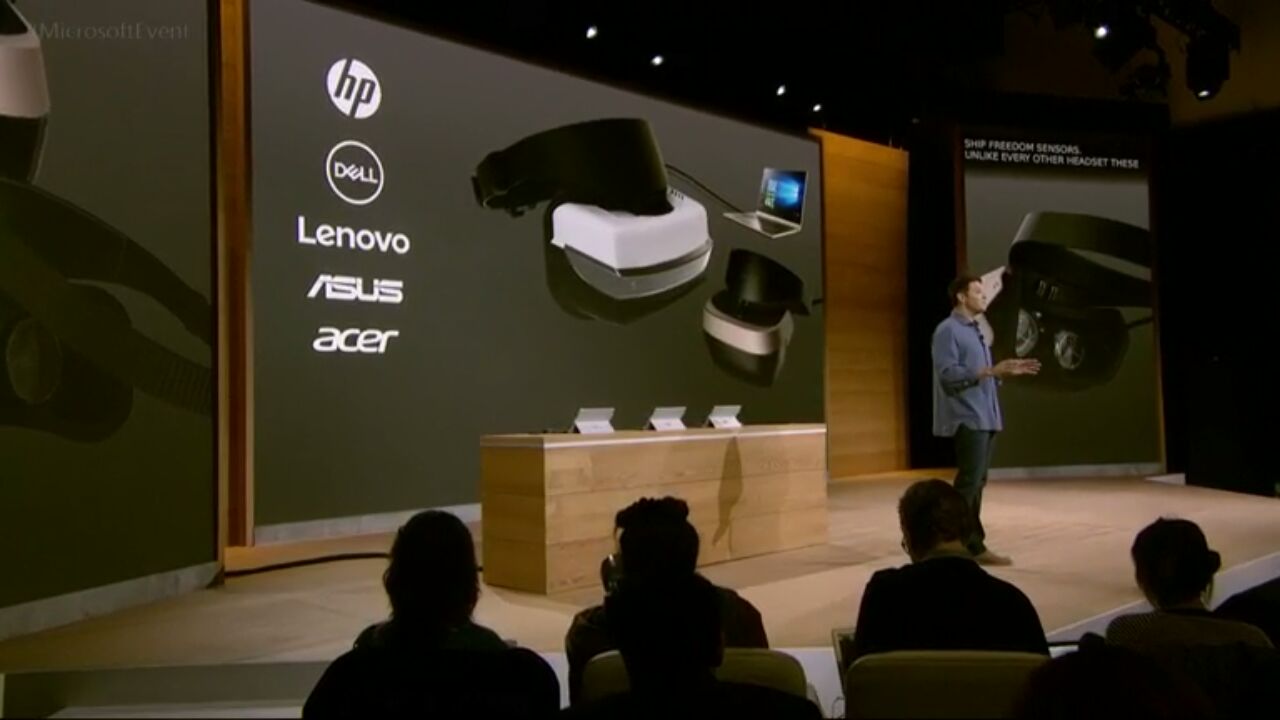 On the outside, Lenovo's currently unnamed device looks similar to Sony's PlayStation VR in design, with a ring that sits on top of the user's headset to keep the weight off of the face, which is a common problem with the Oculus Rift and HTC Vive. Lenovo reportedly claims it will be lighter than the two headsets too, weighing in at 350g compared to the Rift's 470g and the Vive's 555g. A latch on the front lets the display swing up and out of the user's view for quick access to the real world.
You'll also notice the two front-mounted cameras, which are said to provide the inside-out tracking that Microsoft promised each of its headsets would support back in October. While these remove the need for external tracking sensors like Vive's base stations or the Rift's constellation trackers, it's impossible to tell just how well it works until we see a working version for ourselves.
That said, Lenovo itself does have experience in this field, having released the first phone to support Google's Project Tango 3D mapping cameras last year. That's different tech to what the company will be using here, though.
Despite being inside-out tracked, the headset will require you to be wired to a Windows 10 PC. We don't know the length of the cable, which will limit room-scale capabilities.
For display, Lenovo's currently unnamed device has two 1440×1440 OLED panels which, again, we can't really comment on until we've seen it running, though could end up besting Rift and Vive's displays.
Tellingly, the headset is said to cost between $300 – $400, and will be closer to the lower end of that scale, according to the reports. Last year Microsoft told us that its VR headsets would start at $300, so this could be one of the lower-end devices we see, though we don't know about specs like field of view and input just yet. We'll likely find out in the near future; Lenovo says the device will ship this year.
A Lenovo representative apparently told The Verge that its headset, along with all other Windows 10 headsets, will run Windows Store applications on a virtual screen similar to PlayStation VR's cinematic mode, or Microsoft's own Xbox One streaming app for Rift. Selected HoloLens software is reportedly also due to be ported to the headsets.
Lenovo also has a new VR ready laptop, though the video below only shows the Oculus Rift, and not its own headset. The Legion Y720, as it's called, features NVIDIA's GeForce GTX 1060 card, 16GB of RAM and an Intel i7 processor.
Most interestingly, the laptop apparently boasts Lenovo's own software that not only lets users watch 2D content on a virtual screen, but also play some non-VR games inside a headset by launching them through the company's own entertainment hub. Deus Ex: Mankind Divided was shown, for example, running in VR with head movements replacing the function of the right stick on a gamepad. The company calls this 'VR Upscaling'. The troubles with playing games not designed for VR inside a headset are well-documented, so, just like the headset, it remains to be seen how useful a tool this will be.