Earlier this year, Oculus added a 'Hardware Report' page to their developer website. Recently, they added a new section reporting how many tracking sensors Rift users have connected to their PC. Interestingly, it shows that 80% have 2 or fewer sensors, while just 20% have the 3 or 4 sensors Oculus requires for 'roomscale' setup. The percentages below were captured via screenshot and are accurate as of the time of this publication on November 5th, 2018.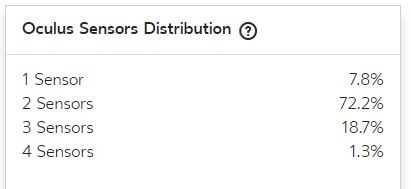 The current Rift bundle, including two Touch controllers, now comes with two sensors, which track the infrared LEDs inside the headset and Touch controllers to figure out their positions in your room- called the 'Constellation' tracking system. At launch, before Touch, it only came with one sensor. The current default setup, as stated by the Oculus software, is to place both sensors on your desk 3-6 feet apart, like stereo speakers. This is relatively easy to install, however when you turn away from the sensors they can no longer "see" your controllers, and thus controller tracking temporarily breaks. This means that developers need to add thumbstick locomotion to their games to support most Rift users.
In May 2017, Oculus officially added support for 'roomscale' setups using three tracking sensors instead of two. Buying a third sensor, priced at $59 including shipping, also gives you a five meter USB extension cable so that it can be positioned in the rear of your room, far away from your PC. This setup makes the Touch controller tracking 360° and gives you a wide enough tracking volume to walk around your room. While roomscale had actually worked since December 2016, it was listed as 'experimental', and had issues for many users.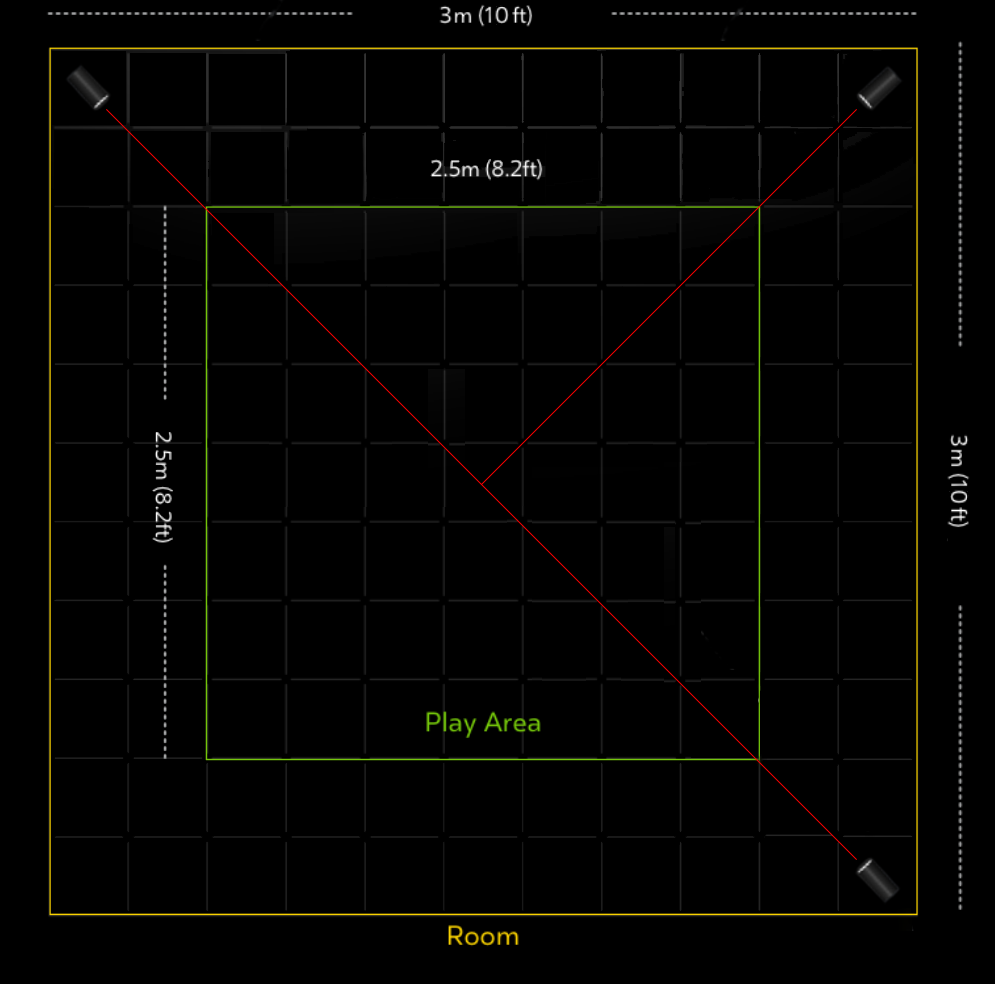 Another tracking setup is to buy just a USB extension cable and position two sensors in opposing corners, similar to the setup of the HTC Vive. This is not officially supported however, and Oculus' documentation claims it would only give enough usable area for stationary standing, not true room scale VR, but when we've tried this arrangement it seemed to get the job done for the most part.
Last week, TechCrunch reported that Oculus were working on a "Rift S" upgrade to be released as early as next year. The report claims that as well as upgrading the resolution, Oculus will replace the current external tracking system with the 'Insight' system used on the upcoming standalone Oculus Quest headset. Insight uses four cameras on the headset itself to perform both headset and controller tracking. This means that all 'Rift S' owners would have 'roomscale' tracking out of the box — however it would add new tracking limitations, such as the inability to reach behind your head. For the 80% of Rift owners without a roomscale setup however, it seems "Insight" would be a net upgrade.
Why don't more Rift owners fork out the $59 for room scale? Would inside-out tracking like on Quest be better or worse for you? Let us know in the comments below!