After weeks of speculation, the HTC Vive Cosmos has finally been announced.
HTC revealed the kit at its CES 2019 press conference in Las Vegas today. As some had guessed, it is indeed a brand new VR headset with inside-out tracking.
HTC's Dan O'Brien said that the Vive Cosmos was a "glimpse of where VR is going." Inside-out tracking means that the kit can provide six degrees of freedom (6DOF) positional tracking without the need for external sensors. The headset looks very different to previous Vive designs, with a top ring much closer to Sony's PSVR. It runs using Vive's newly-announced Vive Reality System platform, which we'll have more on later. That said, it apparently runs on a PC but O'Brien hinted that there might be other ways of running it too. In a follow-up tweet, HTC noted the kit can be used 'at home or on-the-go'.
In the below trailer there's a hint that there may be some sort of smartphone compatibility.
We'd like to give you a first look at VIVE COSMOS, the newest VR headset from VIVE. #HTCVIVECOSMOS #HTCVIVE #VIVEPORT pic.twitter.com/oP00jXoevU

— HTC VIVE (@htcvive) January 7, 2019
It comes with a new pair of controllers that look very similar to the Oculus Quest controllers. As the picture below shows there's a snazzy flip-up feature too.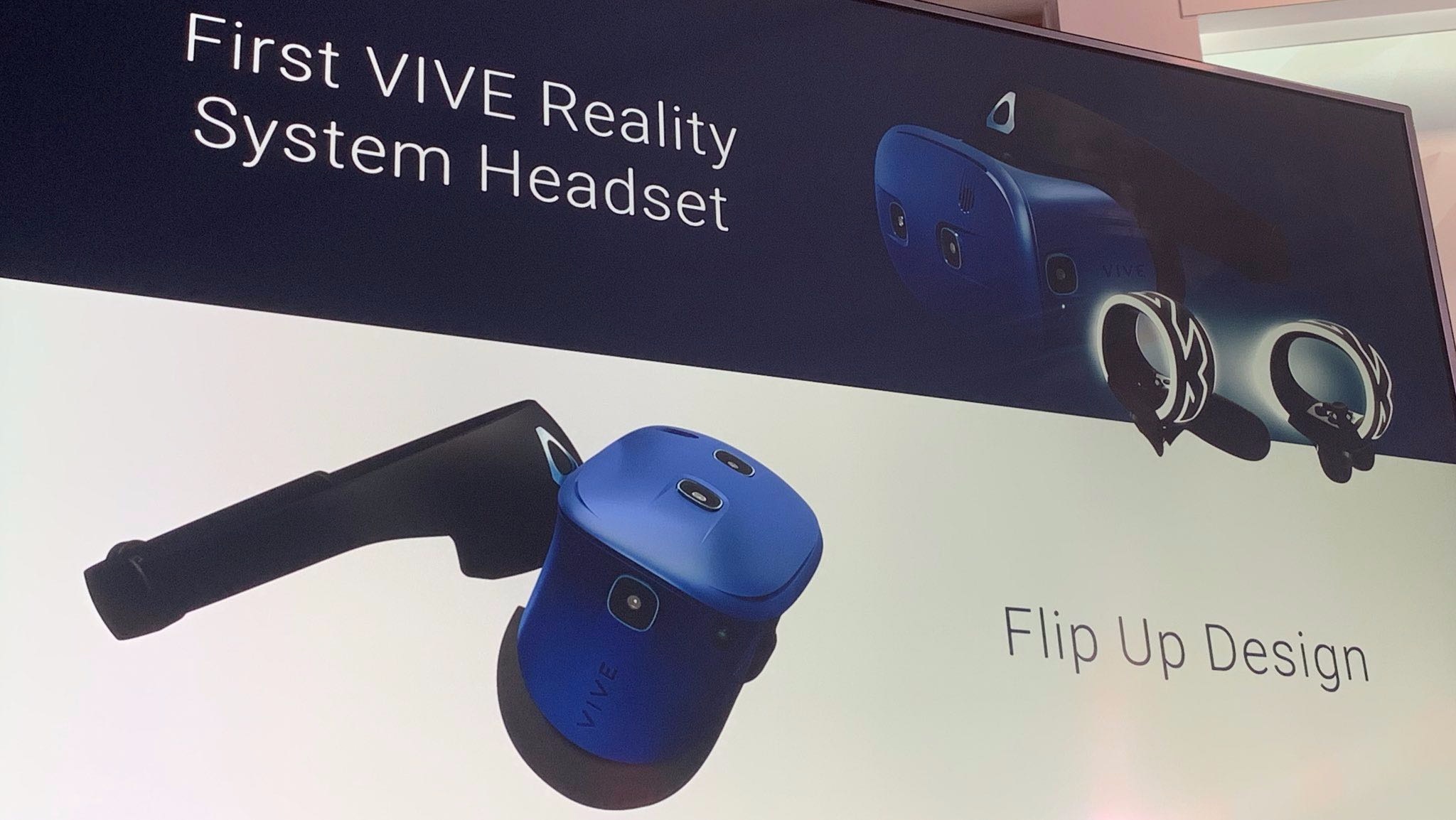 That's about all we got; we still have a lot of questions about the device.
We first heard about Vive Cosmos when HTC trademarked the name back in November 2018.
That's not all HTC is announcing at CES yesterday. During yesterday's Nvidia press conference the company also unveiled a partnership and in today's conference it introduced the Vive Pro Eye, too.
HTC Vive Cosmos joins the company's ever-expanding line of VR products. Last year at CES HTC introduced the Vive Pro, an enhanced version of its original VR headset with a better display and integrated audio. The year before that it debuted the Vive Trackers.