At CES 2023 in Las Vegas we tried out Holoride, a startup working to add "thrill to every ride" with a VR platform made for use while riding in fast-moving vehicles.
For the Holoride demo during CES in Las Vegas we left the VR area of the Las Vegas Convention Center and took an Uber to a nearby hotel where Holoride was offering demos of its technology platform. It was a traditional Uber ride to the hotel where Holoride essentially then demonstrated VR for Uber. I got into a vehicle with a driver in front while a Holoride representative in back offered me a Vive Flow and launched a pair of games. As we were driven around the streets of the city in physical reality I sat in the back-right seat of the car and played Pixel Ripped 1995: On the Road from Brazil-based VR Studio Arvore and a Schell Games project called Cloudbreakers, both with gamepad, before pulling back into the hotel.
I didn't take the headset off across what seemed a roughly 20 minute demo, which Holoride representatives say is roughly average for a commuter or ride-hailing trip in the Western hemisphere. The unmistakable bumps of the road and lurches of acceleration seemed believably matched to my movements through each virtual environment. In Cloudbreakers, I felt like I was flying above the clouds shooting at waves of incoming enemies. At one point my flight path turned in 180-degrees and I could tell we had done something like a U-turn in the car.
Earlier at CES, Brazil-based studio Arvore offered the most memorable demo with the Vive XR Elite's mixed reality mode for Yuki. Here too I found Arvore's Pixel Ripped 1995 spin-off On The Road the more memorable use of Holoride's technology.
Holoride transported me back to 1995 and transformed me back to being a 10-year-old in a uniquely immersive way I'll hardly match in any other VR system anytime soon. I moved into the  middle seat of the car with mom and dad in the front. The untracked gamepad controller in my hands was mapped onto a simulated handheld game system. As someone who was a Game Boy-toting 10-year-old playing in the backseats of 1995 this was a powerful nostalgia trip, and it was enhanced by riding in a physical car mapped onto a virtual one.
The experience was enough to convince me that, with the right game, Holoride could deliver an experience in your average moving vehicle that feels quite a bit like playing Toy Story Midway Mania at Disneyland.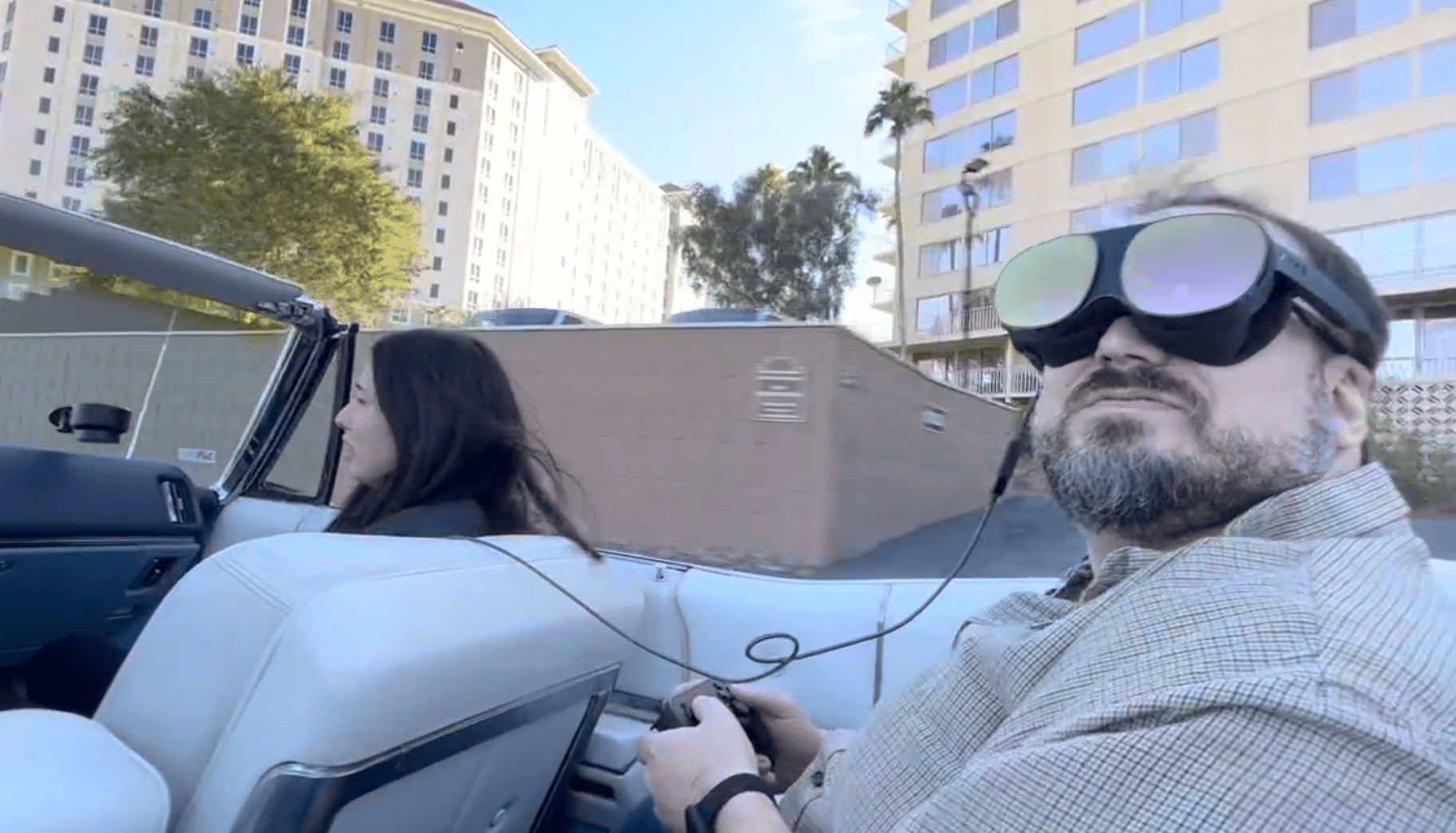 Holoride originally spun out from Audi in 2018 as an independent startup. The car company still retains a "minority stake", according to Holoride, and the platform initially works with certain packages equipped on "select" Audi vehicles. At CES 2023, Holoride also highlighted its Retrofit pack which is meant to bring the system to older vehicles and other brands as well. UploadVR's Kyle Riesenbeck tried a similar demo in the open air, sitting in the back of an older convertible equipped with Holoride. The pack is priced $800 including an HTC Vive Flow headset, an 8BitDo controller, and a one-year subscription to Holoride's platform. The retrofit is also available as a standalone purchase without the headset, controller or subscription for $200. Here's how the startup describes the hardware:
"The compact holoride retrofit weighs less than half a pound and is sized to live on a vehicle's windshield, with help from an included suction cup mount. Its lithium-ion battery lasts for 14 hours on one charge, and an included USB-C to USB-A cord allows riders to keep the device plugged in while on the go. Up to two headsets can be connected to holoride retrofit simultaneously, allowing two passengers to enjoy holoride at the same time in the car. "
No Punching Windows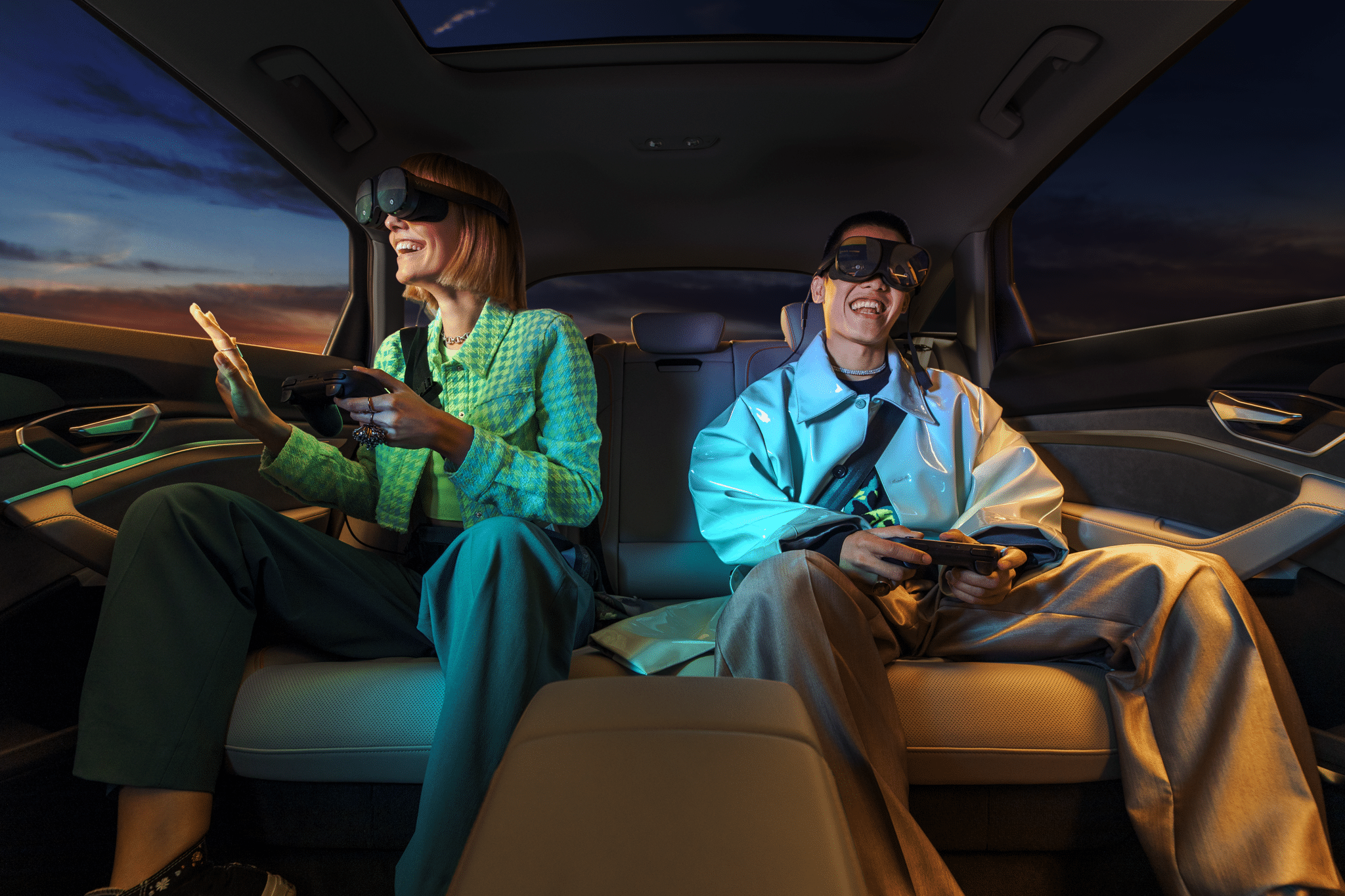 A few years ago I crashed a mixed reality go kart and what Holoride is doing is roughly similar to VR-equipped roller coasters. Here, Holoride has taken VR "road-scale", as Kyle put it, by fitting content to hardware in a really satisfying way. Holoride executives explained that relying on an untracked gamepad input, for example, discourages people from smashing their hands or controllers against the windows of the car. The headset technically tracked in 3DoF, not accounting for any leaning in my seat, but Holoride's platform feeds motion and location vehicle data to the software so I still felt like I was moving through a virtual world positionally with the car. The overall effect was very comfortable while simultaneously encouraging me to just sit back and relax.
"For stationary VR use at home, 6DoF tracking is of course essential,"  Holoride co-founder Marcus Kühne wrote in an email. "In the longer term, we may switch to it as well, but for now, 3DoF tracking in the car is the way to go because…it reduces the incentive to change position, especially since you're (hopefully) strapped in and don't have much room to move anyway."
While we haven't spent enough time with Holoride to make recommendations for buyers, we're definitely curious to see where the startup goes next. Can they incorporate multiplayer and can they partner with other car or headset manufacturers? How popular will their retrofit kit get? Check back with UploadVR for future coverage.