New photos of Google's developer kit for 6DOF controllers show the complete button design, including trigger and a "grip" button right next to it.
The controllers are part of a developer kit add-on for the Mirage Solo standalone VR headset. Google is currently accepting applications for the kit which comes with a faceplate for the headset that plugs into the side. The design uses inexpensive components to provide full freedom of movement for both hands.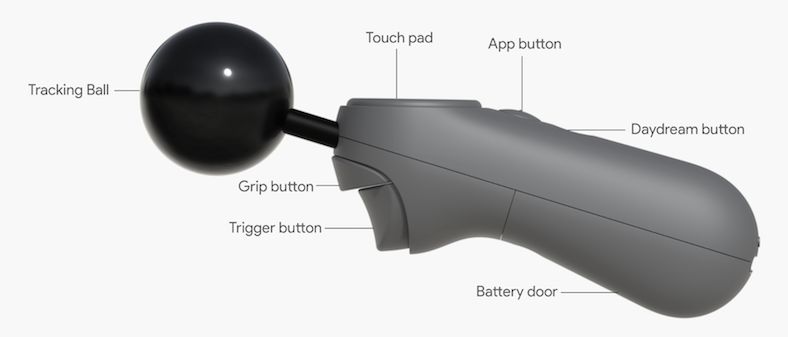 Mirage Solo, which runs apps from the Google Play store, started shipping earlier this year with only a single pointer-only controller. This Solo controller is based on the capabilities and layout from earlier phone-based Daydream headsets. This controller, however, is extremely limited because of its 3DOF tracking.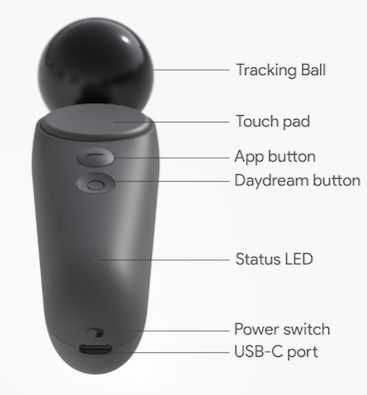 The new developer kit for Mirage Solo relies on Google's approach to optical tracking while the newly revealed buttons should bring the system closer to parity with similar controllers powered by technology from Microsoft, Facebook and Valve.
We hope the kits are a sign Google is committed to developing a low-cost standalone VR headset that can compete in the same class as Oculus Quest. It is odd the controllers have both a USB-C port and a battery cover and we're curious how easy it is to press the "grip" button by mistake. This is an "experimental" developer kit, of course, so we assume they could improve before becoming a final consumer product. Google hasn't committed to shipping a consumer headset based on its 6DOF designs, but the company's teams are behind some of the most popular VR software requiring natural hand interactions — Tilt Brush, Job Simulator and Blocks among them. We wonder, of course, is this kit is just a hint of the company's continued commitment to enabling high-quality VR experiences for lower cost and easier to set up hardware.