F1 23 brings EA's annual racing series back to Steam but despite some welcome additions, PC VR support remains rough around the edges. Here is our full review:
We're about ⅓ into Formula 1's current season and Codemasters lets you imagine a championship where Max Verstappen doesn't seem unstoppable. Following F1 22 introducing an optional PC VR mode, F1 23 retains that support while adding considerable new changes elsewhere. Red Flags are back, there's 26 tracks, the 'Braking Point' story mode returns once more and there are some welcome improvements to the controls.
F1 23 - The Facts

Platforms: PC VR
Release Date: Out Now
Developer: Codemasters
Price: $69.99
Let's begin with VR support. Every race is playable inside your headset with 360° vision from the cockpit, though the wider scope remains limited. 2D menus return and you can't use motion controls, it's just gamepads or steering wheel accessories. Statistics like race position and speed are displayed through your in-game steering wheel and you can tweak the HUD for increased immersion. Using a Quest Pro with Wired Link and a Thrustmaster T248 steering wheel, I went racing.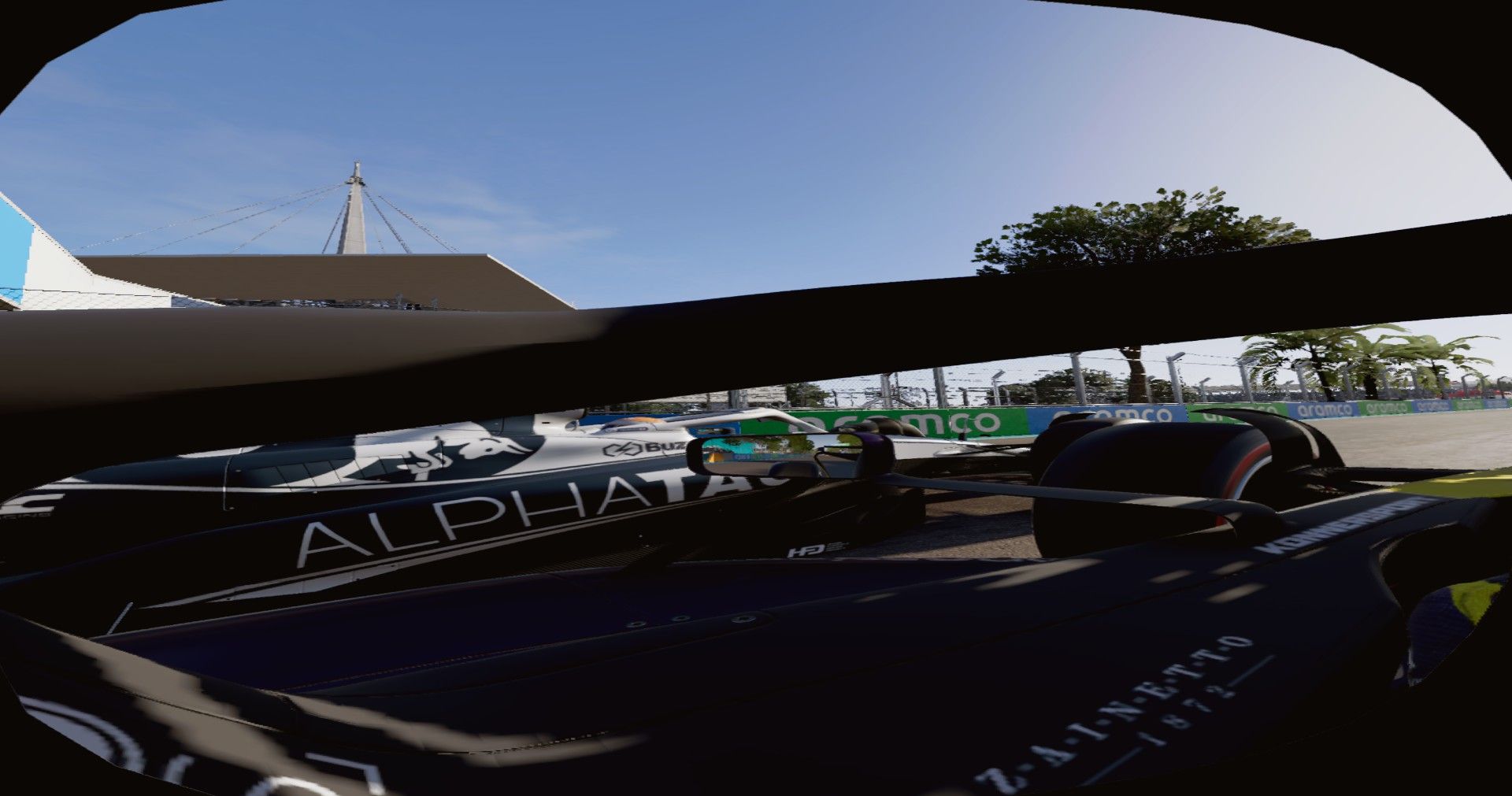 Ultimately, my thoughts haven't changed much since my recent preview. Between those nerve-racking starts and avoiding collisions during riskier overtakes, VR support retains that thrilling immersion across each race, heightened further by force feedback from the T248. It's easily preferable to flatscreen gameplay when it works and, on higher difficulties, the adrenaline rush I could feel upon taking victory can't be overstated.
Fine Tuning Needed
Anyone who played last year's entry in VR last year will likely have one big question; how is the performance? The current build feels more stable than what I saw during my preview. There were no crashes during pauses or when taking the headset off, nor when using the rewind time function in flashbacks. Your mileage may vary depending on your PC setup, but for me crashing seemed significantly improved over F1 22. That doesn't mean F1 23 is out of the woods, though.
I used 'VR Medium' settings and anything higher tanked the framerate on my desktop. I'm using a Ryzen 7 2700X and GeForce RTX 2070 which meets the recommended specifications according to the F1 23 Steam page. F1 23 seems to only keep a thin plane of the environment at high resolution and, on medium, being stationary in the pit garage seemed to accompany a shaky environment that went away on low settings. This didn't disappear when switching to Quest 2 or Pico 4 headsets, either.
Like Gran Turismo 7, entering the pits swaps your perspective to theatre mode temporarily but, on one occasion, several white flashes suddenly appeared on screen in the Monaco pits. I couldn't recreate this with later testing. On Braking Point chapter 10, I reached the starting grid and just sat there. The race wouldn't begin and the only thing I could do was look around, forcing me to restart the game. I could reliably recreate this specific issue, while flatscreen mode had no such problem. After finishing that segment the following chapter worked like normal again in VR.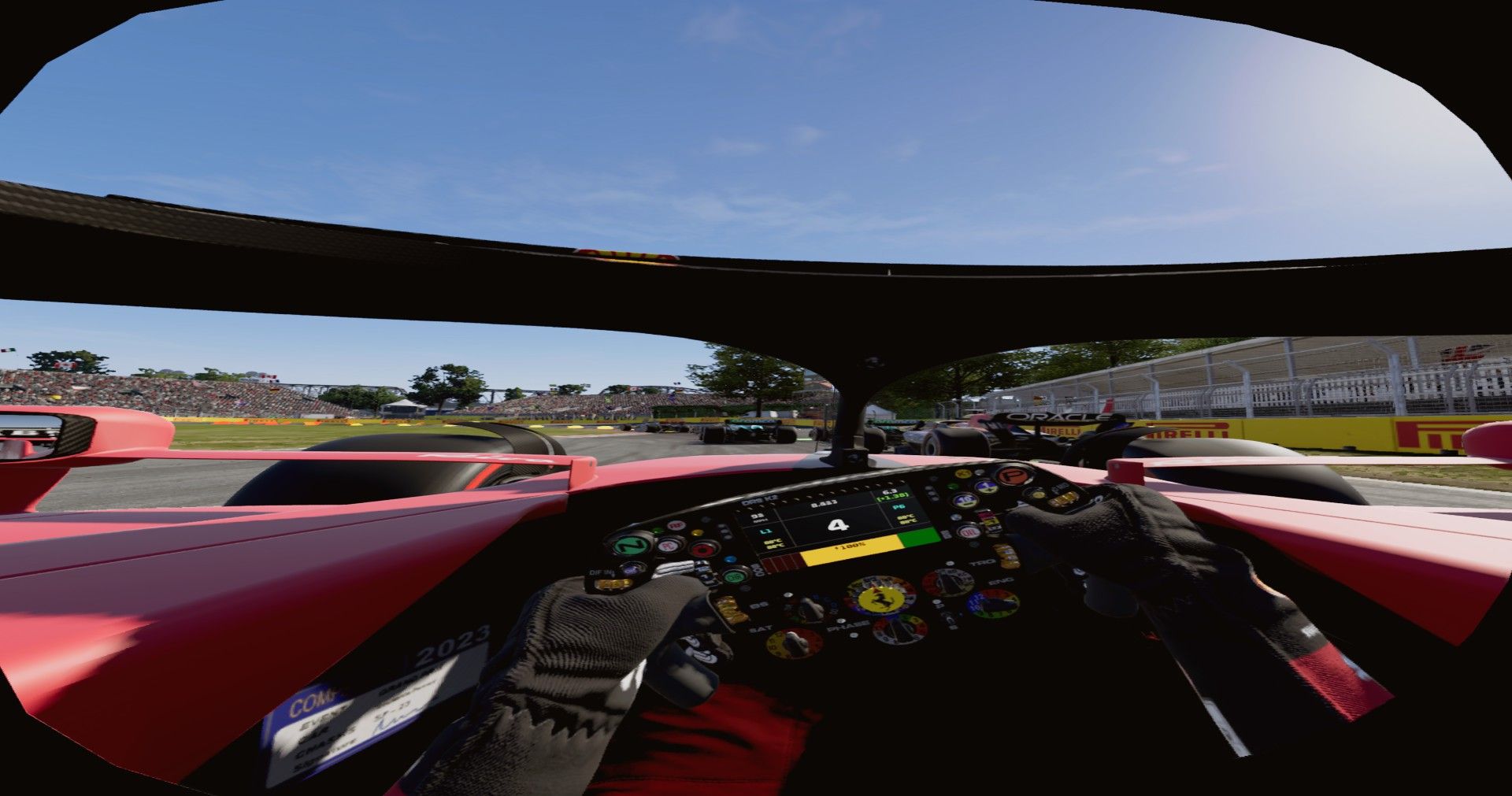 Driving Or Surviving
As for the main game, your first destination will likely be Braking Point, which continues on from F1 2021. Similar to FIFA's The Journey, this focuses on an original storyline with fictional racers, Aiden Jackson and Callie Mayer, and F1 23 sees you join the newly created Konnersport Racing team. Split across two seasons, every race in Braking Point tasks you with goals like overtaking a specific driver or reaching a set position, which is reasonably straightforward.
Braking Point also awards points toward 'Performance' and 'Reputation' levels depending on your performance, alongside answers during driver interviews. So, whether you play the team statesman or throw your teammate under the bus is your call.  Pre-determined cutscenes can only do so much but seeing your performances reflected through the in-game social media was nice. I enjoyed the drama but the story twists were often predictable, while a rushed conclusion left this ending feeling flat.
It's a serviceable attempt but there's little incentive to return once finished and ultimately, that's not why we're here. I spent most of my time in the Career Mode getting a feel for F1 23's new Precision Drive Technology, which makes acceleration, braking and handling feel more natural. This isn't a revolutionary difference but making those sharp turns across narrow streets circuits like Monaco feels considerably easier.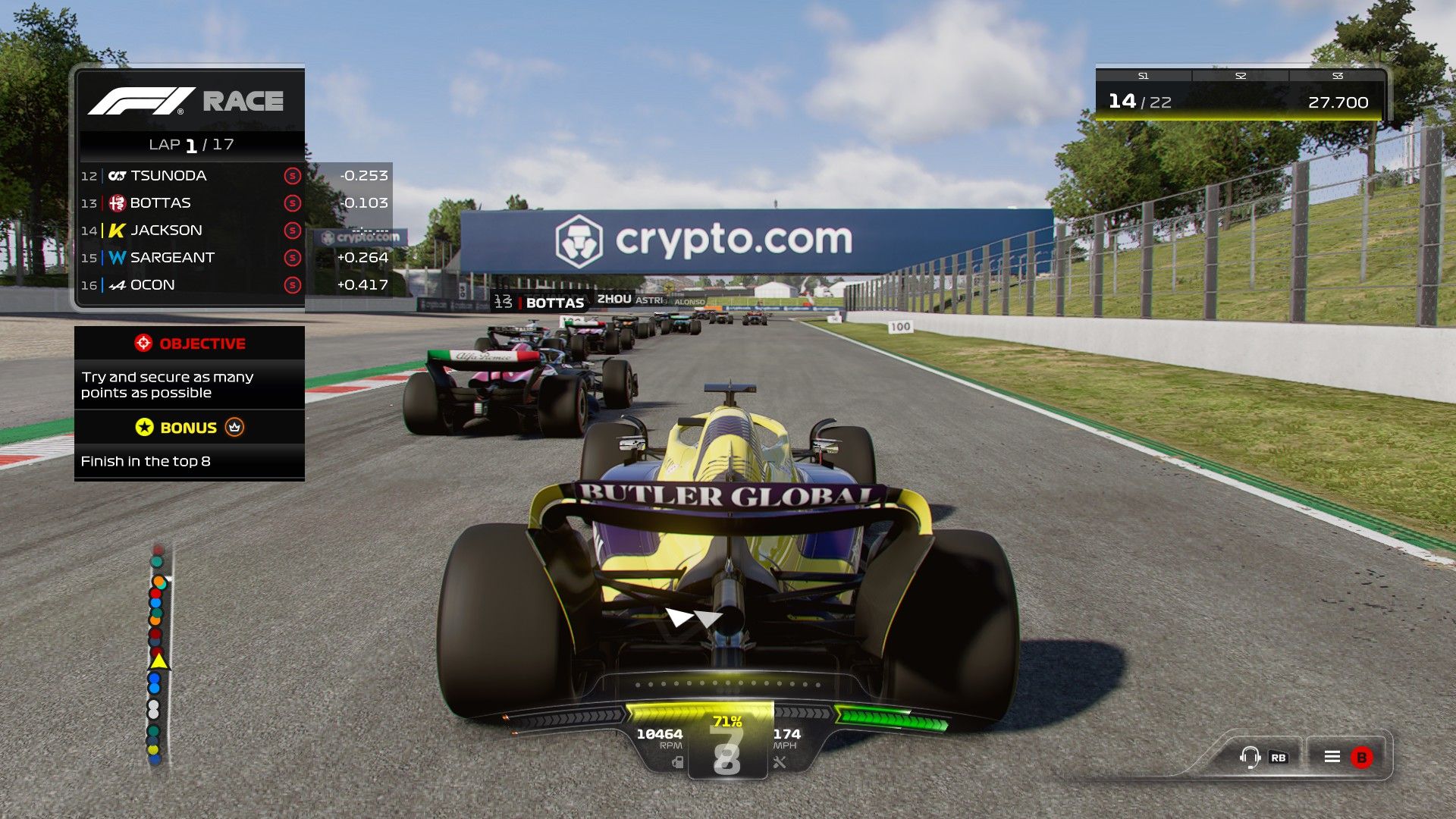 A Whole New World
I'm also appreciating the new F1 World mode for F1 23. That replaces last year's 'F1 Life' and, excluding Braking Point and Career Mode, merges everything from weekly solo challenges, time trials and online multiplayer into a streamlined hub. Featuring its own progression system, racing earns components and XP alike to upgrade your F1 World vehicle's performance, hire new team members and more. F1 World is effectively your 'Quick Play' option with further depth and it's a big step up.
F1 23 - Comfort
F1 22 doesn't include any comfort options but, much like F1 22, it doesn't need them. Motion controls remain unsupported and there's no vignettes while driving. You get a 360° view inside the cockpit during races and that's it. 3rd person cameras are unsupported in VR and this remains a seated experience. The accessibility menu also includes a Tinnitus Relief Filter and Colorblind support.
This is also where you can customize your car and driver's appearances for a more personalized experience. You probably won't be surprised to learn that some of this is locked behind the game's 'Podium Pass', a season pass that does have a free tier and the main game already contains a good range of cosmetic options. But for anything fancier, shelling out further on this $70 title isn't especially appealing.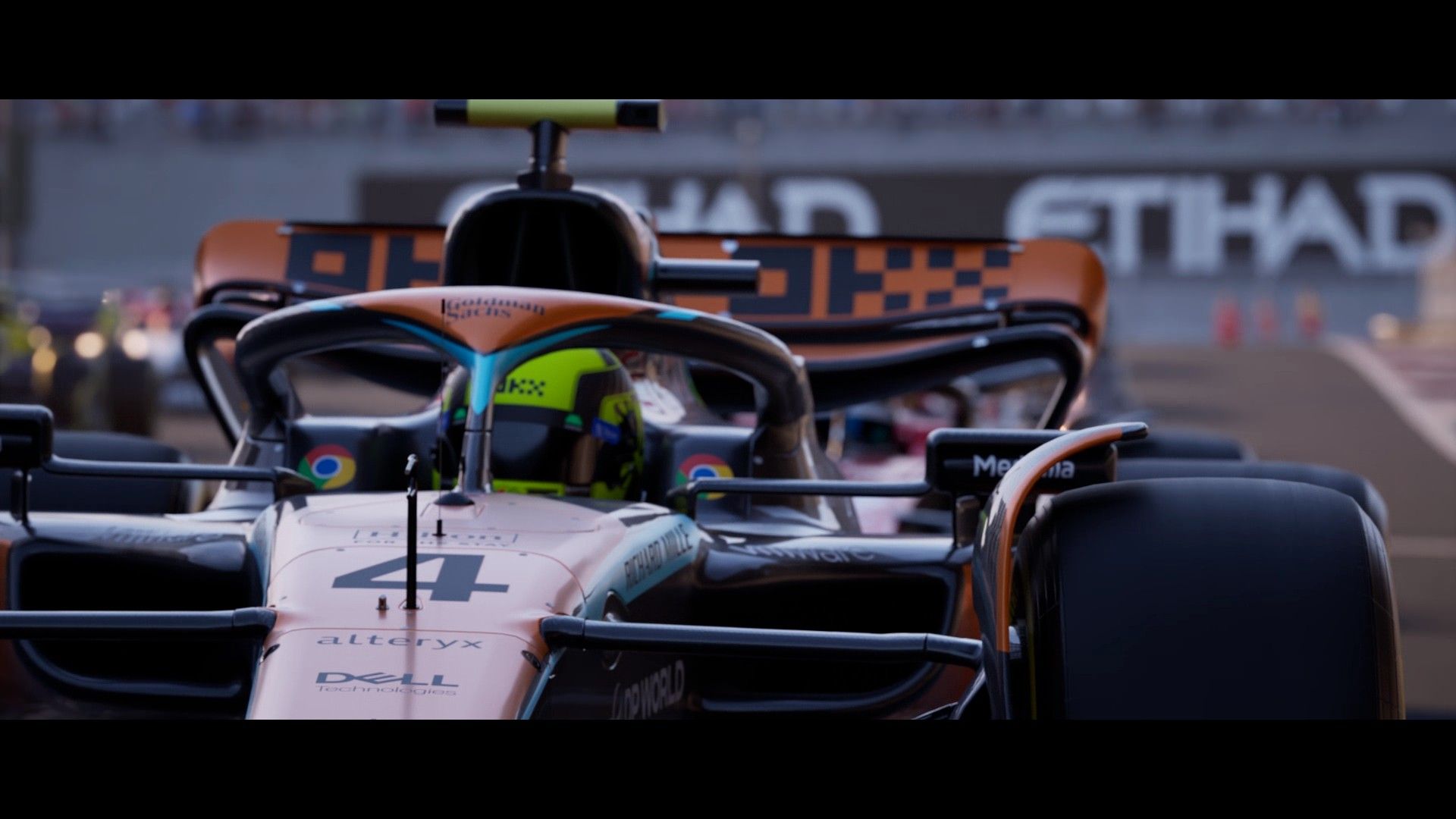 F1 23 Review - Final Verdict
Between the enhanced controls, new features and F1 World, F1 23 presents a welcome improvement on its predecessor. While PC VR support feels more reliable, several problems stop this from becoming the definitive VR racing game, and Braking Point sometimes misses the mark. Even still, EA goes beyond a standard roster update and I can see myself returning to the grid frequently.

---
UploadVR focuses on a label system for reviews, rather than a numeric score. Our reviews fall into one of four categories: Essential, Recommended, Avoid and reviews that we leave unlabeled. You can read more about our review guidelines here.